Many of us vividly remember Beirut, I Love You. The web-series, launched during the early 2010s, was the brainchild of filmmakers Cyril Aris and Mounia Akl and followed the lives of several 20-somethings navigating life through Beirut while balancing work, life and love.
At the time, the production was little more than a personal passion project for the duo, filmed exclusively on consumer video cameras, using basic equipment and no professional lighting.
"When you're 17 or 18, and you're graduating from school, especially in our society, it's not always easy to take the leap," Aris told Beirut Today. "Filmmaking is considered as something unstable, something that cannot provide a secure living. Of course, this is all a very big misconception, but at least this was the fact 13, 14 years ago when I graduated high school."
He then put his dreams on pause and studied computer engineering, but his passion for filmmaking didn't fade. At university, Aris met Mounia Akl. Similar to him, she was enthusiastic about filmmaking but was studying architecture.
"We both realized we were kind of in the same situation, both passionate about filmmaking but not doing that," he said. "So we decided to make a short film together. It was very amateur, it was just the two of us writing, directing, and editing. This was Beirut, I Love You."
Ten years on, and Aris has dedicated himself to his dream of full-time filmmaking. From Beirut, I Love You to his first feature fiction film It's a Sad and Beautiful World, Beirut Today sat down with the Lebanese filmmaker to discuss the evolution of his work over the years –leading up to his latest documentary taking part in the 2021 Red Sea Lodge.
Director's Reel – Cyril Aris
The Beginning
Aris began to develop a love for acting from an early age, before understanding what it takes to bring a film to life.
"When I was a child, I would go a lot to the movies, and when you're just a small kid, you don't really understand the dynamics of filmmaking. To me then, the film equalled the actors. I just really wanted to get involved in that world," he passionately explained.
Aris began to take acting classes for kids in Beirut, but around the age of 14, he began to examine movies from a different perspective.
"I started seeing a pattern in the movies that I like, and I eventually realised I liked the direction more than the actors," said the director.
Due to societal constraints, Aris had to put his love for filmmaking aside to pursue a degree in computer engineering instead. This proved counterintuitive, as this eventually led Aris to creating, producing and starring in the viral web-series Beirut, I Love You.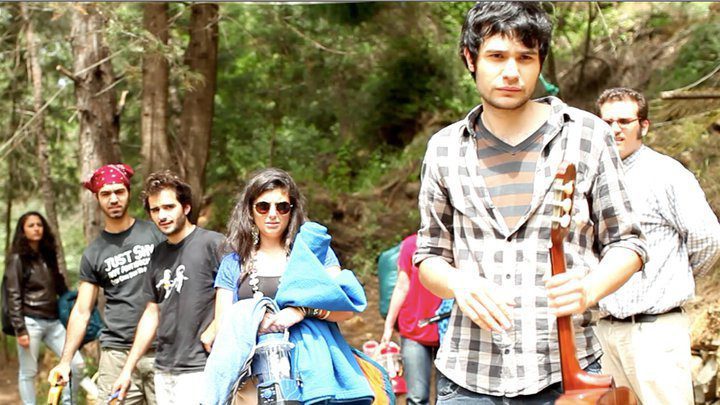 Still from Beirut, I Love You (I Love You Not) (Courtesy of Cyril Aris)
"[Mounia and I] just put it on Youtube for our friends to see, and then the movie went viral. It got a fair share of views, and then LBC got in touch with us and said they wanted to take the two characters of the short film and create a world around them, and just extend that into 50 episodes," he said.
"The episodes started out as being three, four minutes long, and by the end of season two we were doing longer episodes, around 8 to 11 minutes. Really, working on these 50 episodes was kind of our film school… we started off as three or four [people], and by the end of it, we had a proper crew."
At the time, Aris was still passionate about acting, and since it was a project led solely by him and Akl, he assumed a lead role in the series as Tarek.
This led the team towards working on other projects. They were commissioned by Yahoo! to create a new show, which eventually led them to working with producer Katia Saleh –of Emmy-winning Lebanese web-series Shankaboot– on Fasateen.
This continued, until eventually, Aris decided to take a leap of faith and pursue filmmaking fulltime by enrolling in a Master's program at Columbia University, New York.
"By then, I felt it was a bit too much to act and direct at the same time, so I shifted to focus more on directing," he said.
Aris pursues filmmaking full-time
Since his graduation from Columbia, Aris has pursued filmmaking as a full-time job. He no longer acts, but has since worked on numerous short films and documentaries, including his critically acclaimed The Swing and The President's Visit.
"The years in New York were a defining point because this is when I really opened my mind to the world of cinema….there is nothing like the joy of discovering a director for the first time," he said.
"Ever since I started working, I've never had a moment where I was like 'ugh, i have to work.' I've always loved my work," he added.
He even joined forces with Akl once again as a producer on her award-winning short film Submarine.
"[With Beirut, I Love You] we learned as we went along. Now, after 10 years of filmmaking, I'm much more experienced with the technicalities and how it can be used to service the story… Now I think of how I can use all of these tools better," he said.
Stills from And Then I Was Hearing Colors (Courtesy of Cyril Aris)
Over the course of his career, his work has often dealt with political and social issues facing people in Lebanon. Even with the lightheartedness of Beirut, I Love You, Aris insisted on tackling these issues head on.
"In Lebanon, it is very hard to disassociate oneself from the political or social context that we live in. The best example of this is the August 4 explosion. Even if we try to distance ourselves from this context, it will find a way to touch upon our lives. Whatever the story is, it is hard for politics not to be involved," he said.
It's A Sad and Beautiful World
At the moment, Aris is working on his first feature film It's a Sad and Beautiful World.
The project first began around two years ago. He has taken part in many writing residencies and scriptwriting workshops, the latest of which being the 2021 Red Sea Lodge development program. Aris is one of two Lebanese filmmakers taking part in the lodge, which is in partnership with the acclaimed TorinoFilmLab.
The film remains in the preproduction phase for the moment, as Aris has yet to complete the script. Yet, he was generous enough to provide us with a small overview of the plot.
The film is set in Beirut, and traces the relationship between two very antagonistic characters in the way they see the world. Optimistic Nino, with his positive outlook on life, falls in love with pragmatic Souraya and her cynicism. The film follows their relationship, romance, and ultimately their marriage throughout the different stages of their lives.
As Aris puts it, it's a story that "jumps through time," documenting major milestones in recent Lebanese history on the way. It is in parallel a story of a couple set within the greater context of a struggling country, as they themselves become a reflection of the social context that they live in.
The future of Lebanese Cinema
The country sinks further into the worst economic and financial crisis in recent history, coupled with political deadlock, but Aris seems optimistic that the film industry in Lebanon will continue to grow and flourish, as it has done in recent years.
He notes that filmmakers have always had to seek outside sources of funding, as the government rarely ever directs funds towards creative ventures or industries. Yet despite this, Lebanese filmmakers have always managed to push through, either by self-funding, or finding foreign donors or grants.
"For this reason, the film industry might not be as disrupted as other industries, but some of the biggest works to emerge from Lebanese cinema are films that have found themselves audiences that reside outside of Lebanon," he said.
Aris names a few notable films, such as Nadine Labaki's Caparnaum or Ziad Doueiri's The Insult. According to him, Lebanon is a small market, but Lebanese talent is in demand because they are able to provide new and interesting stories.
"There are lots of immensely talented people, and the world is starting to see that," he said.