Humbly-situated in one of Beirut's richest quarters, Creative Space Beirut occupies its setting with great unconventionality. Despite its  barely-memorable first impression when compared to the lavish, vibrant buildings around, it would be a mistake for any passerby not to venture inside.
Layers upon layers of cloth rolls, colourful cotton threads and sewing machines line the walls. Creative Space Beirut barely spans the length of an average studio, but bursts at the seams with activity. The co-founder of the space, Sarah Hermez, needs no fancy office or secretary to welcome you in: She sits in a small co-working space with her colleagues within the walls of the project she brought to life in 2011.
Inviting me to take a seat next to her, she smiles widely and enthusiastically. In no time, she's engaged in telling me about how her long frustration with the elitism of the fashion industry gave birth to Lebanon's only free fashion school.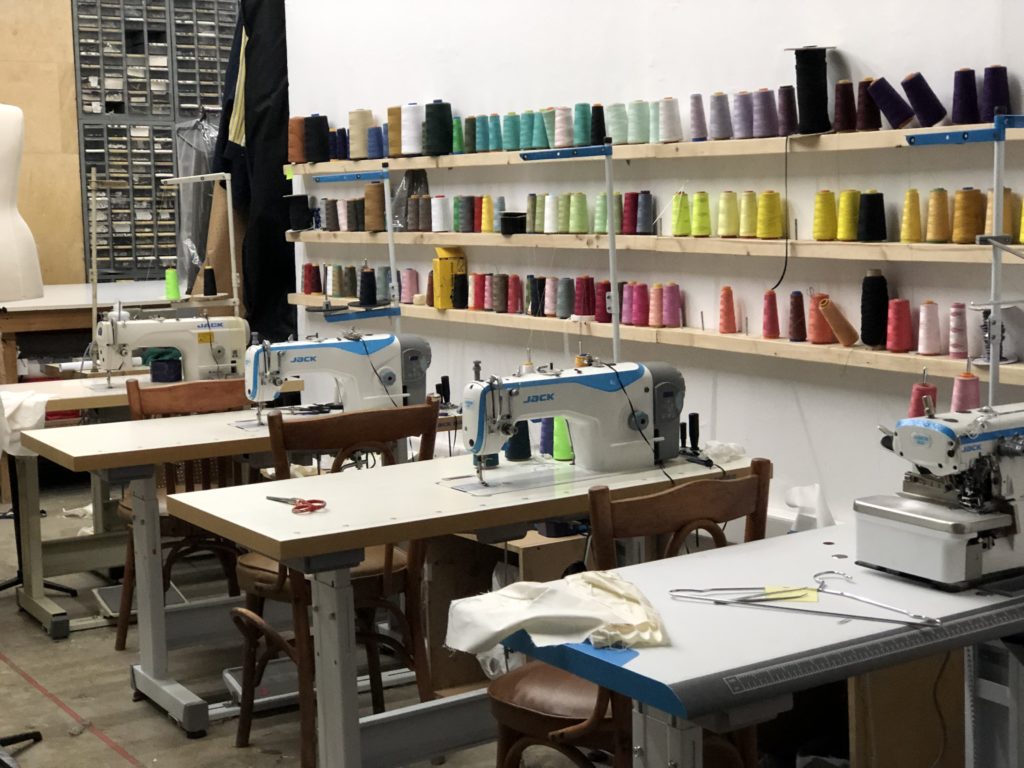 Her idea is almost impossible to achieve: With a large and ever-growing public debt to settle, and the lack of support for creative ventures, Lebanon seems like too sterile a landscape to launch a free school. Yet Hermez had other ideas.
"I think it's unfortunate because there are a lot of talented people whose talents are being wasted," says Hermez. "It's important to support talented people because these are the people that are going to be designing the future of our communities, from everything; from the structure of a city to the clothes that you're wearing to the houses that you live in."
The mission behind Creative Space flows back to the great importance that Hermez places on her belief in free education as the key to achieving social justice. For this reason, she ventured with her mentor and former professor at Parsons Caroline Simonelli to create "a free school in fashion design providing quality creative design education to talented individuals who lack the resources to pursue a degree at increasingly costly institutions of higher learning."
After a trial and error period that spanned the duration of three years following their launch, Hermez and her colleagues managed to create and strengthen a three-year curriculum that enables their students to graduate with a solid background in design.
"We're trying to put design back into the hands of those who are talented," says Hermez. "It's a 3-year program, and the students come in every day from Monday to Friday and we have courses in fashion design, from everything like pattern-making, sowing, to design development, fashion history, and digital design."
"It's a well-rounded curriculum where during the three years, we accept five students a year, so we have fifteen students at a time. We get to focus on each student and really develop their skills. We collaborate with boutiques who work with our students and they produce collections for the boutiques and they go into production," says Hermez.
By adopting the current model of teaching, the Space has created both a system where teachers are able to focus on each student individually and a collaborative work environment that allows students to thrive. Despite this, the Lebanese Ministry of Education has yet to accredit the institution as a university or school.
"In order to do so, all our students would have had to have high school diplomas, and we don't want to close that door on some people. Essentially, our credibility is built on the success and talent of our students, the events that we do, what we release, and the exposures that we get," says Hermez.
Despite these difficulties, the Space has still been able to graduate nine students during its eight years of operation. Some students may leave mid-term, while others see the program through till the end. Among these graduates is upcoming designer Roni Helou, who has been able to launch his own brand under Creative Space's incubator.
Having graduated almost two years ago, Helou would go on to win prestigious prizes and honours that include being selected for an international fashion showcase in London. He is currently a finalist for the Fashion Trust Arabia prize, a competition that may grant him up to $100,000. As Hermez puts it, Helou presents a perfect example of the talent that the Space seeks to help blossom.
"So far, all of our students stayed in design. I don't imagine that they would go in a different field. There are so many different directions within the field that they can go in, but all of them are in fashion so far," says Hermez.
At the present time, Hermez runs Creative Space Beirut out of two medium-sized studios in Beirut's central district. Alongside running the fashion design school, she also assists in managing three of the Space's brands: CSB (Creative Space Beirut), Second Street, and Roni Helou, all of which launched in 2015 – 2016.
Their plans don't end there. The Space recently received a grant from the Drosos Foundation in Switzerland that will help its founders and teachers continue their mission and grow their school further in the coming four years.
"Things are looking forward, in the sense that it's been difficult but it's been growing. I agree that it's disappointing that eight years down the line, we finally get our first grant and it's from Switzerland," says Hermez. "Nothing makes sense but it's the reality of the world that we live in. Sure, we should have been supported from day one, these things should exist without us."
In battling the pressing conditions of operating such a school in Lebanon, Hermez stays hopeful that the Space will continue to succeed and expand. She hopes that, one day, their curriculum may grow to include product design, graphic design, and creative studies.