THE PROLOGUE
The lights dim. Whispered conversations turn into pin drop silence. Heavy velour curtains glide open, revealing our unsung hero for the evening. Standing center-stage is theatre in Lebanon.
Despite the expansive access we now have to information, the world does not seem to be getting any smaller for those seeking live performances in the country. The assumption that "theatre is dead" is based on the lack of exposure that theatre in Beirut suffers from, despite being an industry built on collaborative performances and collective experiences. Local theatre and the creative talent behind it, however, are still very much alive.
"I think the local theatre scene is thriving," said Aliya Khalida, Ph.D., lecturer of Arab Theatre at the Lebanese American University (LAU) and seasoned stage director. "There is a lot happening, and the ideas never end. This is such a rich environment and society with a lot of material that one can work on."
It's difficult to imagine the silently booming industry described by Khalidi, especially considering the lack of traditional theatre spaces in Beirut. Many of the theatrical structures built between the 30s and 70s have now been abandoned and forgotten, with thousands of pedestrians streaming past iconic landmarks like the Piccadilly Theatre in Hamra or the Grand Theatre in Downtown without ever giving them a second glance. The surviving traditional spaces dedicated solely to theatre are only a handful; Al Madina, Monnot, Dawar Al Shams, and Gemmayze Theatre make the cut.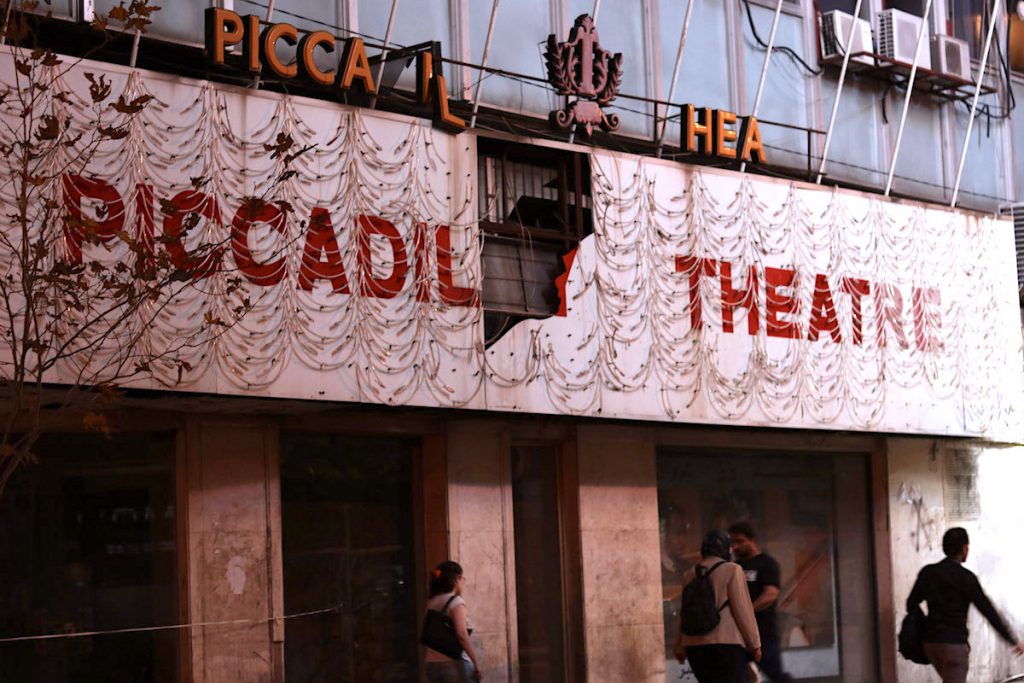 Steadfast and hardheaded, contemporary Lebanese theatre adapted to the challenges that the lack of large facilities poses. Smaller spaces, including coffee shops and lounges, are often transformed into creative hubs and pop-up arenas for directors, actors, scriptwriters, and other creative forces to share their work. The bigger problem, too big for these small spaces to hold, is that of funding.
ACT I: FUNDING
"Funding is our greatest enemy," said Khalidi, who has directed several productions including Anbara and 80 Steps.
When asked about government support, freelance actor Sany Abdul Baki laughed. The part-time university instructor would go on to explain how difficult it is for even the most well-known directors to acquire government funding for anything other than mainstream or commercial works, citing his personal experience working with a recognized director.
"It was quite absurd to find out how much he struggled to find funding for his production, knowing that you can't talk about Lebanese theatre without mentioning his name," said Abdul Baki.
Many directors and producers seek funding for major productions by applying for highly-competitive grants from pan-Arab cultural funders such as the Arab Fund for Arts and Culture (AFAC) and Culture Resource (Al Mawred Al Thaqafy).
Due to a lack of alternatives, others attempt to slash their costs of production down to a bare minimum, at the expense of the quality of their lighting and audio engineering, costume design, scenery construction, and general stage management.
Months of exhaustive preparations and rehearsals amount to a meager few days of showtime for the upcoming directors who neither have the funds nor the trust of theatre space providers to rent out arenas for longer periods of time. Live performances, as explained by Khalidi, need to run for months before generating enough ticket revenues to surpass the costs of production and deliver decent salaries to the creative talents involved in them. A play that breaks even in Lebanon is considered a success.
Last December, the Ministry of Culture announced the development of a five-year plan that would invest $180 million for cultural advancement in Lebanon. The plan aims to create new theatres, libraries, and museums, as well as preserve cultural heritage sites such as the Piccadilly Theatre and Beit Beirut. While the prospect could ensure the sustainable growth of our local cultural scene, rhetoric does not ensure implementation. The upcoming parliamentary elections will almost certainly shift the focus of politicians towards larger issues that attract more voters.
Khalidi highlighted that government funding is often tied to specific productions and people. When the director contacted and followed-up with the Ministry of Culture about acquiring funding for Anbara in 2016, the courtesy of an answer was never given to her.
"You have to know the right people and be in the right positions," she said.
The selective funding also acts as a mechanism of censorship, ensuring that plays only gain traction among the Lebanese public if they are constrained to certain theatrical styles, themes, and values.
ACT II: CENSORSHIP
The International Network for Contemporary Performing Arts (IETM) explains that theatre scripts are subject to prior censorship by the General Security as a result of the vague interpretation of a legal text set over 80 years ago during a time of crisis.
Under the premise of maintaining public order and without any clear guidelines for censorship, scripts that provide socio-political or religious commentary are seemingly edited or rejected based on the whims of the Lebanese intelligence agency and the pressures of the religious institutions that review material with religious references.
Subtle sociopolitical commentary passes censorship, according to Abdul Baki, while explicit scripts that tackle sensitive topics do not. In conversation, the actor shared an incident where his friend was asked to edit out a part of a script because he attempted to prove that God is a woman.
Khalidi also faced trouble with the General Security for Anbara, which shares the story of the first Lebanese woman to publicly remove her veil. The play is based on the legally-approved and published memoirs of Anbara, once again revealing the ambiguous guidelines by which the General Security operates.
The loose framework for censorship grants authorities more power over the ideologies being reproduced and disseminated to large audiences, pushes investors away from financing stage performances that could be deemed controversial, and forces our creative talents in the direction of self-censorship and immigration.
"The government doesn't support, but it censors," said Abdul Baki, citing the 1968 abolishment of the stage censorship law in the U.K. as one of the reasons behind the booming theatre scene there.
ACT III: EDUCATION
The U.K., where Abdul Baki received his master's degree, is also ripe with resources that theatre and performing arts students can use. Lebanon's public education system, on the other hand, is severely underfunded. The UNESCO Institute for Statistics shows that government expenditure on education in Lebanon constituted 2.5 percent of the GDP in 2013, while the world average rested at 4.7 percent.
"It's very different there," said the actor.
The enviable amount of resources and research available in the West does not apply to Lebanon, where information on the history and development of theatre in the country is difficult to come across. Students enrolled in the Faculty of Fine Arts and Architecture at the Lebanese University (LU) sometimes struggle to find relevant data for their theses, as mentioned by Abdul Baki.
In terms of access to facilities, Lebanese University students are also at a disadvantage when placed against other theatre students in the country. While private universities like the Lebanese American University or Notre Dame University can afford supplying their students with the expensive theatre and audiovisual equipment that joining a performative arts or audiovisual program necessitates, the same cannot be said about the underfunded public university.
Aside from the equipment, Khalidi notes that LU students do gain important practical experience because they are being taught by some of the very individuals who helped establish the contemporary Lebanese theatre movement.
Khalidi also expressed her frustration with local school curriculums, which often emphasize the importance of science and math and ignore the roles of theatre and art in the type of holistic learning that allows minds to critically broaden and creativity to flourish.
She described cases where some of the students enrolled in the LAU Performing Arts program had their interest in theatre sparked after "just that one play they may have watched" because of a school teacher in middle school.
By mirroring both the self and society, performing arts offer an educational space for shared reflection that students can benefit from.
With proper support and investment, theatre could also make significant contributions to the local economy. Western data verifies the amount of interest and revenue that stage productions can generate under ideal circumstances. Millennials in the U.S. are more interested in viewing live performances than in purchasing material goods, and Broadway is a billion-dollar industry on its own.
Beirut is a cultural hub that has allowed several troupes, such as Zoukak and Minwal, to emerge over the past few years and provide relevant socio-political commentary through their creative works. Despite the legal and financial constraints that they are faced with, through the adaption of local scriptwriters and directors, theatre in Lebanon perseveres.