Upon arrival, you are welcomed by fragrant lavender bushes and the resident mother-and-daughter canine duo, Bailey and Lucy. On the property lies various seasonal fruits, vegetables, and herbs growing that are native to the region. Chickens, ducks, and goats roam the grounds. Guests are welcome to feed the animals, pick organic produce, and gather fresh eggs for their traditional Lebanese breakfast prepared by Sawsan.
This lovely scenery is set in the heart of the Barouk village, at Farmville Barouk. The bed and breakfast is situated in the Chouf region, popularly known as the village of cedars and water, and home to the largest nature reserve and oldest cedar forest in Lebanon.
Founder Cezar Mahmoud of Cezar Projects describes Farmville Barouk as a community filled with love, wisdom, and success. What originally started as the first Airbnb listing in Chouf quickly grew into a community development.
After a year of success, Mahmoud decided to shift his focus to providing an experience through agri-tourism activities and to provide consultations with community members that were interested in collaborating on a project.
"We are building a healthy community in our villages. We are integrating traditions with everything new. We are collaborating with locals. We are exploring opportunities. We are trying to build a very special network on the local level before going outside and working on an international [level]," said Mahmoud.
Born and raised in Chouf, with a background in eco-tourism and communications, Mahmoud wholeheartedly believes in the richness of rural areas and all that it has to offer.
"People in Lebanon are hospitable but people in rural areas, especially in this village, are well known [by] how they care about each other, how they help each other, how they love nature, and how they protect each other and nature," he said.
With Farmville becoming a hotspot for visitors, came substantial social and economic impact to the local community.
Although guests stay at the eco-agriculture Airbnb, they are also exploring the neighbouring villages, purchasing from the local supermarkets, and buying manousheh from mom-and-pop shops, shares Mahmoud.
With the support of AMURT Lebanon and the Barouk-Freidis Municipality, Mahmoud also opened a community kitchen with advanced machines and cooking facilities. The kitchen is open to the public, at a low cost, with the intent to create small-batch products for profit and bolster conversations amongst community members outside of social events like weddings and ceremonies.
This then allows conversations on how they can further benefit their community and their villages.
"They can come and drink coffee. They can come to drink maté. They can come talk about farming, [things] that will benefit our community and the village," says Mahmoud.
Of the many projects that Mahmoud consults on is Dar Leila, a family-run culinary enterprise that opened last summer and serves traditional breakfast and lunch on summer weekends.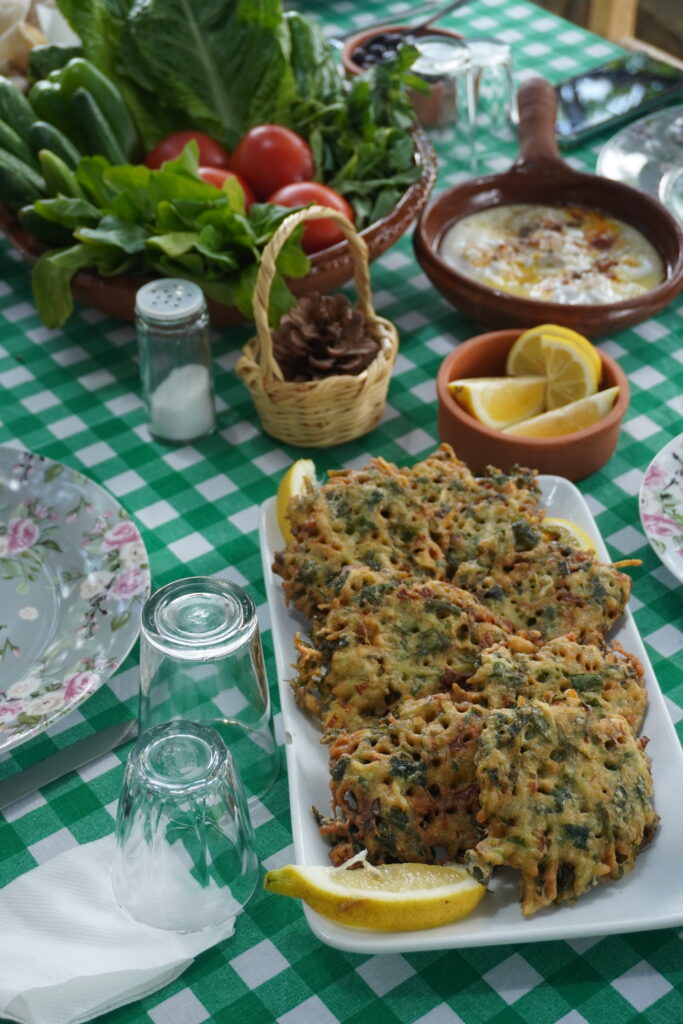 Mahmoud was introduced to tante Leila and 3amo Sajih El Hassanieh, two retired Lebanese University professors, through a mutual friend.
"When I visited them, they asked me if we could do something together, and of course, I said yes. After one week, we visited them again in a professional way with the team. We made the concept and implemented the project, and now everyone can go and live the whole experience from A to Z," he said.
"Not only to go for breakfast, but to go pick the vegetables, to pick the fruits, to meet the most important part, 3amo Sajih and tante Leila, and taste the very very special food."
With the economic crisis heavily impacting retirees, the family decided to open their 43-year-old home to serve guests an authentic meal and provide an eco-agriculture and eco-tourism experience.
Their home is situated in the town of Ain Ouzain, a 10-minute drive away from Farmville Barouk. On their land is an old oak tree which the house was built around, keeping the courtyard shaded during the hot summer months.
The house and agricultural land were built and cultivated by 3amo Sajih himself, thanks to his love and passion for stones and rock. His granddaughter, Elena, jokes that her jedo doesn't leave a place without bringing a rock (or two) home.
Tante Leila, on the other hand, loves getting her hands dirty in the kitchen. Her specialty is aajeh, a crispy egg dish filled with freshly shredded potato, sliced vegetables, and freshly picked herbs from their land.
Speaking nostalgically of the dish, 3amo Sajih and tante Leila's daughter, Hiba, shares that it is a dish that tante Leila usually prepares on the weekends when her children and grandchildren are visiting. Tante Leila would prepare it in the morning, just for it all to be eaten before noon, as it is eaten up by her children and grandchildren before they can actually sit down for lunch.
"For my father, I hope that everyone comes just to see the beauty of our house and the work of my father because all those are his handwork. For my mother, she loves people, she loves to interact with people and talk with them. She has magic fingers in the kitchen. I hope that everyone can taste her food and also for her to get a financial opportunity," said Hiba.