Roni Helou, one of Lebanon's top young fashion designers, has in the five years since launching his signature designs ascended rapidly in the profession. The now Creative Director and Founder of the eponymous Roni Helou company boasts an innovative and growing global fashion brand, along with strong recognition from fellow world designers and fashionistas.
But before all that, Helou started at the ground floor as an enthusiastic student of fashion design.
He began his formal studies in 2013 at the Creative Space Beirut, a social enterprise with free fashion design education and job creation as its key focus, graduating from the three-year program after immersive technical and creative training. The school's founder, Sarah Hermez, recounts that the origins of the program are a product of her interest in social justice and creativity, noting that it is "a very intensive type of program… The fashion industry isn't glamorous, it's very hardworking…It's about talent and commitment."
After graduation, his evolving brand was supported by Creative Space Beirut and the Starch Foundation, a design incubator, both of which provided Helou with exposure and participation in Fashion Forward Dubai, as well as the opportunity to take part in the 2019 International Fashion Showcase in London, at which he was a finalist.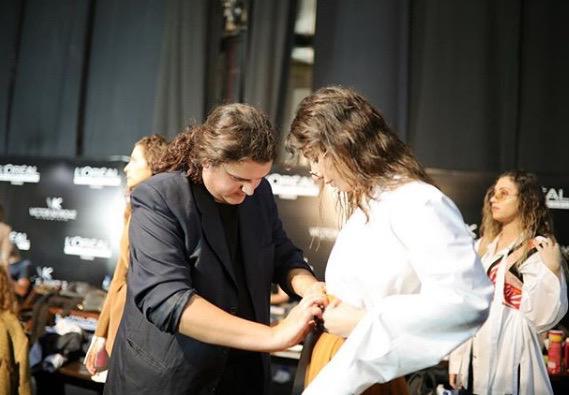 Both occasions gave Helou a chance to articulate publicly his fashion vision, central philosophy of design and regenerative clothing production. This vision and ideology made him an earlier standout for his incorporation of sustainability in his label. As part of his brand and collections, the clothes are produced using sustainably sourced fabric.
In London, Helou's installation brought attention to one of Lebanon's perennial ecological problems – sprawling trash dumps. His striking contest entry featured an haute couture photo shoot done entirely with models posing in Beirut garbage piles.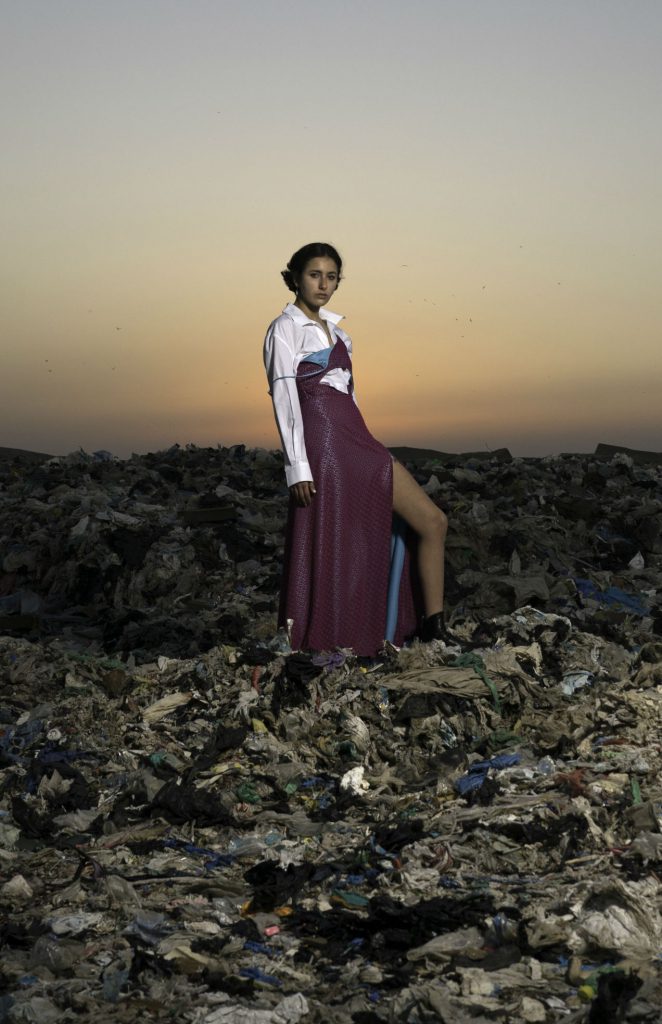 To say it was unique is an understatement, because this alone turns around the entirely posh image that is often the standard for fashion-show photo exhibits.
The brand's FW2019 and SS20 collections were exhibited at London and Paris Fashion Weeks, respectively, and the designer was awarded the first prize at the 2019 Fashion Trust Arabia's debut ready-to-wear annual competition in Qatar, where his exposure was to prove crucial several years later after the destruction of his Beirut atelier in the port explosion.
Creatively, Helou explained, now it is time to breathe. Behind him is five years since his 2017 brand launch, and much of Lebanon's recent dysfunctional history. Helou continues to create, but feels he is at a transitional point.
"After the pandemic, after the Infijar, after the ongoing economic crisis, I find myself reflective, going forward," Helou told Beirut Today. "It's very important as a creative person, a designer, to constantly reinvent. There is always room for improvement."
Helou noted the ongoing challenge of "looking at what you are doing, thinking where you are at," amid a world full of catastrophes.
For the designer and the company founder, there are a number of creative horizons to consider, after the dramatic events of the last three years, "I don't need a comeback, I never went away, but let's call it Roni 2.0," said Helou with some laughter.
But certain things will not change, he emphasized.
For the Lebanese designer, it is a point of pride that his work is based on upcycling old stock fabric and often even vintage clothes. Regarding the use of vintage, this is not just part of the sustainability, but a product of the many layers of Lebanon's society, in history, culture, cuisine, and fashion, which influenced the designer early on, Helou said.
Asked about his creative process, the answer is succinct: "My design process is usually very mathematical in nature. I prefer to begin with an archetype or vintage piece. As I study the piece and its elements, I question why each detail is made or positioned in the way it is. Upon questioning the reality of the elements, I begin to deconstruct and experiment with different placements, different volumes, and different functions until I have created a new combination that is pleasing to me."
Revolving around everything Helou does is the key consideration of global sustainability, protection of animal rights and human rights. His ecological philosophy was, and is, a harbinger of changes being made in the industry and indeed the world, as the limits to growth are being encountered with increasing land and sea pollution, rapid climate change and more.
He told Beirut Today that the industry at large, still has not done enough to address global problems and noted that there is a certain amount of personal frustration "with where the global fashion world is at in terms of ecologically-oriented production and reflecting the world around it."
"Just being sustainable is not enough, the industry needs to become regenerative," he said, adding that his evolving approach to "sustainability is 360 degrees."
"As a brand, we are always mindful of humans, animals, and the environment in everything we do. We support small and local businesses, as well as local tailors and production houses. In addition, we collaborate with non-profit organizations and initiations on pro bono projects and fundraisers. Since we are a relatively small brand, we are able to do all of that organically and spontaneously, but we still repeat these initiatives every year without necessarily labeling them as CSR programs," Helou said.
Other designers whom Helou admires for their devotion to sustainability are a "Who's Who" list of names ranging from the doyenne of Punk fashion during its heyday, Vivienne Westwood, to the top contemporary fashion house of Stella McCartney and 20-something French and English fashion phenoms Marine Serre and Priya Ahluwaila. Some more names include Bethany Williams and Christopher Raeburn.
After his Beirut residence and atelier were destroyed in the August 4, port explosion, Helou was offered the support of Sheikha Al Mayassa bint Hamad bin Khalifa Al Thani, who invited the young creative genius to move his headquarters to Doha, Qatar. Currently, Helou maintains a showroom, and business operation in Doha amid still rebuilding his Beirut atelier and working with Beirut assistants. He travels back to Lebanon at least every two months.
Sheikha Al Thani, in her positions as the chairperson of the Qatar Museums, the Qatar Film Institute and a co-chair of Fashion Trust Arabia, is one of the world's top supporters of the visual arts. More recently she has markedly increased her focus on supporting and recognizing fashion design talent emerging from the Middle East and North Africa.
The Roni Helou brand has gone on to launch an international online store from his Doha base of operations.
"[The] FTA prize is the only initiative of its kind in the Arab world, creating a space to find, nurture and cultivate the most talented designers on an annual basis. The initiative's mentorship will help a new wave of talent receive global attention. This commitment to education runs through everything we do at Qatar Museums," said Sheikha Al Thani.
Helou's presence in Doha has proved to be a good fit.
In addition to running his business, Helou is playing a mentoring role in terms of advising the M7, a Qatari innovation hub that is devoted to empowering local creatives of all types. For him, it is a chance to work with younger artist who are starting at the point he did in 2013 at the Creative Space Beirut.
"I get involved in the creative community, and love being part of such a positive project," Helou said.
In 2021, Qatar Museums launched M7 to provide business assistance to entrepreneurial innovators. The aim is to develop a creative and artistic ecosystem for Qatari entrepreneurs, small and medium enterprises (SMEs), with particular emphasis on emerging industries in the fields of fashion, design, and technology. The large-scale minimalist structure located in the central Al Baraha square provides training, workshops and co-working space for creatives and acts as a venue.
Whether mentoring or working on Roni Helou designs, Helou said that for all in all of his activities "that there must always be passion."
"Having a social and conscious aspect to the brand will keep me motivated to continue to develop and grow the business in the future. As well as spreading the name of the brand, it introduces the brand to a variety of audiences and establishes it as an important element of change in the region," Helou told Beirut Today.
Like many Lebanese who have left abroad for work opportunities – now numbering into the hundreds-of-thousands – Helou's leaving came only after there was little choice. He has noted in a previous interview with Women's Wear Daily that "The hardest part was the last month, when I realized how much I had lost and how much I would miss my home and workplace…."
Where exactly Helou and his brand goes from here, is the "What If?" If comparison to other Gen Z sustainable designers is any indication, an even bigger future awaits the designer and his brand.
Offering some insight into Roni 2.0, the designer says, "technically what I have in mind for the brand is to actually have two collections; one that is focused on staple garments that are seasonless; and secondly an artisanal and conceptual collection that would have more influence from Lebanese fashion history." This, he describes, is intended as looking at older techniques that were used for making clothes, and not traditional outfits as such.
Additionally, the Helou Brand is focusing on exclusive bespoke couture, designing, and tailoring luxury clothes for individual clients in the Gulf countries, "there is a big market for this kind of service in the region."
On the question of historical, artisanal concepts, the designer said, "I can't share too much at this point, I am still at the beginning of my research, nothing is finalized," Helou said. "The plan is not to replicate old clothes, it's more an emphasis on the craft, certain techniques, how we can modernize that, certain pieces, the functionality of those pieces, can we adapt them to modern life."
He noted that amid all the historical external influence of clothing styles in Lebanon, there is still something that is uniquely Lebanese in the traditional manufacture, there is this special touch, the craft – the challenge, Helou said, is how to modernize the techniques.
On his overall goal going forward, the designer said, "in terms of my vision for the brand, I am very ambitious and flexible. If the opportunities are aligned with my own and the company's values, I am open to all opportunities…I envision Roni Helou becoming more than just a clothing brand in our region."