In a vacant parking lot in Furn El Chebbak, some spinach, kale and other greens tranquilly grow in a specially manufactured container. They rise to the sound of classical music, blissfully ignorant of the chaos surrounding them in the buzzing neighborhood on the outskirts of Beirut.
"It has been scientifically proven that classical music helps plants grow better," explains Edwin Arida, the Operations Manager of the project.
The container is called Beirut Farm and has a rather peculiar role: It acts as an urban farm in the heart of the city. It falls under the category of vertical farming, and more particularly, Controlled Environment Agriculture (CEA).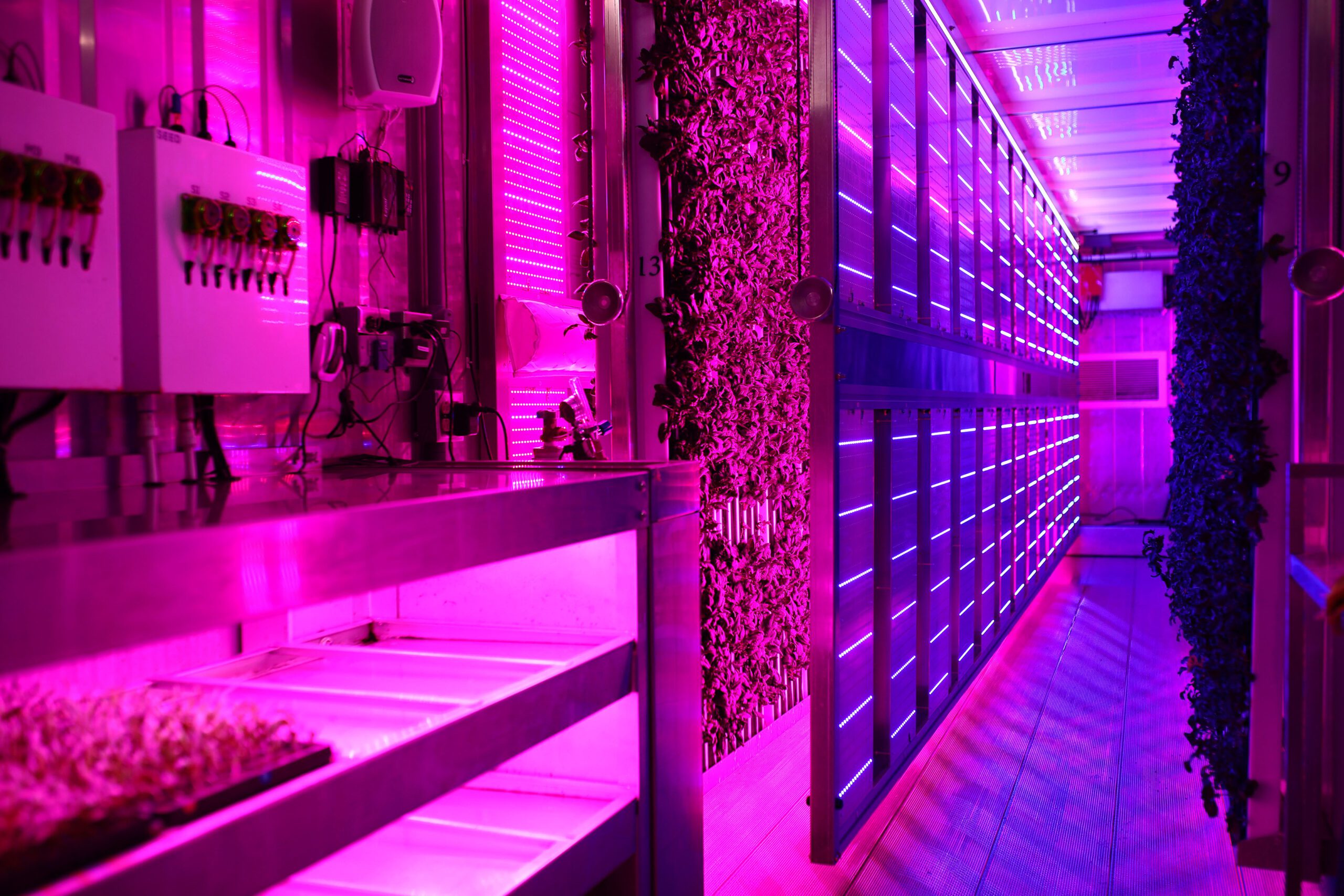 "Vertical farming simply means planting on a vertical axis," says Arida. "What differentiates vertical farming from traditional farming is that we use less water—95 to 99 percent less water—and we use no pesticide. We control all the input variables to give the perfect mix of nutrients and climate to the plants."
Beirut Farm is not the first CEA farm in Lebanon. In the past five years, startups, such as Ground Vertical Farming and LifeLab, and other smaller scale businesses, including Al Zourou3 already introduced this type of farming to Lebanon.
This type of farming had also already been seen a few years before that in the heart of the Bekaa Valley, with the influx of Syrian refugees.
"The idea at the time was about how they could plant their own vegetables in front of their tents," says Professor Mustapha Haidar, director of the American University of Beirut's Agriculture Research Center in Bekaa. "And the idea came to place boxes, small boxes with holes that can contain 200 plants."
Sandro Allouche, owner and founder of Beirut Farm, in 2019 stumbled upon Freight Farm—a Boston based company selling ready-made container farms with a hydroponic system. Initially working in the medical field, Allouche thought it a good investment to be able to produce the greeneries that Lebanon imported.
What first started as a hobby for Arida, the operations manager, suddenly turned into a career. Prior to delving into the world of moss, nutrients, and plants, he was in the finance and insurance domain.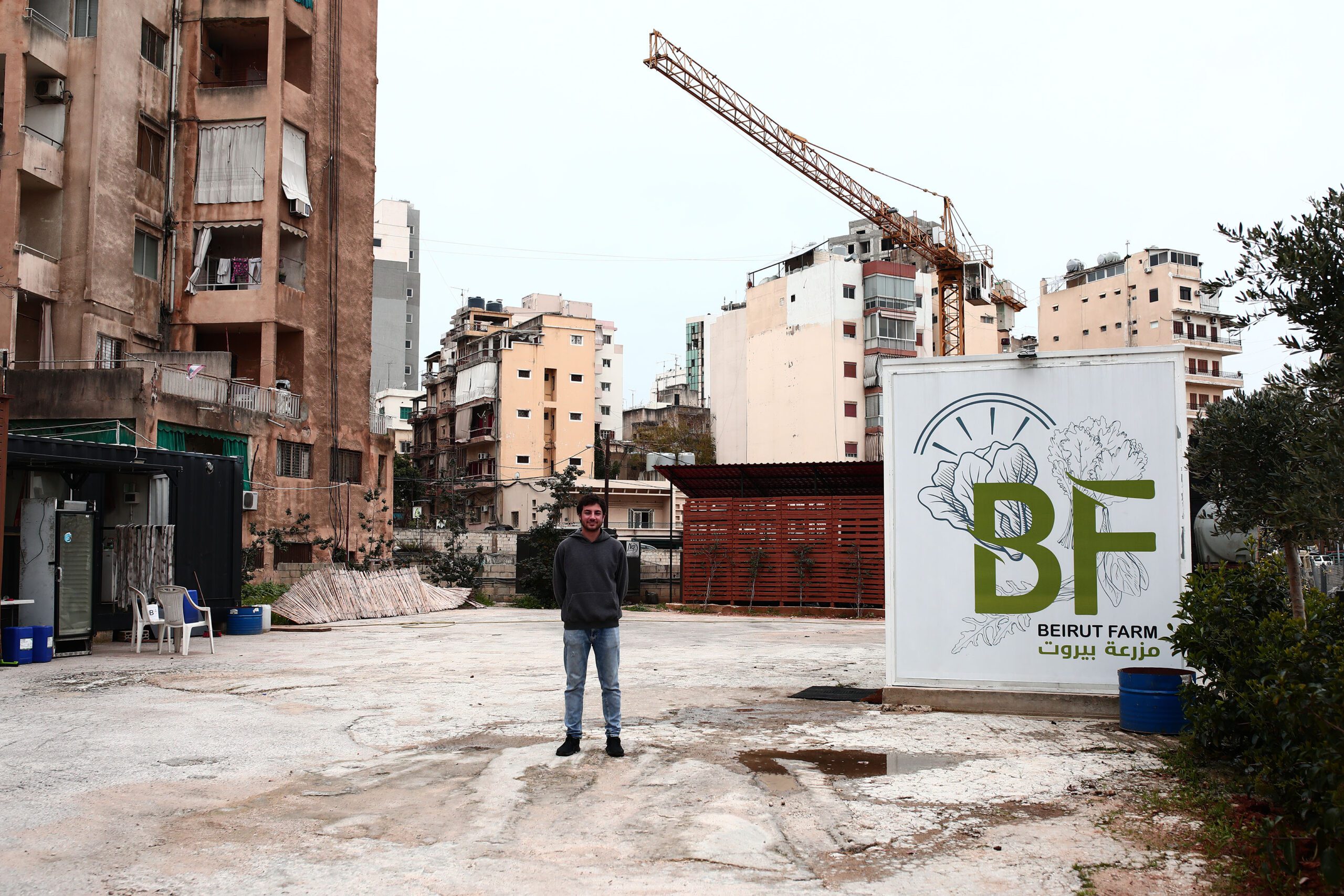 He began researching hydroponic farming, a system of farming where plants grow without soil or pesticides in a completely controlled and manufactured setting. Arida knew Allouche was thinking of investing in vertical farming, and after a meeting together, the pair moved forward together with the idea.
The container arrived on February 28, 2021 and production began around a month later. Currently, Beirut Farm offers products that include kale, arugula, and wasabi.
In a country like Lebanon, with limited agricultural spaces and increasing challenges, vertical farming seems like an ideal solution. "Anyone who has a three-car garage space in Beirut can put a container and work," says Allouche. "Today, the competitor of Beirut Farm is any other farm. We're just a farm at the end of the day with a different technique."
From his phone, Arida can control the temperature, humidity, and light intake of the plants. The mixture in which they grow is made from coco peat and moss, with an added mineral mixture to provide the plants with the needed nutrients. For many in the organic community, hydroponic farming doesn't tick the right box because of the added nutrient.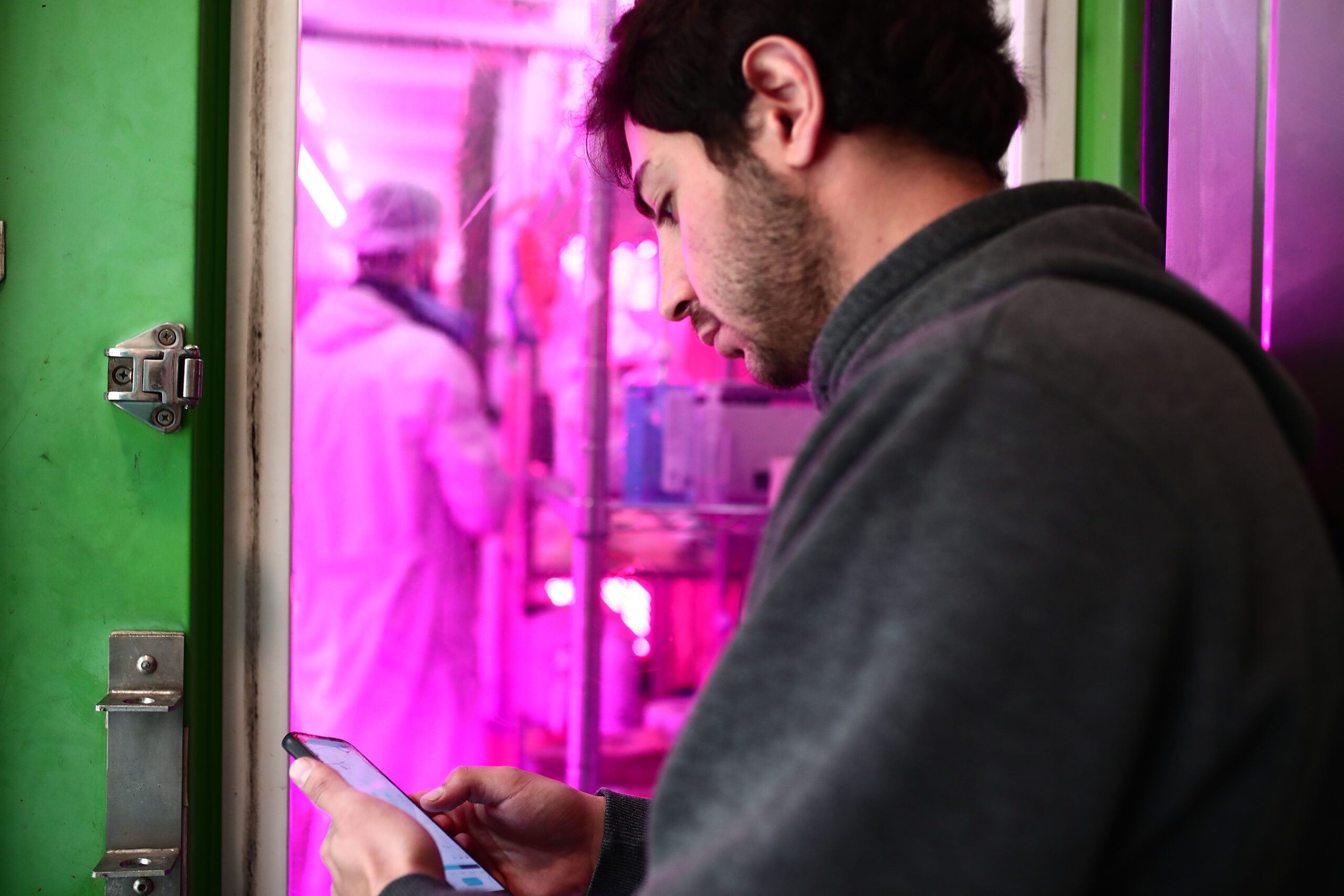 Sabine Kassouf, the co-owner of A New Earth, an organic grocery store in the heart of Beirut, initially had her doubts about plants grown in a hydroponic system.
"Many organic farmers argue that plants not grown in soil are inorganic," explains Kassouf. "I asked Edwin [Arida] to show me the nutrients they were adding to be sure it did not contain chemicals or growth hormones. And the product really tastes great!"
The many advantages of vertical farming include its minimal carbon footprint, water requirements, and its ability to increase plantation density.
"The production of [our] container is the equivalent of the production of a 30,000 m2 land, or almost two acres," says Arida. "Because in the land, you harvest what we plant now once a year. We harvest 22 times a year."
But in Lebanon, everything has a price—for both the buyer and the producer. Beirut Farm sells 100 grams of Arugula at $1.70, or LBP 40,800 at the rate of LBP 24,000 LBP compared to LBP 28,000 for 125 grams of the same produce in a supermarket.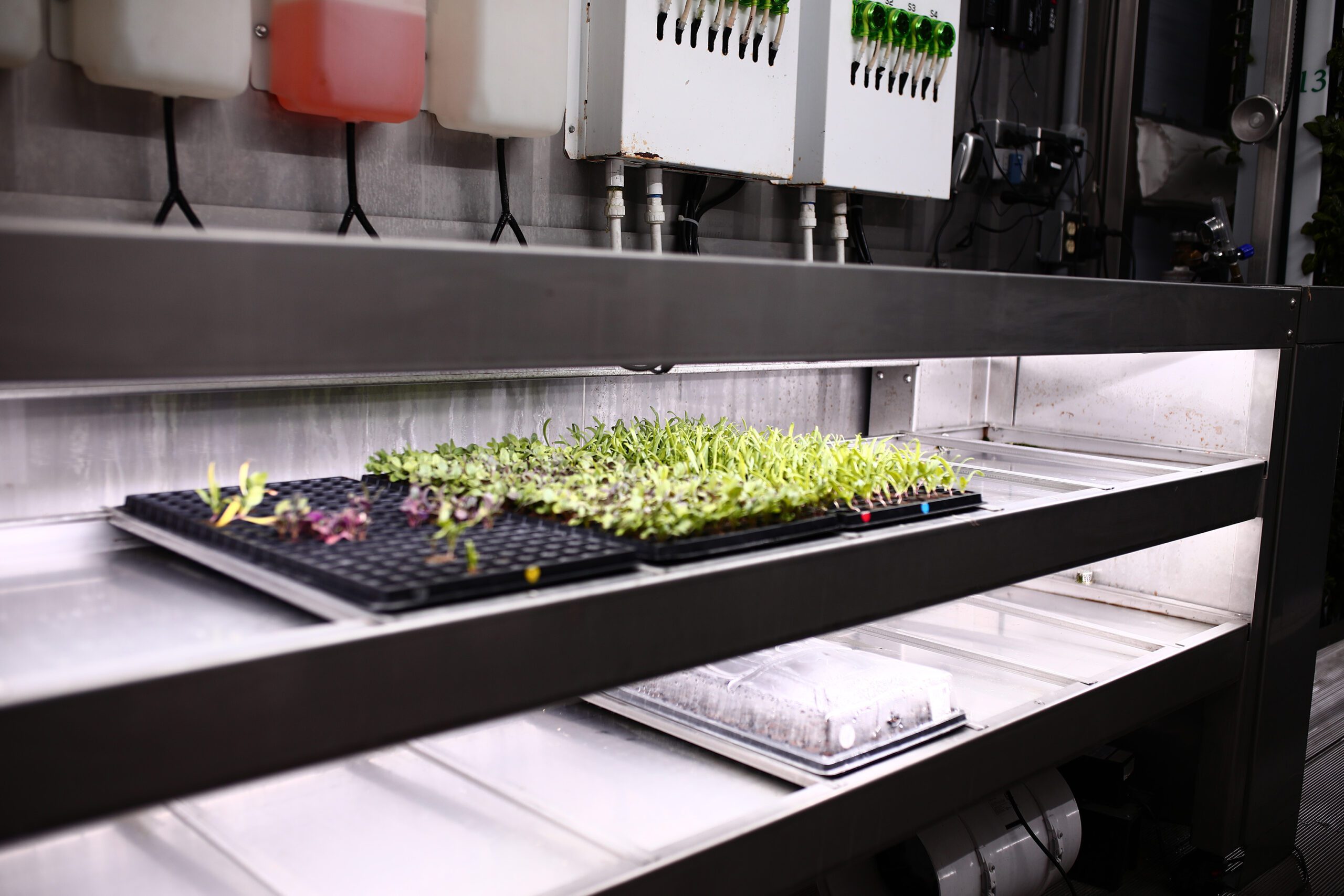 Allouche attributes that higher price point to two main advantages Beirut Farm presents as opposed to its competitors: "We have more crops than anybody, and none of them are able to say 'Eat my product without washing it' and this is the major difference with us."
Indeed the particularity of Beirut Farm's products, and plants grown in a hydroponic environment, are their cleanliness since they aren't in contact with soil.
"We have the cleanest produce, you don't even have to wash it," emphasizes Arida. "We sanitize ourselves and go into the container where the work happens."
The purity of the plants attracts many consumers, especially those suffering from particular health conditions. Immunocompromised individuals, for example, may turn to Beirut Farm as they require the cleanest goods.
Similar to every business, citizen, and entity in Lebanon, the project hasn't been spared the impact of the crisis. Relying on imports to get the necessary material such as LED lamps or nutrients for their mixtures, Beirut Farm suffered from the plummeting economic state of the country.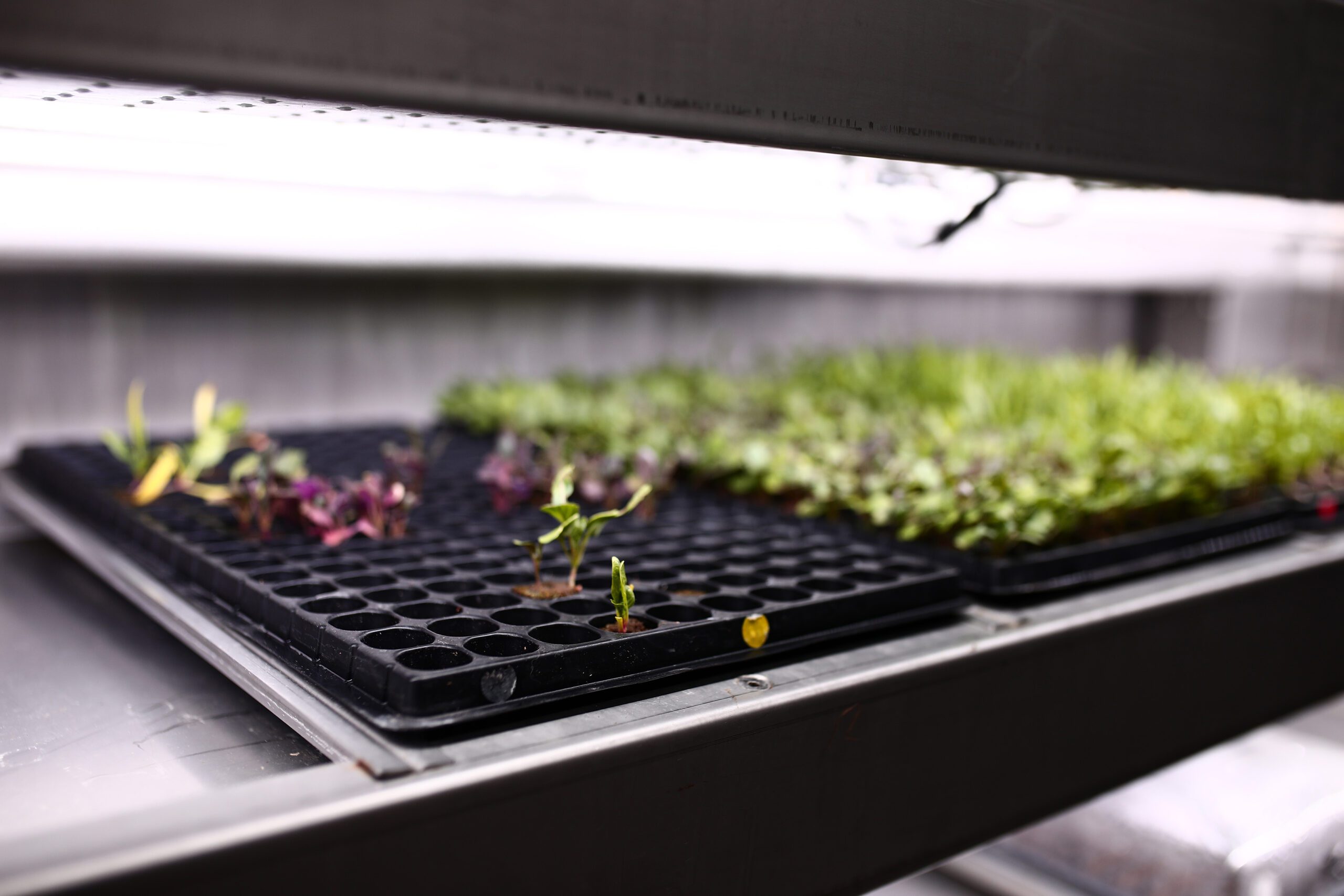 But nothing affected them as much as the severe gas crisis that started last summer. "We passed through a phase where we had no access to fuel," says Arida, "We had to beg to be able to provide electricity."
Electricity is a core resource that Beirut Farm needs to function, and represents the biggest chunk of their bill.
Currently, Beirut Farm's revenue comes from two sources: its sales from markets, such as A New Earth, Urban Market, and restaurants such as Le Petit Gris, as well as external funding and grants the farm is currently applying to.
Despite all the challenges, Arida and Allouche have their minds set on expanding their mission. Their next steps include selling microgreens and gradually adding more clients to their list. The pair has its eyes set on the prize: "The future of nutrition," as Arida defines it.
The only obstacle standing in their way is the deteriorating state of the country.
"During the conflict that lasted four hours in neighboring Tayouneh back in October 2021, an RPG exploded just above our heads," says Arida pointing at the sky above the container. "And we just kept on working. That's how we're programmed, nothing can stop us."