EV Electra chose to officially launch the first Lebanese-Palestinian electric car, Quds Rise 2022, in Beirut because the city is their "pride and joy."
On April 24, Quds Rise made history as the first electric-powered car that's entirely designed and manufactured in Lebanon –a gift to Beirut, Lebanon, and the Arab World as a whole.
The car was unveiled to the public on a spring day tour in the streets of Beirut, followed by a formal ceremony where audiences could snap pictures of the two-seater sports car with a 180-horsepower engine.
The front of the bold red car is emblazoned with the golden logo of the Dome of the Rock, the shrine in Jerusalem's Al-Aqsa mosque. It's built into the car as a reminder of the car's Arab origins and the everlasting Palestinian cause, but those who wish to replace the dome design can do so as this option "is available to them."
The interior of Quds Rise, Lebanon's first electric car.
A baby is born
Lebanese-born Palestinian businessman Jihad Mohammad, the owner of EV Electra, told Beirut Today that he felt like a man who had been in a childless marriage for more than 10 years. At the launch, he felt like his hypothetical wife had given birth to a beautiful baby –Quds Rise. It's a beautiful and indescribable feeling, according to Mohammad.
"The project started four years ago, but the launch party only took place on April 24 of this year," he said.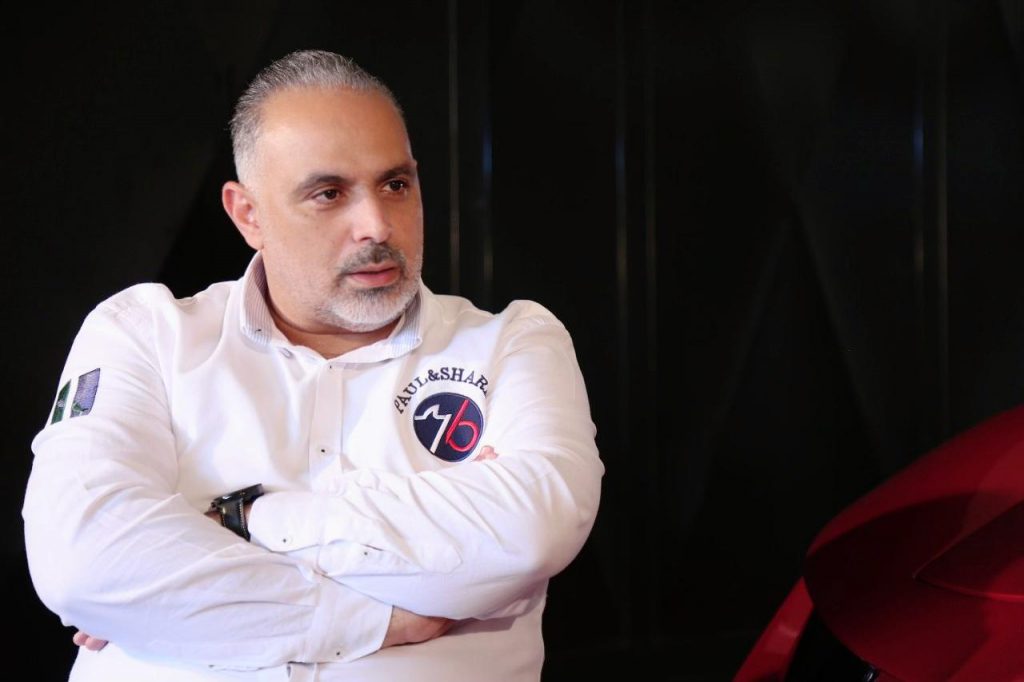 After years of working in the communications field in Canada, Iraq, and Gulf countries, Mohammad decided to embark on a new journey in car manufacturing. He started his company around four years ago, and now employs around 300 Lebanese and Palestenian employees.
Mohammad believes there's a large responsibility on his shoulders, reaffirming that to the public after the car's launch.
"If we fail, no other large scale or similar project will be launched before another 50 years," he said. "The blame will fall on to the country when it should really fall on to the entrepreneur."
He emphasized that Quds Rise is the first fully Lebanese-Palestinian car to be created and manufactured in Lebanon, warding off rumours that a car had been previously manufactured in Lebanon.
"What we witnessed before was simply remanufacturing, rather than manufacturing," he said.
In the long-run, he hopes to compete in the international market for electric cars or else "we would have spent our money recklessly, but that won't happen because our will and determination will help us reach all that we dream of, plan for, and pursue all day and night."
Mohammad also hopes to sell in the local market.
No hurdles ahead
Since fall 2019, Lebanon has witnessed an economic collapse where the local currency gradually lost its market value against the dollar in the midst of a massive liquidity crisis. The Lebanese lira trades for approximately LL 12,000 on the parallel market, while the official exchange rate remains pegged at LL 1,500.
Despite Lebanon's electricity and economic crises, Mohammad said his project isn't facing any hurdles. "The routine measures related to car specifications and its engine are normal," he said.
Some say Mohammad had "gone insane" enough to launch a new business amidst the financial crisis but the owner of EV Electra thinks otherwise.
"Right now, and in light of the economic crisis, is the best time to launch," he said. With Lebanese citizens so tired, frustrated and overwhelmed, Mohammad believes the launch of a new car brings joy and positivity for all Lebanese, Palestinians and Arabs.
Quds Rise, like all other cars, will be sold in dollars despite the fact that Lebanon's purchasing power has massively decreased. The electric car from EV Electra is still cost-efficient when compared to other cars that run on fuel, especially when the economic crisis will lead to an increase in the price of gas.
Electricity crisis
Lebanon is heavily reliant on fuel to generate electricity, which is currently not sufficient for 24/7 coverage of a country with approximately six million residents. Electricity cuts can last up to 12 hours on some days, which negatively affects the ability of residents to charge a Quds Rise car.
"Despite the electricity cuts, there's always generators as an alternative," said Mohammad, completely calm. "There are many sources [of electricity] and the result is the same."
The energy sector is one of the biggest contributors to greenhouse gas emissions in Lebanon. EV Electra has pledged to create around 100 charging stations across the country, via generators, solar panels, and other means that can power its car –bearing in mind that around 4,000 meters of land would be needed to generate enough electricity via solar panels.
"Beirut is our pride and joy," said Mohammad, pausing a little before responding to a question about the direction the company is taking. "We started off in the Lebanese capital and hope to embark to other capitals. We hope to manufacture in multiple countries but wanted to launch from Beirut so we can all bask in this collective joy."
EV Electra's factory will be situated in Choueifat, according to Mohammad. "We'll put certain car parts together, such as chairs, in other locations."
With regards to charging the car, Mohammad clarified that "the car needs 50 kilowatts of power to charge via its wire for a duration of eight hours."
"There are other means to charge at the stations where it needs less time, 10 minutes and between 150 to 300 kilowatts," he added.
He hopes that his company will be able to produce around 10,000 cars in Lebanon this year, so that the bulk of these cars will be available on the market within the year.
Economic crisis
The Quds Rise was unveiled to the public amidst a period of tumultuous economic collapse, the worst Lebanon has witnessed in centuries. The local car market is witnessing an unprecedented decrease in sales as citizens and residents face capital control measures enforced by local banks.
The Association of Car Importers in Lebanon revealed that only 62 cars were purchased during the first two months of 2021, a 97 percent decrease in sales during the same period last year.
The Quds Rise has made history as the first car to be manufactured in Lebanon, but will other large-scale businesses launch locally in the upcoming months at a time when the country is suffering from an economic and social collapse, corruption is seeping through its public institutions, and political deadlock remains in place?