In the middle of a snow storm, four days after Christmas, Suraia Abud arrived in Hammana. She came to the village to investigate the cultural significance of food as part of an art residency at the Hammana Artist House. Initially, locals couldn't understand her interest. 
"People were telling me that there was nothing to do in winter, that I had to come in summer. They didn't appreciate the knowledge they had," Abud recalls.
Though officially there are 8,000 inhabitants, at the peak of summer freshness, only 3,000 live in Hammana. In winter, the population shrinks to 800. The presence of the artist house is helping new life blossom in the small village known for its cherries in the Baabda district, 26 km away from Beirut. 
"Here, there are people who come from the US for three weeks. They don't feel the need to go to Beirut. A few years ago, it was very different," says Robert Eid, a financial banker and contributor to this change. Suraia Abud introduced him to Beirut Today as "the magician of Hammana. Every project he gets involved in works out."
The Story of a Banker Coming Home to Hammana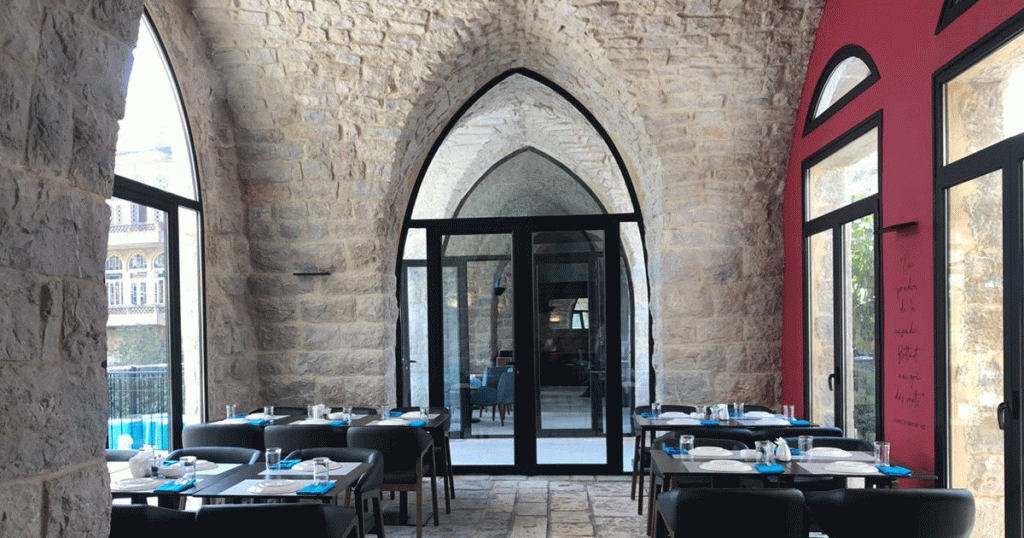 Originally from Beirut, Eid had been living abroad for 40 years when he decided to come back. The banker with a PhD in Money & Banking from the University of Pantheon-Sorbonne in Paris wanted to find a way to revive Hammana. At the Cherrylane, a restaurant that he recently invested $1.5 million to open, dessert takes him back to his childhood memories. 
"This cherry pie is made with Hammana's cherries. Can you believe that we have ten farms and five different varieties?" He looks back fondly at Hammana Cherry Day, which is now over 50 years old. "Besides the cherry festival, I remember summers in my mother's village as very calm."
Depopulation in the mountains isn't exactly breaking news. Across the country, rural exodus emerged as a trend in the '60s. The state-sponsored development projects set up by the administration of Fouad Chehab proved less powerful than the roads to Beirut, which pulled waves of migrants to the city.
In the following decades, war worsened the situation. As Hammana was occupied by various military factions, people left for Beirut, the US, Australia or South America. Other areas such as Beit Mery and Broumana eventually reverted such dynamics, but Hammana didn't. The tourism from the Gulf that maintained the village's economy remains sensitive to geopolitics.
Behind the municipality and public library, Eid bought two lands facing each other, on opposite sides of the road. One had a century-old house, the other was empty. 
"What should I do with it? I turned to the villagers for advice," he recalls. Eid would build a garden in 2015, one that reflects Hammana with its terraces, a waterfall supplied by the nearby Chaghour fall that provides all the water of the village, and a statue of Sheikh Fahed Farhat –Eid's grandfather. Preparing for the inauguration, he went around and asked elders about him. 
"Stories started branching out. Over a few months, I gathered hours and hours of stories. Soon, I also established contacts with Hammana's diaspora," says Eid. Out of this came a book, Hammana in the dialogue of Generations.
At the inauguration of the garden in 2015, Eid organized a party, inviting diaspora from Brazil, Australia and other places. 
"For me, that was the beginning of the Hammana Artist House."
Eid met Collectif Kahraba, a non-profit theater group founded in 2007 by four performance artists, in 2014. Their partnership would make perfect sense: Eid was looking to create a space where culture and creativity could be tools for innovation and development, while the collective had long-sought to reach different parts of Lebanon that had no access to performance art, according to its co-Artistic Director Aurélien Zouky.
Puppets and Stairways: The Story of Collectif Kahraba and Hammana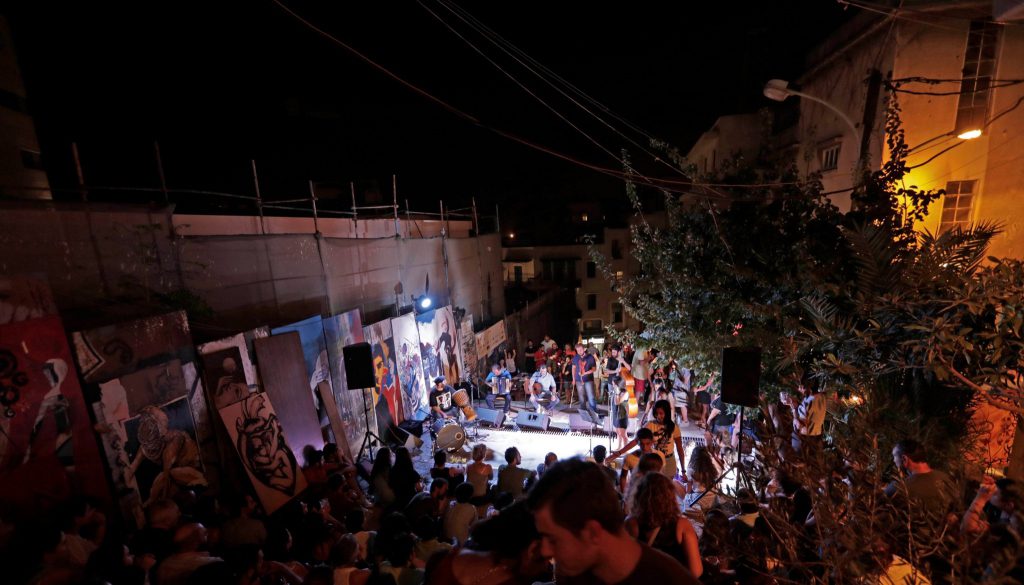 "We knew we couldn't count on the same facilities outside of the capital, so we built performances we could transport in a car," says Zouky.
The collective itself started in Mar Mikhael. Living room rehearsals meant pacing up and down stairs with puppets and other theater props, which would ultimately pique their neighbors' curiosity.
"What are you doing?"
"We've never seen anything."
Because performance is easier shown than explained, they organized a three-day festival on the Vendome stairs. A mix of Beirut's cultural elite, their immediate neighbors and many others showed up for Nehna, wel Amar wel Jiran (We, the Moon, and the Neighbors), a play based on a Fairouz song. Zouky remembers the event as a turning point. 
"The diversity we had was a shock. Something that doesn't occur in theaters, even in free events. It showed us that performing in public spaces was the way forward," said Zouky.
Before opening the Hammana Artist House, Eid and the collective worked on developing their vision for three years, involving Hammana's inhabitants by inviting them to individual and group meetings. Three members of the theater group moved to the village. 
"Since its beginning, the project was built around the presence of the house in Hammana and in creating links with the community," says Zouky.
He adds that the very specific dynamic of a private donor and a small private organization has worked well to start the project, but needs to be reconsidered to make the project more sustainable on the long run. Other ongoing challenges include explaining the nature of the project, the struggle to maintain independence from politicians and lobbying, and funding. Alas, being in such a beautiful house tends to mislead people into thinking they have their financial needs taken care of.
Hammana Artist House celebrated its two-year anniversary in August. Starting from zero, they've had 4,000 artists and 18,000 attendees, most of whom came from outside the village. This has encouraged new places to open. 
Last year, young people from Hammana who were collaborating with the artist house opened a bar. It worked and remained open in low season. About a month ago, four new cafés opened. They'll still have to pass the winter test.
Events take place all year round but summer, with the outdoor theater, is the more intense season. Besides shows, they organize seminars for high school and university art students to put them in contact with professionals and art residencies. The students are also key in keeping them in touch with their surroundings. 
"How not to be in a bubble is still something we worry about. We ask artists who stay with us to invite people. The point is for them to experience the steps previous to the performance. It's a way to always be in the conversation."
Stories of Food and Life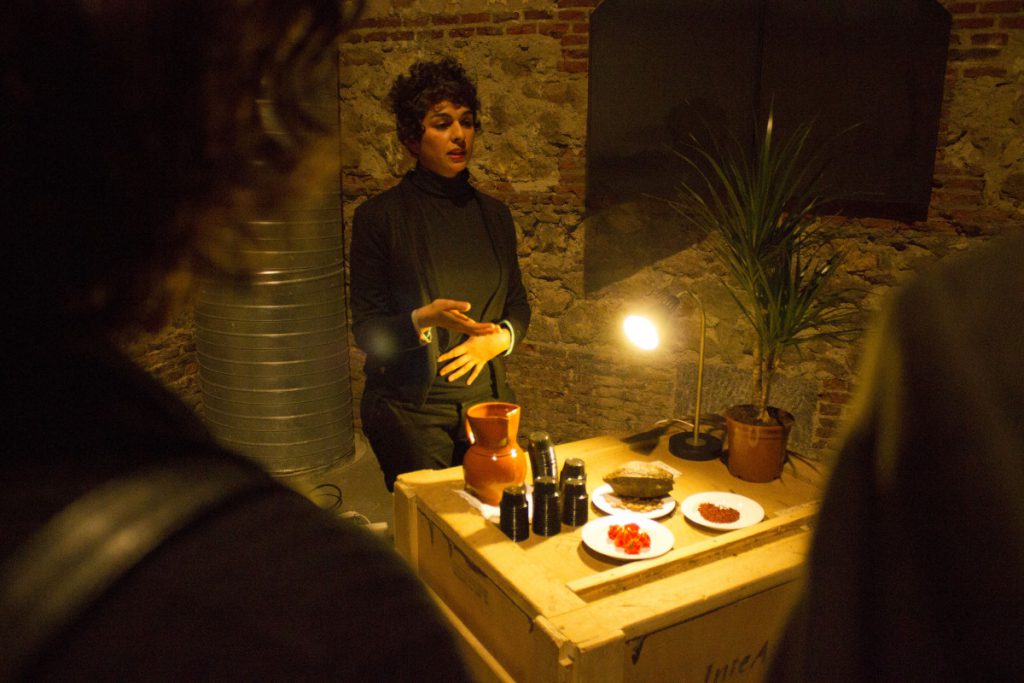 Throughout January and February, Suraia Abud lived in the residency investigating the significance of food locally. The artists divide the spaces among themselves according to their creative processes. 
"I didn't need an office or a room and since my goal was to meet and greet people, the entrance of the house became my space," said Abud.
In the beginning, people thought she was looking for recipes.
"Actually, I was interested in life stories: who left, who came back, what was eaten during the war, the cherry festival."
One of Abud's installations featured a mortar that she named the Sacred Mortar. Born in Uruguay of a 100 percent Lebanese family that was part of a closely-knit diaspora community, she grew up seeing mortars as decorative elements in balconies. 
"My family crossed the ocean with very few things, yet they took this 20-kilogram utensil. And so did all the other Lebanese families." 
In Hammana, as she discovered during her residency, it had its symbolism.
"You were baptized with it and, to get married, you had to prove to your father-in-law that you could lift the mortar. That meant you were strong and you respected traditions."
Although she was used to life in big cities with only moderately cold winters, Abud adjusted to winter in the mountains. Because people kept inviting her to share food and stories, she "never felt like the village was dead in winter." 
And since she didn't have mountain boots, she used the time to organize her material when it was freezing outside.
As a result, she produced a 40-minute documentary which was first shown at this year's Nehna wel Amar wel Jiran festival in Hammana. 
"What's important in this type of investigation is to create trust, spend time and not rush. That's when people feel comfortable enough to tell you their stories in front of the camera," she explains.
Abud says that the documentary hasn't yet been seen by everyone. 
"I have to go to Mrs. Leila Farhat's, one of my lead characters, an elder woman who couldn't attend the screening. During winter, she insisted we met everyday. It's a way for me to thank her." 
As Zouky says, "The most beautiful part of art is that we don't just do it. For us, it's only completed when it's shared."