Should your eyes stray to the skies as you sip a warm cup of coffee in Zaitunay Bay or take a brisk walk in the Beirut Marina, they would meet the vertical, multi-layered and stacked building framed by hanging greenery.  You can't miss it. World-renowned Swiss architects Herzog & de Meuron designed "Beirut Terraces" to be an unmissable, contemporary residential building in Beirut's central district.
First designed in 2009, the now-iconic project was the firm's first work in Lebanon. Known for both geometric forms and merging tradition with innovation, the firm behind Beirut Terraces is also recognizable for projects like the 2008 Beijing Olympic Stadium, Prada's Tokyo flagship store, and the VitraHaus project. For their use of unusual construction and fascinating design, the architects were awarded the Pritzker Architecture Prize in 2001. Fortunately, Beirut has had its fair share of the their innovative work.  
"The design of Beirut Terraces was quite literally influenced by the layers of the city's rich and tumultuous history," wrote the architects. "The history of Beirut could hardly be more diverse; remains of Phoenician, Roman, Mameluke, Ottoman and colonial rule have shaped the city and its buildings."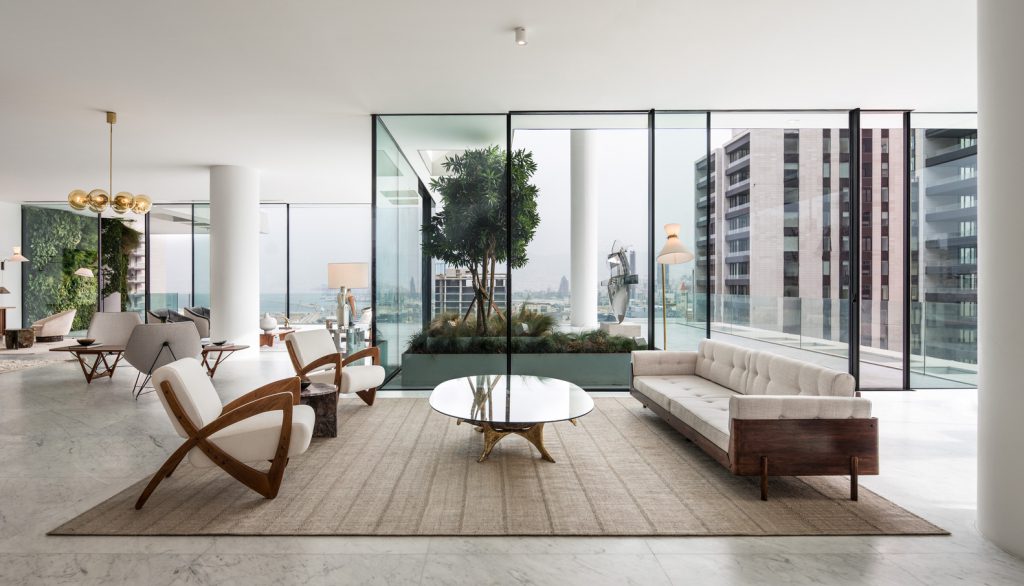 According to Dezeen, the firm based its work in Beirut on five principles: layers and terraces, the interplay of interior and exterior elements, greenery, balancing views and privacy, as well as light and identity.  
Overlooking the St. Georges Bay, the 25-floor tower is characterized by interplaying but dissimilar modular floor slabs that break the concept of typical repetitive units by creating 132 stunning apartments that differ in size.

With terraces that range from 28 m² and 400 m², Beirut Terraces lives up to its name. Considering Beirut's moderate climate, terraces don't act as mere additive spaces. Instead, the architects' intended design focuses on offering spacious terraces that grant wide views of the city and the sea.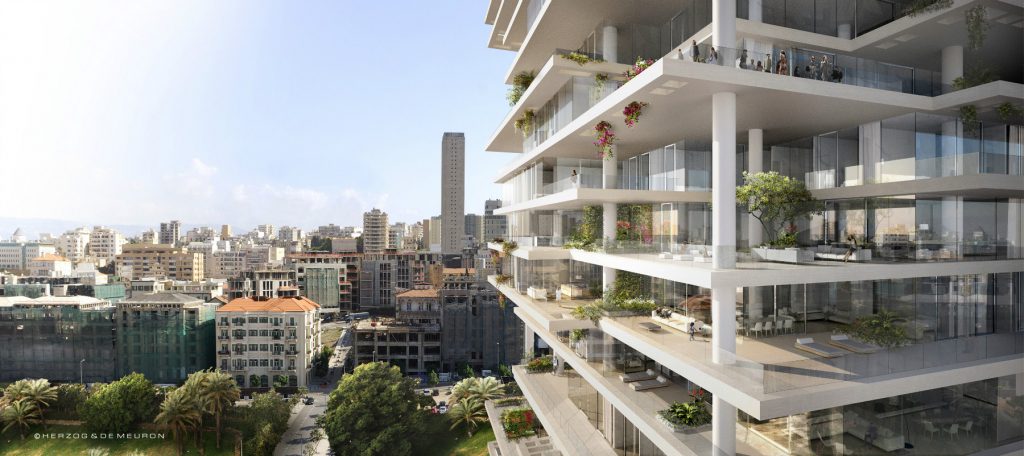 The extended perforated slabs generate geometric shadows and reduce solar exposure, in addition to the environmentally-friendly shade and privacy provided by the hanging greenery curtains. This also permits sunlight to pass through.

"Every time a resident comes home he is reminded of nature's presence," states Archdaily. Residents also share one large lobby surrounded by a 2000 m² shallow body of water, as well as amenities such as a spa with pool, sauna, steam and massage rooms and shopping facilities along the boulevard.

In 2013, the project ranked third among 36 projects worldwide in the MIPIM Awards. Beirut Terraces, the 119-meter tall structure attributed to bringing a contemporary stamp to the heart of Beirut, is one of the many fascinating modern projects added to Lebanon's' architectural melting pot.