Mashrou' Leila ended the tour of their third studio album, Ibn El Leil, with a passionate and energetic concert held on February 13.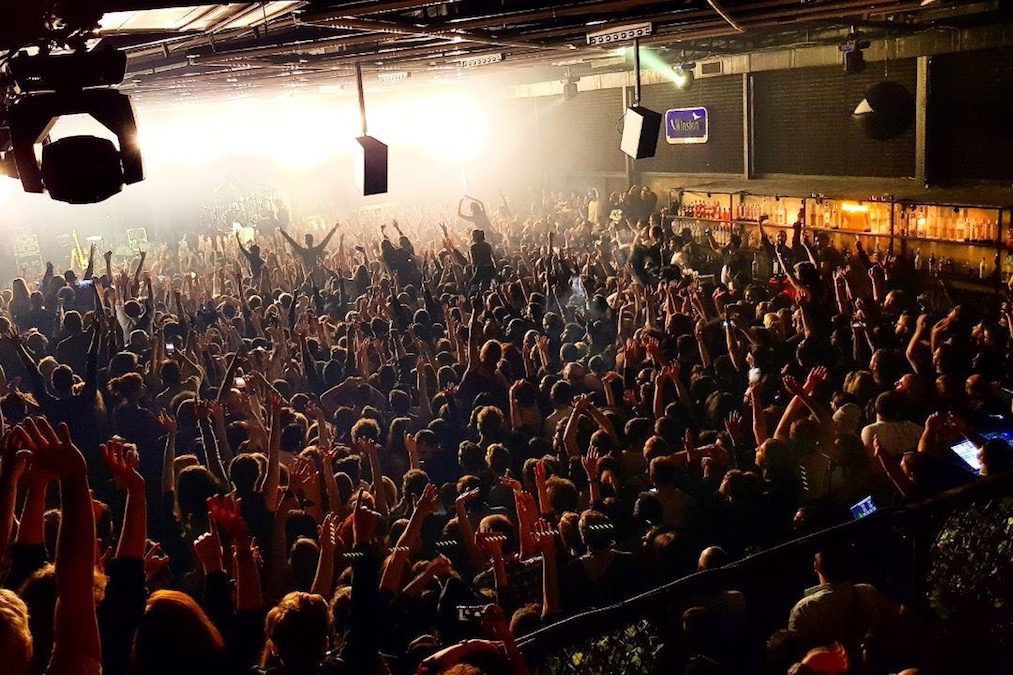 Ten years, one EP, and three studio albums after the start of a band that was supposed to perform for one night only, as their name implies, Beirut Today goes on a journey of nostalgic recollection similar to the one experienced by the 1,500 individuals who attended Mashrou' Leila's latest Beirut concert.
The Beginning
Brought together by a call for musicians to jam and let off steam with in 2008 at the American University of Beirut, Hamed Sinno (lead vocals), Firas Abou Fakher (guitar and keyboard), Haig Papazian (violin), Carl Gerges (drums) and Ibrahim Badr (bass) would go on to perform their first public concert during the same year at "Fete de la Musique" in Beirut.
Since their initial performance, during which they openly criticized Lebanese politics and society, success and controversy has followed their every step.
The band has evolved in an astonishing way, breaking the traditional register of Arab music and creating a new genre of local alternative rock that the Middle East had never heard before. The five-man band has  not only revolutionized music in the Arab World with the kind of music they play, but also by breaking all kinds of taboos and stigmas with their critical lyrics. 
In their first album, Mashrou' Leila's frontman Hamed Sinno sings about inter-religious marriage in their well-known "Fasateen" and about homosexuality through the autobiographical "Shim el Yasmine."
The massively successful album was followed, two years later, by a melancholic EP, El Hal Romancy. The 2011 compilation poignantly tackled a variety of issues, and reflected a sense of discouragement surrounding the region's political and social conditions. In "Inni Mnih," Sinno sings what can be translated into:
"Let's burn this town and make a gentler one,
and dream of a more tender time
Since you have got nothing, you have got nothing to lose"
Their second studio album, Raasuk, similarly targeted issues faced by members of modern Arab societies. Mashrou' Leila's "Lil Watan," for instance, depicts the corruption of the Lebanese government and the political manipulation of patriotism in citizens.
Their prior works have allowed Mashrou' Leila to become messengers of sociopolitical change and youth ambassadors in the Arab World.
Politics, controversy and raising more awareness
In 2015, Mashrou' Leila released its fourth album, Ibn El Leil, which took on a distinguishable electro-pop mix. The band has performed songs off their latest album since 2016 in cities around  the globe, including Cairo, Morocco, Paris, Berlin, New York, Montreal, and Sao Paulo. The Ibn El Leil tour ended last week on a high note in Beirut, where Mashrou' Leila performed their latest hits, including "Maghawir" which tackles gun control in Lebanon, "Marrikh", a sublime tune that discusses psychological issues connected to the abuse of drugs, and "Djin," an upbeat track on religious and sexual freedom that was partially behind the banning of the band's performance in Jordan.
Mashrou' Leila's call for change and the queer visibility that they bring to the Arab World is often met with resistance, as seen recently. Aside from the Jordanian banning in June 2017, a violent crackdown on the LGBT community in Egypt ensued the band's Cairo concert in September 2017. The dozens of arrests and charges made provided a brutal reminder of the hegemonic forces in the Arab World, but also of the changing societal landscapes and the strength of music in bringing vulnerable communities together.
One major  triumph that occurred after the release of Ibn el Leil, was the release of the "Roman" music video, which tackles Middle Eastern feminism and, as the band explains on YouTube, "self-consciously toys with the intersection of gender with race by celebrating and championing a coalition of Arab and Muslim women, styled to over-articulate their ethnic background, in a manner more typically employed by Western media to victimize them."
Mashrou' Leila also collaborate with NGOs such as GreenPeace, moving beyond their songs and videos to engage in the fight for increasing environmental awareness.
Mashrou' Leila, who are currently working on new material according to their social media accounts, have helped transform local Arabic music during the past decade through their political and social involvement. Their melodies have come to symbolize courage, rebellion, and the hope for change. Not only does Mashrou' Leila succeed in tackling "controversial" issues through their music, but they do it with a vibrant flair that can best be characterized as both edgy and endearing. They also open up room for discussion, in a space where conversations are often censored. Despite all the taboos they have been challenging and their involvement with a variety of causes, the band's main focus at any point in time has always been to create good music.