Turning Point Books has officially launched the new anthology entitled Arab Women Voice New Realities, co-edited by Roseanne Khalaf and Dima Nasser. The launch took place at Artisans du Liban et d'Orient, on Friday November 24, 2017.
As a compilation of different stories told by Arab women themselves, the anthology brings women from diverse backgrounds together and provides them with a dynamic podium to speak up. Each story brings to light what being a woman in the Arab World really is like in its own way, as each author has undergone different experiences that has shaped her story.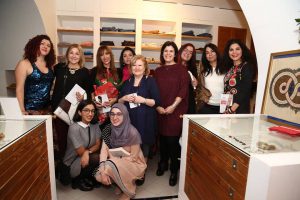 The contributors attended the event, and some volunteered to read excerpts of their work which made the event very personable.
The anthology is both a genuine and innovative idea, as it sheds lights on actual realities and experiences, told through the voices of the women who have long been struggling through them.
Today still, many Arab women have their voices suppressed and are usually labeled as "one category of people."  The anthology is a great step towards breaking widespread stereotypes about Arab women; the stories are personal and wholeheartedly written.
"We're very stereotyped. It's a beautiful privilege to have a voice, or someone to see that we have problems other than what the world perceives us as," Cyrene Bader, a contributor, told Beirut Today.
Cyrene's story, for instance, is about her tattoos and how they represent her as an Arab woman.
"I am very much tattooed, and my short story is about how I came to accept tattoos because they record my journey because being tattooed in the Arab world is barely tolerated," she said.
The featured stories tackle complex widespread themes from personal perspectives. Most of the contributors are Arab women who come from different destinations at once, and it is only natural for some to find difficulty in defining their sense of identity.
"I am a Jordanian Lebanese Palestinian Syrian American girl who lives in Dubai, and so I come from all these places and think of all these places when it comes to my reality," poet Hind Shoufani, told Beirut Today.
"It is [my story] recording my sense of finding home, and hoping that everyone gets to find home within at some point," pointed out Bader.
Contributor Amany Al-Sayyed's hybrid background is mirrored in her stories as well.  
"I've lived all over the place as a woman of half-Lebanese and half-Palestinian origins. I was trained in World Literature in Canada, and I have been travel-writing ever since I landed in Lebanon in 2009. So, you can now see how hybrid, fractured and elusive my stories might as well be."
The anthology is a refreshing idea, not only as a publication, but also because it provides Arab women with a platform to discuss topics and concerns that are usually omitted from mainstream discourse.
"I chose to be part of this anthology because there is never enough Arab women writers in any room talking about their experiences and how they were affected by them," said contributor Zeina Abi-Assy.
Bader, Shoufani, Al-Sayyed, and Abu-Assy are only four of the twenty-seven authors featured in this anthology. Possibly, Arab women will no longer be categorized as oppressed and repressed; possibly, their experiences as women, mothers, sisters, and most importantly, individuals, will be regarded.