On a dark stage, a foreign melody plays; its distinct nationalistic undertones sound original and second-hand. Although unfamiliar to my ears, it still makes me feel uncomfortable, less so than the Palestinian woman sitting next to me, however. The Israeli national anthem blares loudly through Masrah Al-Madina's speakers in Hamra and our narrator sings it proudly. Proudly and loudly. And then she wakes up.
Only in a bizarre dream could Raeda Taha sing the Israeli national anthem, with pride at that. Our narrator awakens to tell a story of identity and belonging.
36 Abbas Street, Haifa is written and performed by Raeda Taha and directed by Junaid Sarieddine. Taha is known for the critically acclaimed one-woman show Where can I found someone like you Ali? which she wrote, produced and performed under the direction of Lina Abyad. Sarieddine has directed major plays developed by Zoukak like 2013's Lucena: Obedience Training. 36 Abbas Street, Haifa was developed in part at the 2016 Sundance Institute Theatre Lab at MASS MoCa.
On stage, we see only Raeda; in action, we see Raeda, Nidal, her mother, Dina Abu Ghaida and other characters. The bare stage is transformed in motion, in imagination. The play takes place inside the legendary home on 36 Abbas Street in Haifa–an apartment that overlooks the sea, that holds great value for its inhabitants both in the present and in the past.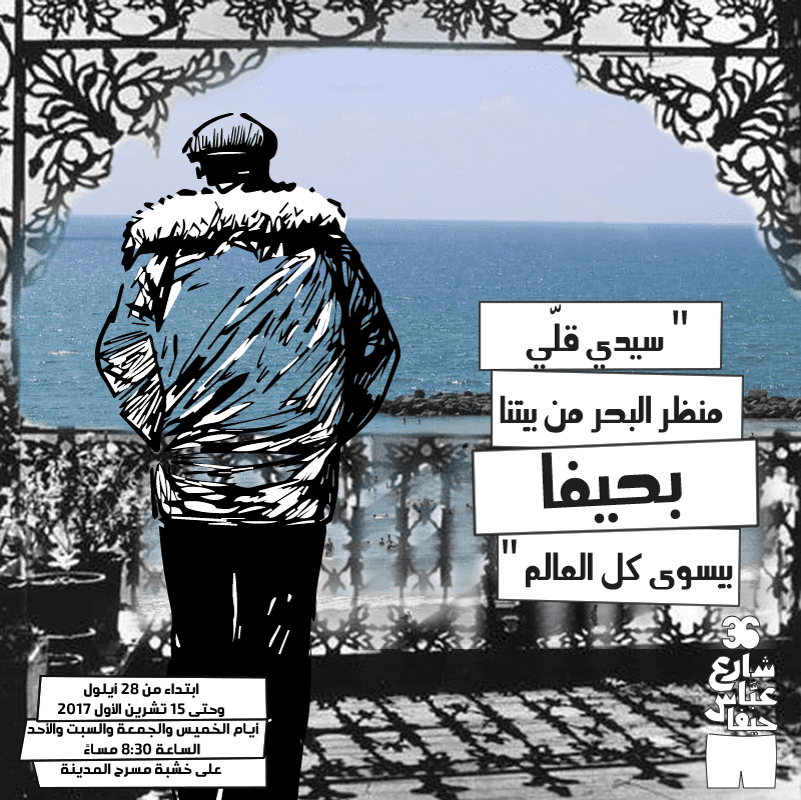 Raeda plays with characters as well as space in an exceptional manner; where in reality one watches a single woman moving across the stage, the actor forces you to see what she sees, be it the house in Haifa, the airport, the office, or the Abu Ghaida home in London.
36 Abbas Street, Haifa follows the different connotations of home. What constitutes a home? What makes a place memorable, homely? To the Rafa family–and to Nidal–it is the place of childhood, the place where she grew up, played, loved, and built her memories. To the Abu Ghaida family, home is hope, but it is a mere memory. Home is the ancestral place that was left forcefully. Home, then, is an imagined narrative told and retold from one generation to the next. This narrative is not unknown to the audience, who might have witnessed the consequences of this exodus right at their doorsteps.
When in 1948, the Abu Ghaida family was forced to leave Haifa and the home they had there and seek refuge in host countries that could never truly be home, the Rafa family integrated into the new Jewish state of Israel, thus losing their sense of belonging from within the nation.
This juxtaposition plays out throughout the play exploring feelings of affiliation and disassociation in the Occupied Territories as well as abroad. Growing up, Nidal had to fight for her nationality, be it in school, in university, or at the airport. Dina Abu Ghaida, having lived abroad all her life, returns to Palestine to establish her Palestinian identity, which did not diminish with her family's exile.
This is not a play of resistance and identity only; it is one of yearning ultimately. The play ends on a happy note with the promise of return. Fuad Abu Ghaida returns to his childhood home where he is welcomed and cheered, and all is well. Hope is not lost, home is not gone. The Palestinian national anthem plays and, this time, the whole audience sings along in comfort.  
The play runs till the 16th of October, each Thursday, Friday, Saturday and Sunday at Al-Madina Theatre, Hamra.