Around 250 people assembled beneath the underpass of Fouad Chehab highway leading into downtown Beirut Sunday morning to begin the first large-scale march organized by Taharok Nasawi since 2020.
Taharok Nasawi ('Feminist Movement' in English) is a grassroots network of feminists seeking intersectional approaches to activism.
A list of reasons for the march were published on the group's Instagram page and event page and mostly centered around issues of social and economic justice with particular attention to opposing state-sanctioned violence and harassment against marginalized groups in Lebanon including women, the LGBT+ community, and people of foreign nationalities.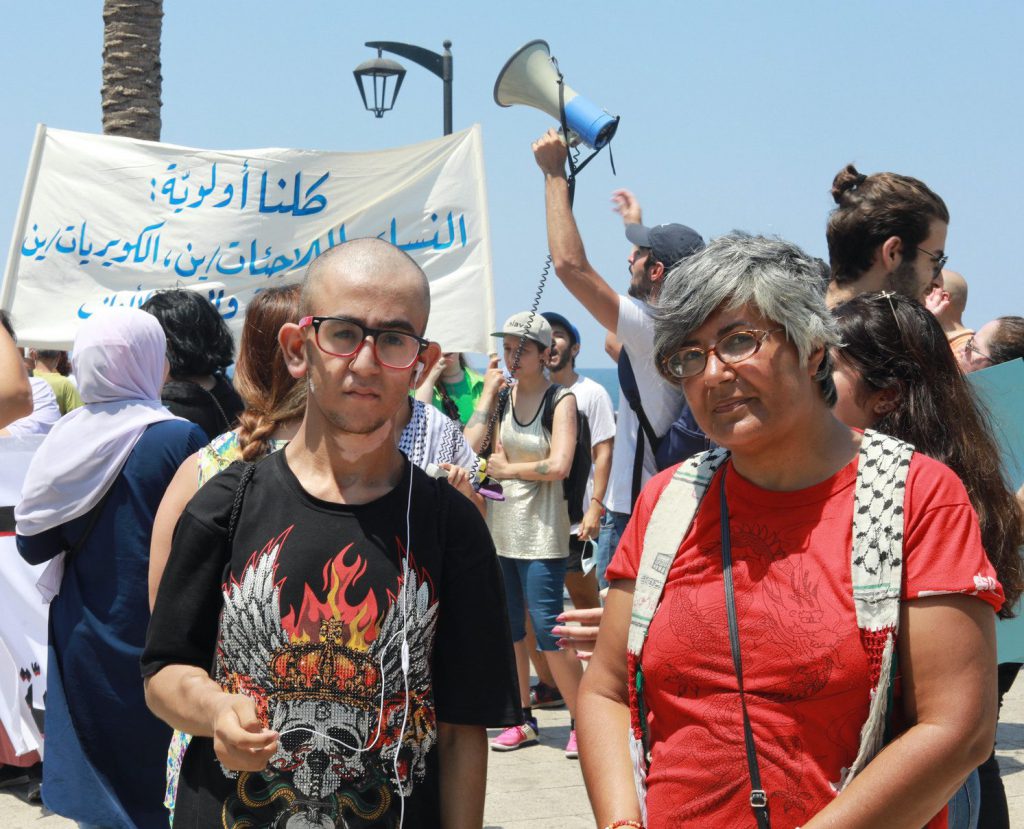 Hiyam Bakat, 55, came on her own to the march, walking and riding her motorbike through the sunny morning in step with the rest of the marchers until the whole group reached the endpoint on the Ain Mreisseh corniche.
Hiyam said that she "was born into demonstrations" and regularly participated not only in feminist marches but "any march that demands human rights" in Lebanon.
The march comes barely a month after a series of high-profile artists, including Bashar Suleiman and Aya Metwalli, were publicly accused of sexual assault; a separate unrelated statement was issued by the Ministry of the Interior to prohibit gatherings of LGBT+ persons on the basis that they were being used to promote LGBT+ identities; and a spike in arrests of Syrian nationals living in Lebanon.
All of these come during a time of widespread food insecurity and the country's worsening economic situation.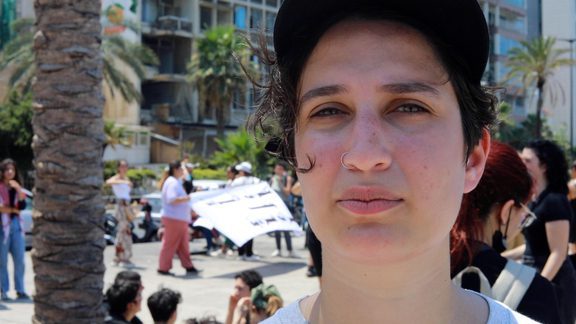 Sara Katoura, 27, one of the organizers affiliated with Taharok Nasawi summed up the purpose of the gathering saying, "All of us regardless of our background are exposed in different ways to the violence of this system.
"So we are coming out to say that we do not endorse or accept this violence and we do not accept that any group be a scapegoat for the corruption of the regime and its corrupt policies."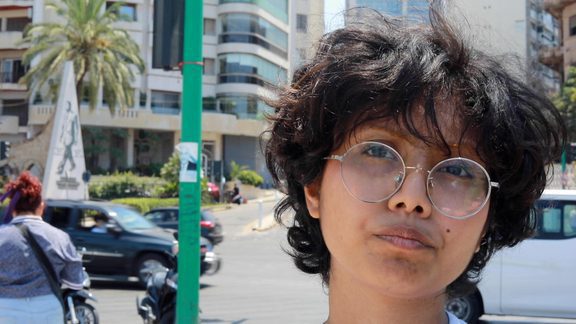 Another marcher, known as Didi, 18, had also helped organize the march. "I want to be with my community and my people" they said and named abolishing the kafala system in Lebanon as a chief legal concern of theirs.
"I've been raised by migrant workers my whole life," they said. "I've seen the difficulties that migrant workers face on a daily basis, so I truly believe that it is important to abolish the kafala system."
It is estimated that every week two migrant domestic workers in Lebanon die as a result of unlivable work conditions facilitated by security forces' widespread neglect (and at times outright enablement) of cases of workplace abuse. The kafala system excludes such workers from protection under Lebanese labor law and forces them to remain attached to an employer, or kafeel, in order to maintain legal residency in the country.
Some foreign workers participated in the Sunday march. Others chose to refrain due to their increased risk for experiencing violence during public protests or afterward when recognized by unsupportive neighbors or employers, according to Rahaf Dandash of the Anti-Racism Movement.
The march took almost two hours to wind its way from under the bridge to the stretch of the corniche across from McDonald's Ain Mreisseh. Passersby paused to listen to the slogans chanted, occasionally joining in the walk.
Along the way different members of the organizing team handed out water bottles and checked up on people who began to feel fatigue under the noonday sun.
Sara said that with all the crises accumulating in the country many people feel they need to rest and recuperate from all the changes brought in the last few years, but they are unable to. Despite this, the march is an opportunity for people to express their accumulating anger and feel a sense of togetherness, even if some choose not to participate in public aspects of the march.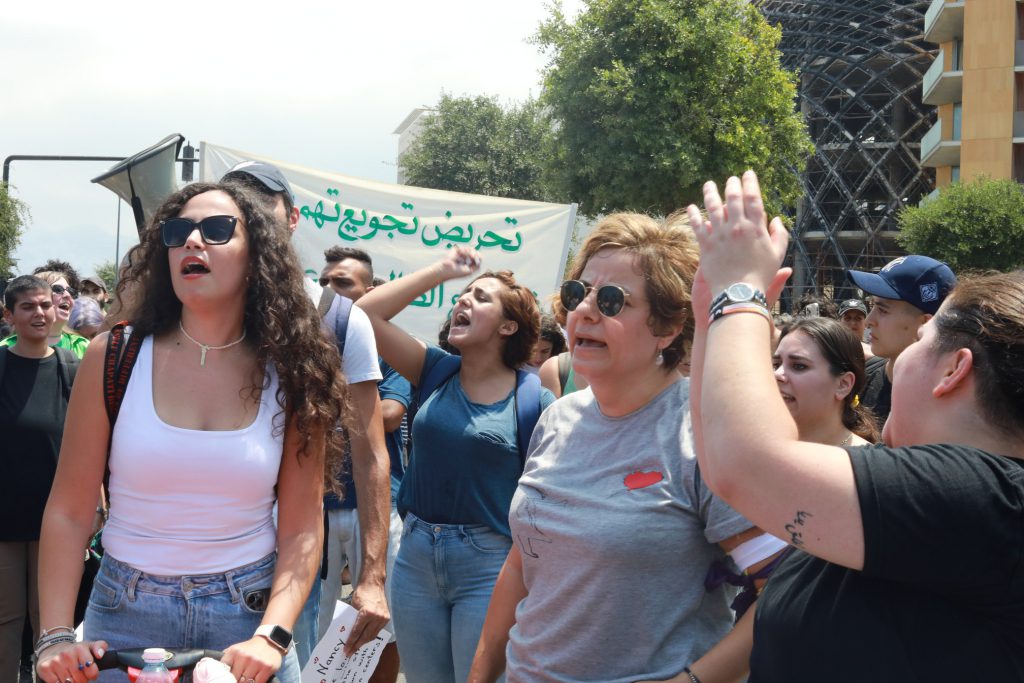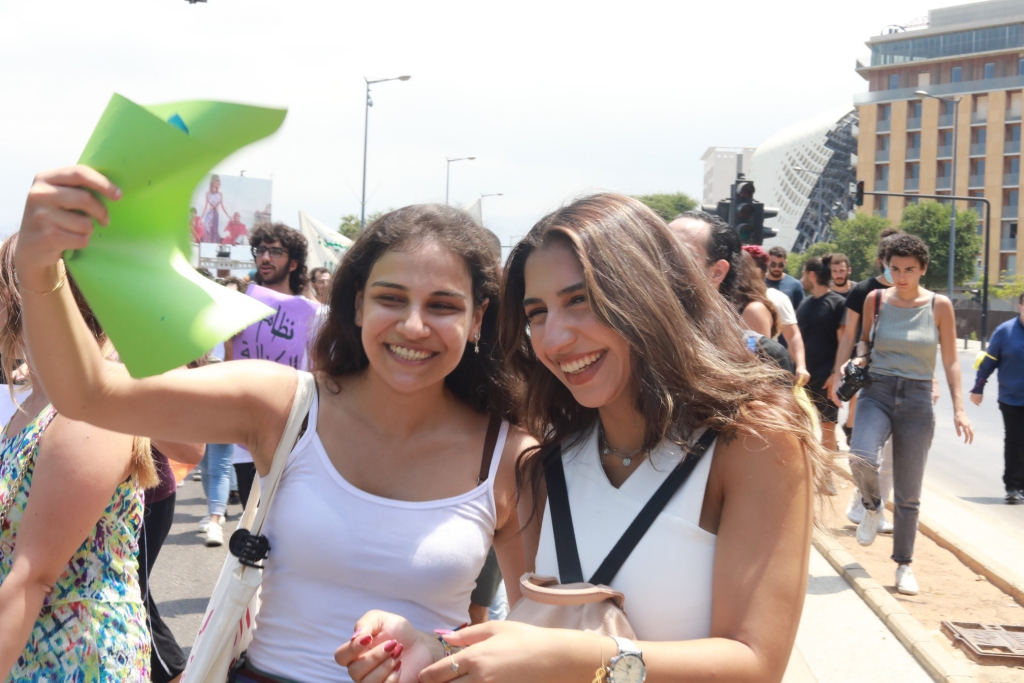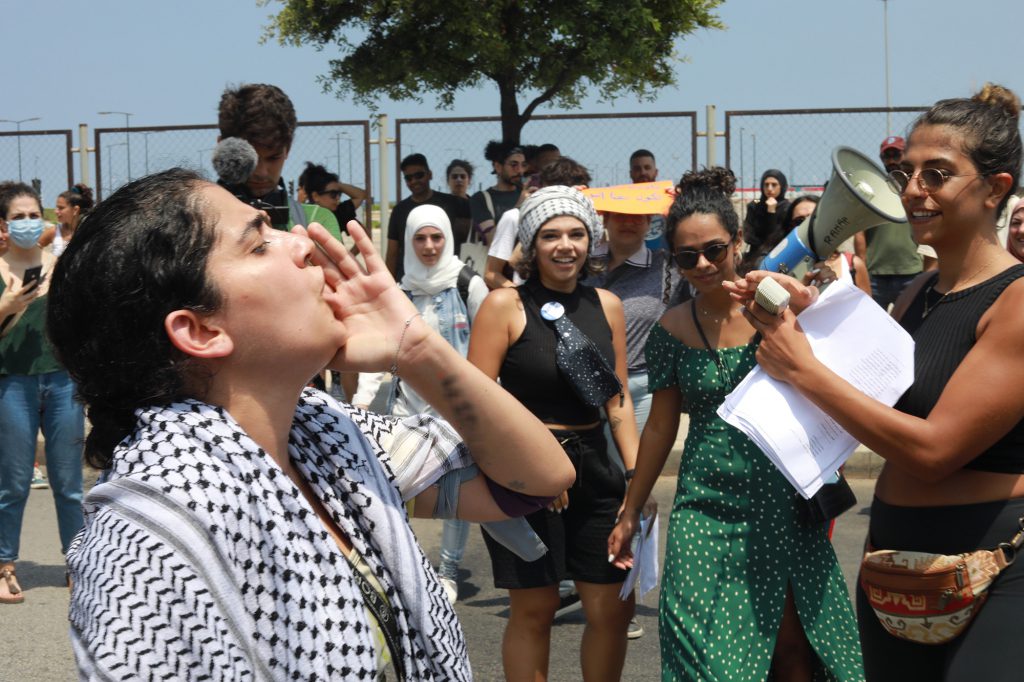 One woman from Tripoli expressed a similar sentiment.
"The thing I appreciated most about the march on Sunday was the solidarity."
She emphasized that both private and public in-person gatherings of activists and marginalized people are important to encourage them as they continue resisting the ever-present violence they face in society.
"Of course, not with a single march . . . or by shouting, 'We want the regime to fall,' will the regime immediately fall." However, "with more awareness and participation" around issues about which they marched, she says that more of the social change she and others want reflected in society can continue to grow.
In her mind the work of social change will continue to take years, but moments of togetherness and feelings of solidarity must be regularly cultivated to sustain the work that must be done between public moments of protest.
Didi emphasized that the march reflects how on a broader social level "people are seeking to lift taboos of certain things like being queer and being trans and against harassment … I'm half Filipino. Many people who are mixed or migrants or refugees are demanding as well that there be anti-racism and more acceptance toward people who aren't necessarily Lebanese."
In Hiyam's mind people choosing to treat others who are different than them as equals is as important if not more than the government passing more laws meant to protect marginalized groups that it is unwilling or unable to enforce.
Just the day before she saw a non-Lebanese woman followed and harassed by a service driver to get in his car even when the woman had made it clear multiple times that she did not want to get in the cab. Hiyam confronted the driver and said that the scene is one she sees all too often.
"There already laws against sexual harassment," she quipped, but for some people "just seeing a woman is grounds for harassment. Both on the street and in the home this needs to stop."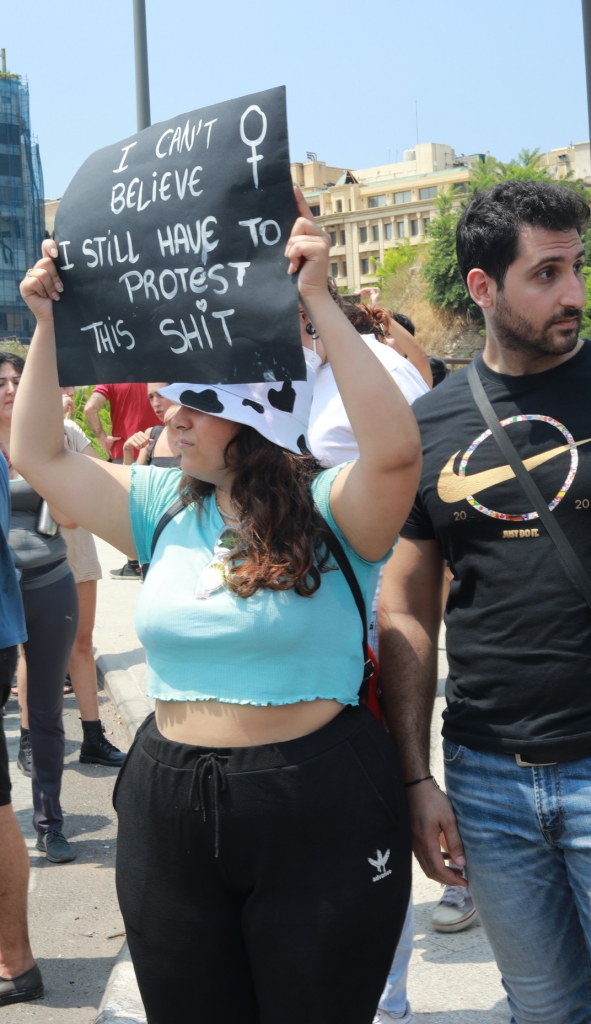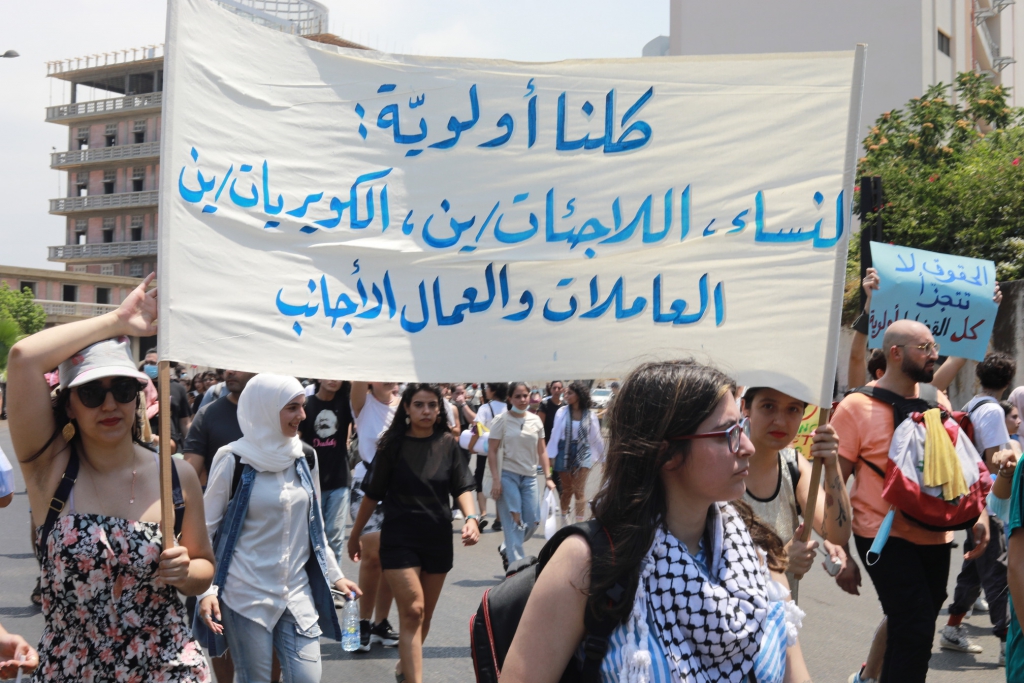 Sara anticipates that other participants in the feminist movement will have other events and assemblies and campaigns in the future as suits their needs.
From her perspective the march in Beirut serves a limited yet important role as a meeting point for a diverse group of activists and individuals across Lebanon around the message that those who experience violence and threats of violence are not and ought not to be alone.