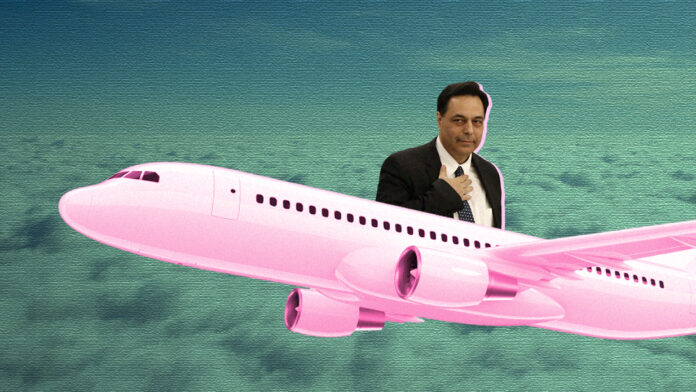 Former prime minister Hassan Diab left the country on a pre-planned trip to visit his children in the United States on Tuesday, despite a subpoena issued by Judge Tarek Bitar to interrogate him about the Beirut Blast.
Diab will be in the US for four weeks, and will not appear for questioning on Monday, September 20, as was scheduled by Bitar. This will be the second time he fails to show up for interrogation about the explosion.
During the time of the Beirut blast on August 4, 2020, Diab was the country's acting prime minister. The blast killed over 200 people and injured thousands, decimating large parts of the city and leaving many homeless.
Shortly after the blast, Diab resigned but remained on board as caretaker prime minister until 13 months later, when current PM Najib Mikati formed a new government in agreement with President Aoun.
Documents seen by multiple news organizations, including Reuters, confirm the fact that Diab was aware of the presence of a large amount of ammonium nitrate at the Beirut port prior to the explosion.
He was informed twice in the months leading up to the blast of their presence, but failed to take action in time before the fertilizer caught fire and exploded, devastating the lives of many.
Diab was first made aware of the ammonium nitrate in the port on June 3, 2020. He visited the port the next day and then sent his security detail that evening to obtain more information.
Security gave him conflicting information, contrary to what he was initially told, prompting him to cancel his visit. Afterwards, Diab told Human Rights Watch that he "forgot about it, and nobody followed up. There are disasters every day."
On July 20, 2020, Diab was once again made aware of the presence of the ammonium nitrate at the port. State Security sent a report to the president and prime minister, warning that the material is used to make explosives and are "highly flammable."
Aoun confirmed receiving the report on July 21, claiming he instructed his security advisor to follow up, shedding all responsibility. He then stated that he found out "too late," despite the fact that the president holds the power to unilaterally convene a meeting of the Higher Defense Council.
Diab confirmed receiving the report on July 22, but stated he was not aware of how explosive the material truly was until after the explosion. Diab said he did not go through 30 pages of the report which clearly outlined the dangers of the material, and then gave it to his security advisor to go over.
In a letter to HRW, Diab confirmed reading it. HRW then stated the report was three pages long, along with six pages of annexes.
During his term as caretaker PM, Diab was summoned multiple times for investigation into the blast on accusations of intentional killing and negligence. He repeatedly declined to be interrogated as a defendant.
He then said the judges investigating the case have violated Lebanese laws that require them to seek approval from parliament before questioning a senior government official.
---
WATCH | Lift the immunity: A look into the Beirut blast investigation so far
---
Diab was last summoned for investigation last month, where he refused to show up. Bitar then issued a subpoena and set a new date for questioning for next Monday.
On Tuesday, and after the successful formation of a new government, Bitar issued a new subpoena to include the ex-PM's home address.
"He considers that he has nothing to do with all that until the parliament decides the course of action," said Laila Hatoum, Diab's advisor. Hatoum confirmed Diab left to visit his children as he has not seen them since he assumed his position in office.
In an interview with the Associated Press last year, Diab said he was being "singled out and charged while others knew more."
Like Diab, many other politicians have evaded questioning and refused to assume responsibility for the crime. The investigation, originally promised to yield results in five days, has dragged on for more than a year.
Lynn is a Beirut-based journalist. She is a reporter and editor for Beirut Today, actively contributing since 2018 through articles on politics, economics, lifestyle, fashion, and more.