Women in Lebanon are angry, and rightfully so. Nationality, criminal, personal status, and labour laws do not provide for gender equality when it comes to passing citizenship, marital rape, sexual orientation, guardianship of children,and sexual harassment in the workplace among other things. Research on public perceptions indicates that one fifth of individuals in Lebanon hold negative stereotypes about women. Having 6 women in a 128-member Parliament (less than 5 percent) and 4 women in a 30-minister government (less than 14 percent) is considered a great achievement.  
The chants and slogans that emerged at the 2019 International Women's Day March in Lebanon reflected that anger. Hundreds of women, non-conforming individuals, and allies marched on Sunday, March 10, to protest gender inequalities and a patriarchal system that strips women of their political, economic, medical, and societal rights.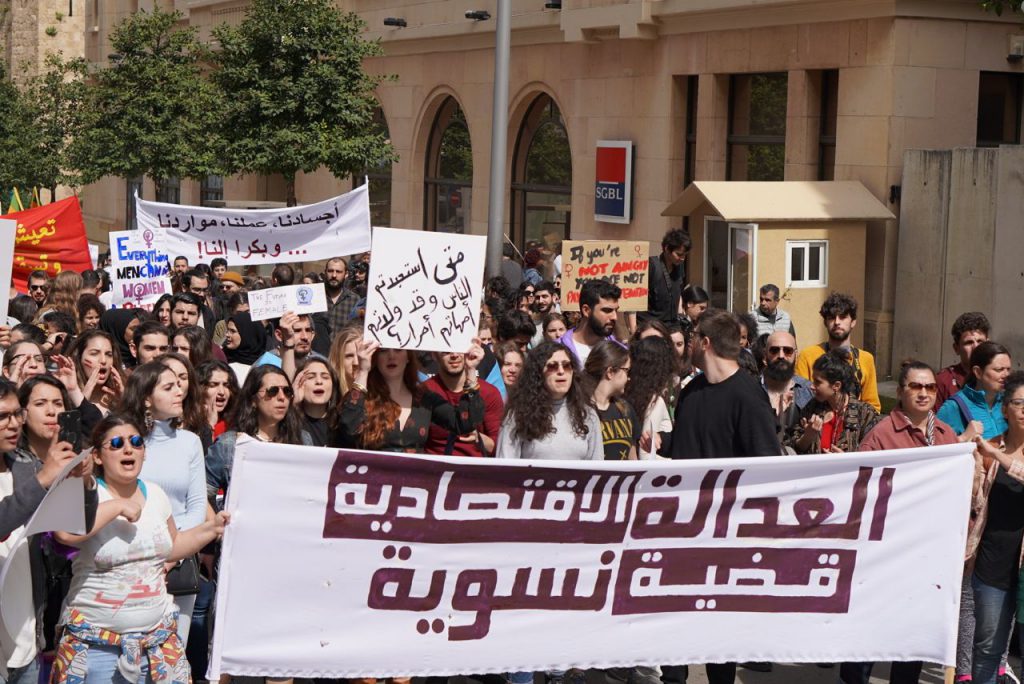 "Economic justice is a feminist cause" read one of the main banners, in Arabic, at the Women's March. Those carrying it shouted along loudly and in harmony with the rest of the protesters as different chants emerged to call for equal rights and better living conditions.
The Women's March in Beirut fell under the theme of economic justice, but brought protesters together to share their demands for the many intersectional feminist causes. Protesters fought against sexism, homophobia, transphobia, the Kafala system monitoring migrant workers, rape, domestic abuse, and unjust labour laws in the patriarchal Lebanese society.
"I personally think the march is an important part of every year, not as an event but rather as a statement of visibility, to say we are here," said Hanine El Mir, a protester and a member of the Feminist Network who read a statement on social justice at the march. "We are all here with our diverse causes and we're sticking together in solidarity."
The march highlighted the need for political and economic changes that allow women to reclaim their bodies and resources, that grant access to equal opportunities, and that ensure their rights and freedoms. That includes the right of women to assume leadership positions and take part in decision-making processes.
The Reality Facing Women in Politics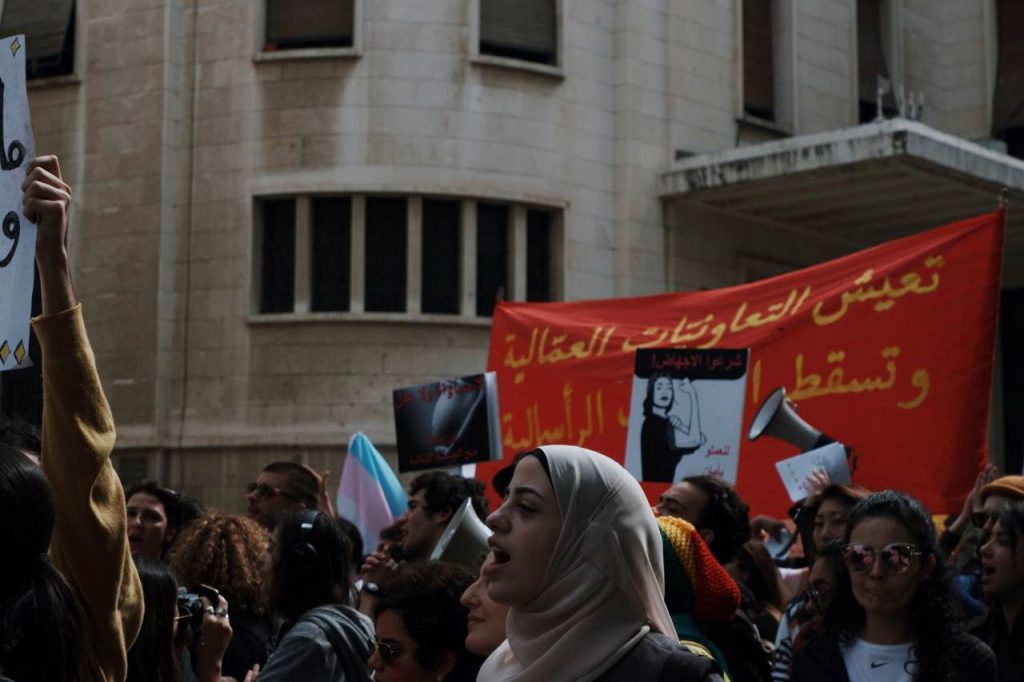 The unfounded question surrounding the ability of female leaders in Lebanon takes up too much space in public discourse. A twisted and snarled web of barriers stands in the way of women looking to enter the political sphere in Lebanon. The laws, the lack of economic opportunities, and the confessional-based political system hinder their opportunities. It's not about their capabilities.
There is no shortage of examples on the barriers facing women. The laws categorise women as second-class citizens, which ultimately negatively reflects on public opinions of women among those who might have otherwise elected them. Studies have suggested the need to lift the $5,000 candidacy fee for those registering to run for Parliament to allow women, who make up less than 25 percent of the total labour force participation in Lebanon, to become involved. In a clientele-based political system, individuals are much more likely to grant their preferential vote to traditional, well-established men for the services they can offer. These 3 examples encapsulate a much bigger image of how the male-dominated, sectarian system that the country runs on –better yet, is stuck on– discriminates against women.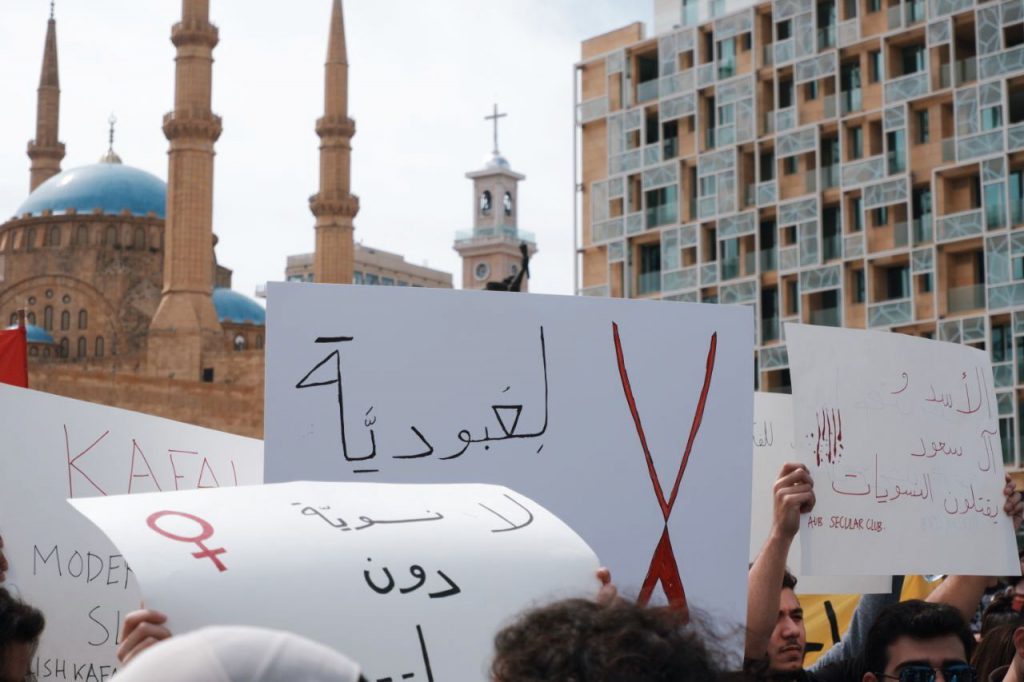 Regardless, over 80 percent of the population agrees that women in Lebanon are underrepresented in politics, as indicated in a recent nationwide and representative survey by the Women Empowered For Leadership (WE4L) program from development aid organisation Hivos. The public, however, still disputes how they should be represented and whether or not they are able to occupy leadership positions.
Almost 62 percent of the survey respondents considered women to be more "emotional" than men, and 39 percent considered them to be more "stubborn," traits that could hinder judgement and political leadership. Men were generally more likely to believe that women give up more easily in the face of difficulties, cave in to fear in the face of threats, and are easier to control.
Sweet and Tough: A Double Bind
"Bitches" or "softies." There's no in-between. Women are constantly stuck in a double bind, expected to lead with both warmth and toughness. The first is stereotypically associated with women's societal roles. The second is stereotypically associated with leaders. These expectations force women into wasting time on managing such stereotypes, rather than implementing actual change. Much more than their male counterparts, women have to constantly prove that they are competent. A quick look at the Facebook comments on posts shared by the likes of Paula Yacoubian and Joumana Haddad brings enough evidence of the discrepancies in expectations. More unreasonably, women are expected to almost instantaneously solve massive crises that men failed to solve –after causing, of course– for years.
The problem, if it is unclear, is not in the ability of female leaders. The problem lies in the expectations surrounding them, or in pitting them against the failing stereotypical representation of leaders in the country. The discussion on female leaders needs to shift from their abilities, to the structural, societal changes that can enable more women to enter the political sphere.
A shift like this begins with gathering data that allows civil society groups, political parties, and governmental organisations to see what they are up against.
"Without these studies, it is like we're working in the dark," said Mira Bouchmouny, the programme coordinator of Hivos' WE4L program in Lebanon. "These studies matter because they show us the structural challenges women face, and to come up with solutions to make change, we need to know what the current reality is and these studies help us to grasp that."
The 2018 parliamentary elections reflected the gap in data collection, which imposes itself as a problem on researchers. When running for elections, candidates are not asked to specify their sex in their candidacy applications. A government media campaign also mistakenly highlighted 111 female candidates, when the actual number of females who ran for Parliament was 113. The shift in discourse starts with gathering data but continues when such data becomes accessible to the public and translated into pragmatic action.
There's a long way to go, but if the Women's March indicates anything at all, it's this: Women in Lebanon are angry, and they're looking for concrete changes.