When was the last time you held a pen in your hand? When was the last time you mused over a quill? Or wanted to break your silence with the pots of ink? Ink is only a reflection of your thoughts. Words imitate emotions. In the end, the words that take form through ink give life to a book, transforming it into a being.
When was the last time you exploded? Let all your frustration and angst out into the universe? When was the last time you experienced catharsis?
Bringing pen and paper together with expression and explosion comes a new poetry anthology slated for publication at the end of  2018 by Turning Point Books.
Turning Point Books is a boutique publishing house based in Beirut. Recently, Turning Point Books published its first short-story anthology, Arab Women Voice New Realities, which features 27 women with 27 different stories and was edited by Roseanne Saad Khalaf and Dima Nasser.
Now, the publishing house is aspiring to venture into the world of poetry by connecting poets through a collection under the theme of catharsis. With a burgeoning poetry scene harnessed by local collectives such as Poetry Pot and Sidewalk, now more than ever is the time to come together and share the experiences of our charged realities.
Specifically, the anthology aims to feature cathartic poems by young Arab poets where the expression of the frustrations and emotions they are dealing with in today's world is portrayed.
How do young adults in Lebanon and the Arab world identify and find a sense of belonging?
Catharsis embodies the essence of diversity and experimentalism.
Diversity and its relation to belonging is a major theme that is being explored. Millennial prose and verse writers, who have felt a deep frustration towards their traditional culture, discriminative environment, and political turmoil, are called on to share their experiences and have their voices heard.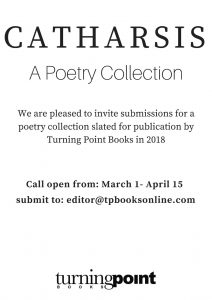 Poetry has always been a form of entertainment, expression, and communication, so do share your laughs, your sobs, and your stories. Turning Point Books encourages interested poets to explore previously unprofessed concerns in their lives, both on an internal (psychological, personal, emotional) and external (social, cultural) level in cutting edge ways.
Experimenting with form is a medium in which people can illustrate their identities or aspects of who they are or want to be. Giving your words a concrete form outlines your thoughts and has the ability to make your work more accessible.
This call accepts submissions in English as well as in Arabic.
The anthology will be edited by me, Tala Smiley, a Lebanese poet with an MA in poetry from Queen Mary, University in London.
The deadline is April 15. Please do not miss out on this chance to bring life to a new being. To submit and for submission-related queries, you may contact [email protected]
Submission guidelines are available on Turning Point's website.  
This piece was co-written with Tala Smiley.