"The taste reminds them of Palestine. That's why people love our ice cream," said Khamis Ghafour, better known as Abu Nader.
Abu Nader, 73, owns an ice cream shop in Baddawi, a Palestinian refugee camp near Tripoli in northern Lebanon. His trade is a family tradition going back nearly a century. "I make it the same way my father used to back in Akka, Palestine," he said with pride.
Abu Nader's grandfather opened the family's first ice cream shop in the coastal Palestinian city in 1929.
"Back then they sold only two flavors: lemon and vanilla," said Wael Ghafour, Abu Nader's nephew. He gestured toward a cooler packed with tubs of colorful ice cream to show the variety of flavors the family makes today.
Abu Nader, then a baby, was among the hundreds of thousands of Palestinians forced from their homeland during the Nakba, the Zionist conquest of Palestine in 1948. A recent census found that there are some 175,000 Palestinian refugees and their descendents currently living in Lebanon.
"We lost everything. We fled to Lebanon after the Zionist paramilitary groups attacked us. We had no other choice but to live in Baddawi refugee camp," he said.
"We opened our first family shop in downtown Tripoli," Wael said as he put on blue gloves and opened the cooler to scoop up a serving of strawberry ice cream.
Wael's grandfather – Abu Nader's father – labored for two years to save money and open the first Ghafour ice cream shop in Lebanon in 1950.
"It was not in the camp. At that time, we were still living in tents," Wael explained. "There was no place for ice cream shops there. No place for joy or happiness."
The family didn't open a shop in Baddawi until 1974, when electricity became available throughout the camp.
Going out for ice cream is a happy activity anywhere, but for some refugee visitors to the Ghafour shop in Baddawi, it means something much more. It allows them to enjoy a taste of the home they are forbidden from returning to.
The Ghafour's note that their former neighbors in Akka, who are also now living in Baddawi, prefer the original lemon and vanilla flavors of their childhood in Palestine.
The ice cream also connects the generation of refugees born in Lebanon to their homeland in Palestine.
"My next door neighbor, Abu Ahmad, was 10 when we were exiled," Abu Nader recalled. "In the summer he gathers all of his 10 grandchildren and buys them ice cream. The kids sit around the old man, eating their ice cream and listening to his memories of Palestine."
"I used to not like winter to come, because that meant no more ice cream," said Fouad, a young Palestinian living in Baddawi camp, while glancing at the cooler to choose an ice cream flavor.
"It is the best ice cream in the North," he added. "It is hard to explain, but to us, keeping this ice cream alive is a national duty. It has to stay until we return."
A dying craft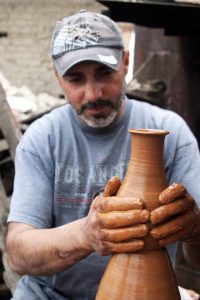 Tucked away behind a building off a highway in the town of Ghaziyeh, near Sidon in southern Lebanon, is a pottery workshop operated by cousins Muhammad and Dib Atallah, Palestinian refugees originally hailing from Gaza.
The place is easy to miss; it is in the midst of broken concrete and stone.
The cousins don't have a license to operate; Palestinian refugees have long been shut out from working in dozens of trades in Lebanon.
As noted by the United Nations relief agency UNRWA, Palestinian refugees in Lebanon "face legal and institutional discrimination; they are denied the right to own property and face restrictive employment measures."
"My mother was Lebanese," Dib, 45, said. "When she was still alive, back in 1950, we were able to get a license. When she passed away, we lost the license."
Lebanese women are barred by law from passing on their nationality to their spouses and children.
The municipality wants the cousins to clear their workshop from the area. Their livelihood is in peril.
Dib shaped clay with his hands while spinning a wheel with his foot. "I fear we will be forced to leave this craft. I did not want this to happen in my lifetime."
Muhammad, who was repairing some jugs, said, "The plan was to keep this craft alive until we return to Palestine. I have two daughters, I am teaching them pottery. It is not common for girls here to work in such a craft, but it has to stay alive until we return to Palestine."
Muhammad and Dib's fathers learned the trade in Gaza City before they moved to Akka. The brothers opened their clay factory there in the 1920s but became refugees in Sidon and opened a new business in exile after the Nakba.
Dib loaded a video on his mobile phone showing his relatives in Gaza working in their pottery factory. That shop is owned by another cousin, Sabri Atallah, in Gaza City.
"They do a nice job. They send us videos of what they do. Pottery keeps us connected with home," said Dib. "We even asked someone to look for our old factory [in Akka]. It turned out the [Israeli] occupation removed it. Now there is a public garden in its place. But we will return, and we will rebuild it too."
Modern preferences, however, have put the cousins' trade out of favor.
"Long ago, people relied heavily on pottery. Now it is not that popular anymore," Dib explained. "Plastic is the only thing people are using. This is putting our craft in more danger."
Disappearing youth
Deep inside the Beqaa valley in Lebanon's east sits al-Jalil refugee camp – formally called Wavel camp by UNRWA – where Muhammad Khalil, known as Abu Rabih, has lived all his 58 years. A carpenter, Abu Rabih's livelihood was passed down from his father and grandfather.
Sitting on an old plastic chair in his small workshop, Abu Rabih said, "We opened our first shop around 1935 in Haifa." His family came to the coastal city in northern Palestine from the Galilee town of Lubya.
"After the Zionist militias forced us out of Haifa in 1948, my grandfather and my father worked for UNRWA, building its facilities inside refugee camps," he explained. "When that was over, they started working for Lebanese carpenters."
The family was eventually able to open its own shop in al-Jalil camp. But life was never easy.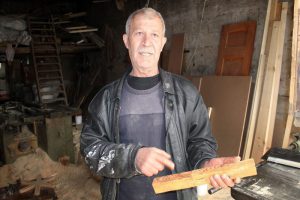 Abu Rabih dropped out of school at the age of 14 after his father became ill and his oldest brother was killed by the Israeli military during its 1982 invasion of Beirut.
"I loved school," Abu Rabih said as a throng of students exited the school next to his shop. "I was a good student. The choice was never mine. It's either I work, or the family begs for money."
Abu Rabih's family owned a carpentry shop in Haifa before the Nakba.
Abu Rabih brightened up when asked about his family's workshop in Haifa.
"I know all about the shop. My father talked about it all the time. I even still have the tools he used here with me," he said."I have never seen Haifa or that shop, but I know every single detail about it. I always feel I belong to that place and not the camp. I will pass [my tools] along to my son who also now works with me."
Unemployment remains the biggest problem in al-Jalil camp. Nearly 25 percent of all Palestinian refugees in Lebanon are unemployed; that figure doubles for the more than 40,000 Palestinian refugees from Syria who have fled the country. Sixty-five percent of Palestinian refugees in Lebanon live in poverty; that number skyrockets to ninety percent for Palestinian refugees from Syria now in the country.
"You have taken a walk around the camp, you can easily see not many young men remain here. They all left to Scandinavian countries," the carpenter explained.
Many Palestinians in Lebanon leave the camps and go on dangerous journeys via smuggling boats from Tripoli to Turkey, and from there cross by land or sea into Europe to try and secure a better life.
Abu Rabih is trying to convince his 18-year-old son to stay with him at the workshop, but he recognizes that his trade no longer guarantees security.
"I know our craft does not make much money like it used to. People used to rely on us for building their houses, furniture, wooden antiques. But not anymore."
All photos by Amena ElAshkar
Amena ElAshkar is a journalist based in Burj al-Barajneh refugee camp in Beirut. This article was also published on 9 March 2018 and retrieved from the website "Electronic Intifada" on https://electronicintifada.net/content/forbidden-flavors-palestine/23566.