This piece was co-written by Laudy Issa and Hadi Afif
Dozens protested for the amendment and proper implementation of Law 293 on domestic violence on Friday, January 27 at Nejmeh Square in Downtown Beirut.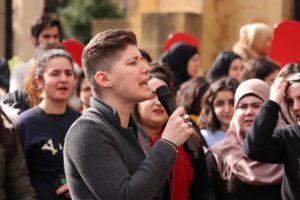 The protest, which was organized by feminist non-profit organization KAFA, came in the wake of the local deaths of eight women in the past month and a half due to domestic violence, including the suicide of a 15 year old bride on Monday. The families and friends of the victims were joined by activists and supporters for a two-hour protest that was full of chants and speeches calling for better protection for women through legal reform.
Red cutout silhouettes representing real life women surrounded the Nejmeh clock tower and presented first-person accounts of domestic violence. Chants filled the square as activists demanded legal justice for the women whose violators remain untouched by the law. Placards held by protestors addressed the injustice of the "patriarchal" Lebanese society, displayed detailed pictures of the many women killed, explicitly presenting the events surrounding their deaths; thus affirming the need for legislative reform.
"I know my daughter is not coming back, but I want to protect all the daughters here in Lebanon," said Ali Qabut, father of the late Zahraa Qabut who was shot dead by her husband in 2016, a few months after their divorce. Qabut spoke up about the bribes offered to the families of the victims in exchange for their silence and urged government officials to take notice.
The KAFA protest is particularly significant in the context of the upcoming parliamentary elections, with many signs stating that their bearers will not be voting for "patriarchal ideology". The crowd's chants echoed this theme as recurrent slogans centered on governmental corruption and inefficiency in protecting women's rights, and religious authority intervention in private affairs.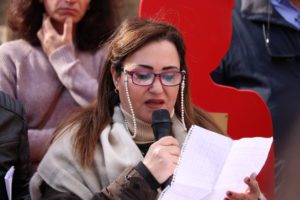 "Despite the unprecedented wave of killings that is affecting women, we still get ministers on the media demanding that we don't exaggerate these crimes so that they do not affect the country's tourism, rather than calling for the amendment of Law 293 on a parliamentary level," said Zoya Rouhana, Managing Director of KAFA in her opening speech.
The amendment of the domestic violence law was unanimously approved by the Council of Ministers over one month ago, but has not yet been discussed on the legislative level, according to Rouhana.
The law, which was initially established in 2014 despite facing political and religious interferences, is currently limited in its ability to protect women partially due to the wide interpretation of the legal text and the narrow definition of violence in it.