It has almost been two years, but children still wake up at night screaming "Infijar!"
At 6:08 pm on August 4, 2020, a massive explosion at the Beirut Port ripped through a large part of the east section of the city. The blast waves shattered building windows and walls within a several kilometer radius from the epicenter of the explosion.
Whether apartments, offices or nearby hospitals, citizens of Beirut were sent flying across rooms with shattered glass tearing into bodies, heads, and damaging eyes.
Over 2,700 tons of badly stored Ammonium Nitrate, a volatile chemical compound, detonated with what forensics experts estimate was the equivalent of a low-yield nuclear weapon, 1.1 kiloton. Over 220 persons were killed, ranging from babies to the elderly. And around 6,500 were wounded, many critically.
300,000 were left temporarily homeless.
Initially a fire in warehouse 12 signaled the dispatch of firefighters who converged on a billowing column of smoke seen throughout the city, before everything suddenly exploded in a vast mushroom cloud that leveled almost the entire port. No members of the fire brigade survived the blast.
A UNICEF report noted that, as a result of the blast, six major hospitals and 20 clinics sustained partial or heavy structural damage, reducing collective health capacity by 500 hospital beds.
Additionally the report noted that, according to the Ministry of Education and Higher Education, 159 public and private schools and 20 Technical and Vocational schools, collectively serving 50,000 children and young people, sustained minor to significant damage.
For Lebanon, known as something of a poster country for disaster ranging from the 15-year civil war, car bombs, several destructive Israeli military incursions, local militia gunfights and assassinations, and since 2019 a definitive economic collapse, the Infijar (meaning "explosion" in Arabic) was experienced all at once by hundreds of thousands.
Emergency room physicians report that years of training never prepared them for the scale of something so extreme.
Capturing suffering, losing loved ones, and more
Chiri Choukeir, a young photojournalist, and reporter, spent several weeks after the explosion, combing through damaged neighborhoods, capturing the prevalent scenes of destruction and human tragedy.
Her passage through Beirut was slowed by the blown-out cars littering the streets, smashed not only by the detonation, but piled with pieces of buildings laying on top of the vehicles crushing them like tin cans.
"We (the photo crews) were told by the veteran camerapersons to put our humanity aside while on assignment," Choukeir recounted. "But at night after I was through working, the images of buildings and people still haunted me."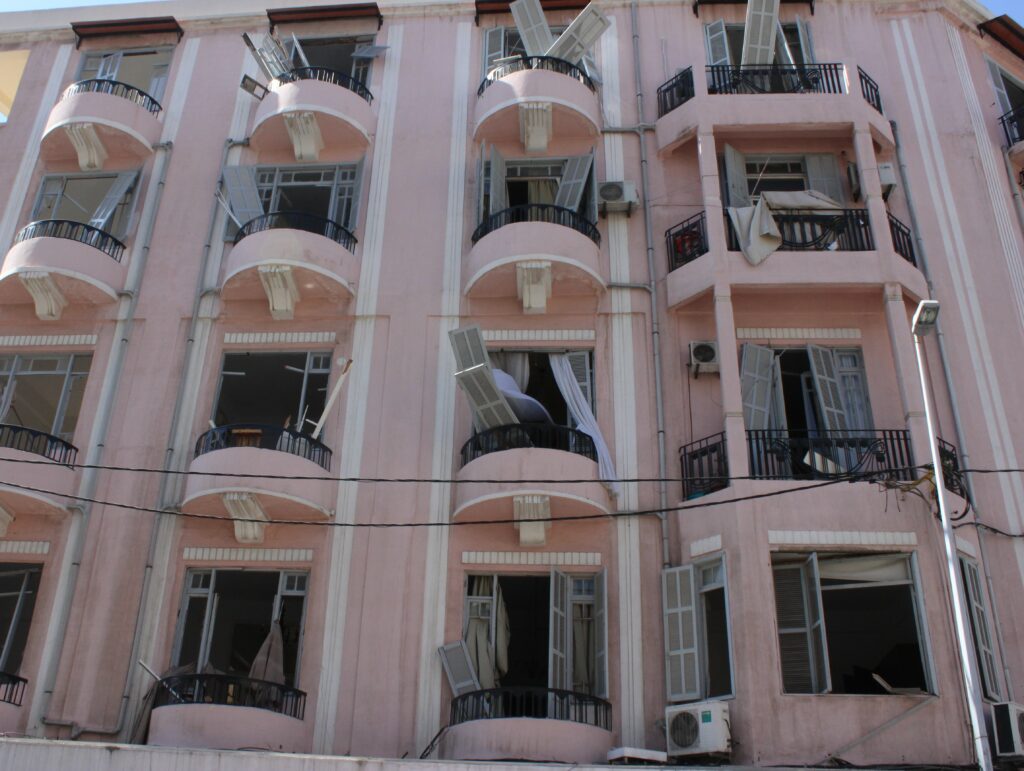 While performing her work, she and others on the street would often stop to respond to cries of elderly residents who were trapped under rubble.
It has been almost exactly two years, and stalled investigations have revealed no guilty parties, neither the shipping company, port officials, government officials, or top politicians.
Two different investigating judges were sidetracked by political interference, and ultimately a street protest by Hezbollah supporters led to a sectarian shootout more than a year after the explosion and further complicated the pursuit of any investigation.
What, however, remains obvious is the ongoing trauma of mourning lost loved ones and always expecting another disaster, reported many of those survivors who struggle with post-traumatic stress.
Thirty-something Rasha, who asked not to use her last name, lost a sister, who died after being taken to a hospital. Not knowing which health facility her sister was taken to, given the chaos of ambulances responding to the emergency, she spent all night going from hospital to hospital.
When she reached the right one, there were names of the dead posted, which included her beloved sister. Her life stopped then, and since that day she has changed from what friends say was a notable, outgoing personality, to a person who is filled with anger.
Another young woman, Yasmine, (who also asked not to use her last name) had her home collapse around her. She was taken away for treatment of a broken arm and lacerations. When she returned from the grim tableaux of a hospital overrun with bleeding and dying patients, she found her childhood home was gone.
Like others, she began to pick through rubble but ultimately had to face that her home was gone forever.
Choukeir, Rasha and Yasmine each see therapists and take medications to help resolve the unresolvable.
As the two-year point approaches, Choukeir noted that conversations among her friends have increased about the event, "It always comes back to the explosion!"
Persisting mental health issues
Multiplying the psychological issues of these three young women by several thousand citizens captures the mental health crisis that has rippled through Lebanon after the blast, amid an ongoing economic crisis, political infighting, little electricity, and a pharmaceutical and food shortage.
The Lebanese economy had already begun to badly falter in the months before the explosion. To date, the effective exchange rate of the currency has collapsed by nearly 95 percent in the last two years.
Since the beginning of 2020, domestic inflation has skyrocketed. The annual consumer price inflation as of February of this year reached 215 percent, with food price inflation hitting nearly double that rate at 396 percent.
Unemployment and poverty are prevalent.
Mia Atoui, clinical psychologist and a co-founder of the NGO Embrace Lebanon which runs a center to provide citizens with free mental health treatment has in the past two years since it officially launched its center provided over 9,000 free consultations to more than 700 patients.
Embrace also operates the National Lifeline in Lebanon (1564) for Emotional Support and Suicide Prevention Hotline, in partnership with the National Mental Health Program at the Ministry of Public Health.
The Lifeline has received more than 26,000 calls to it since its 2017 launch.
Looking at the problems stemming from the port explosion, she explained that the event not only kicked off new mental health emergencies but also exacerbated existing psychological issues prevalent in many Lebanese as the county's constant instability has taken a long toll.
Specifically, Atoui noted that the devastating blast created "challenges that are going to be long term."
---
Watch | How are you, Beirut?
---
She added that as the two-year mark approaches, she expects a large upswing of people seeking services, using last year's August 4 date as a baseline when the organization suddenly noted much higher demand to their already busy clinic.
"Last year, more people came in for the first time since the explosion," she said.
Then and now, the problems range from generalized anxiety, sometimes debilitating, to PTSD.
Patients come in presenting with health concerns that include inability to cope or function, relationship problems, work problems, and many reveal a substance abuse history which can include alcohol and drugs.
In some cases and since their launch, Embrace treated persons suffering severe psychotic breaks. This can stem from many causes.
Mental health experts note that psychological treatment doesn't always equate the same outcome as a surgery or medical intervention, where the person emerges from a hospital "all better."
Instead, mental health instability is something that can linger and bedevil a person for a long period of time.
How children are coping
Adding to the overall issue of public health is that Lebanon's crashing economy has rendered the health sector ill-equipped after an ongoing exodus of doctors, psychiatrists, psychologists, therapists, and nurses to other countries around the world.
Lara Jalloul, a children and adolescent clinical psychologist at the American University of Beirut Medical Center, spoke of the effects of the blast on the young.
Mental health effects range widely depending on what happened to the child and how close to explosion they were.
"One child was riding in a taxi in the Mar Mikhail neighborhood when the explosion happened, the driver was killed in front of them, they froze…." For a child, they are confronted with the fact that they are too small to help others or even themselves in traumatic situations, Jalloul explained.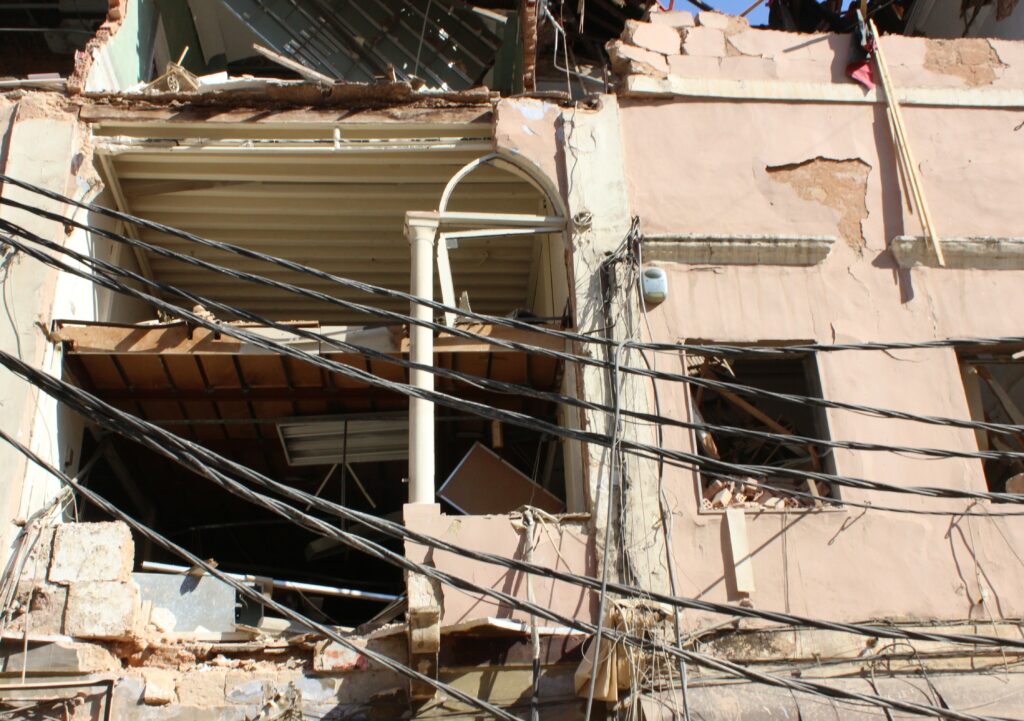 "They ask themselves many times afterwards, what could I have done differently."
In other cases, "children lost a parent or relative, or their home was destroyed or their school. Or all three happened at once."
Just "displacement from a home can be a significant cause of stress."
For other children, who might not have been so severely traumatized, but still experienced the Infijar, "they show OCD, repeating behaviors or engaging in 'magical thinking' repeating words or phrases like a magical spell."
One young teen "would ignore the number 4 (the date of the explosion) if it came up in conversation, or during a math test" they would essentially ignore it, turning away.
Another child wanted to inspect their building around 6 pm to ensure that it would not fall down. "Also, for some children, they avoid going out, they isolate, and start feeling down and low."
She added, "Children have nightmares, fear of sleeping, or are protective of where they sleep, such as not near windows."
Jalloul said that while these children have endured the unthinkable, "children can be very adaptable." However, she noted that they look to parents or any adult for guidance and that it is the parents or surrounding adults that suffer from ongoing "fear of unpredictability"—wondering if somehow, in some shape or form, the worst will ever happen again.
On Sunday, July 31, a substantial portion of the massive grain silos at Beirut port collapsed after an extended fire from fermenting, toxic, wheat. The huge concrete edifice was the only structure surviving after the blast.
Overall, the entire damaged port remains a tangible reminder of a catastrophic event that happened two-years ago and will continue to act as one for probably years to come.
"People pass by the port every day, and it is a constant reminder …." Jalloul said.