"They were a gift from a friend. Now he is fighting in Mariupol," said Albert, pointing at a car charm shaped like boxing gloves in blue and yellow—the colors of Ukraine. We were driving to the protest in Byblos last Saturday, where tens of Ukranians living in Lebanon gathered in front of a mural of blue sky and yellow sunflowers to show their solidarity with their homeland.
Albert is half Ukrainian, half Lebanese and most of his family is currently in Ukraine. He works for the Ukrainian Embassy and, just like other Ukrainians in Lebanon, he refuses to sit in silence while yet another one of the greatest tragedies of the century unfolds.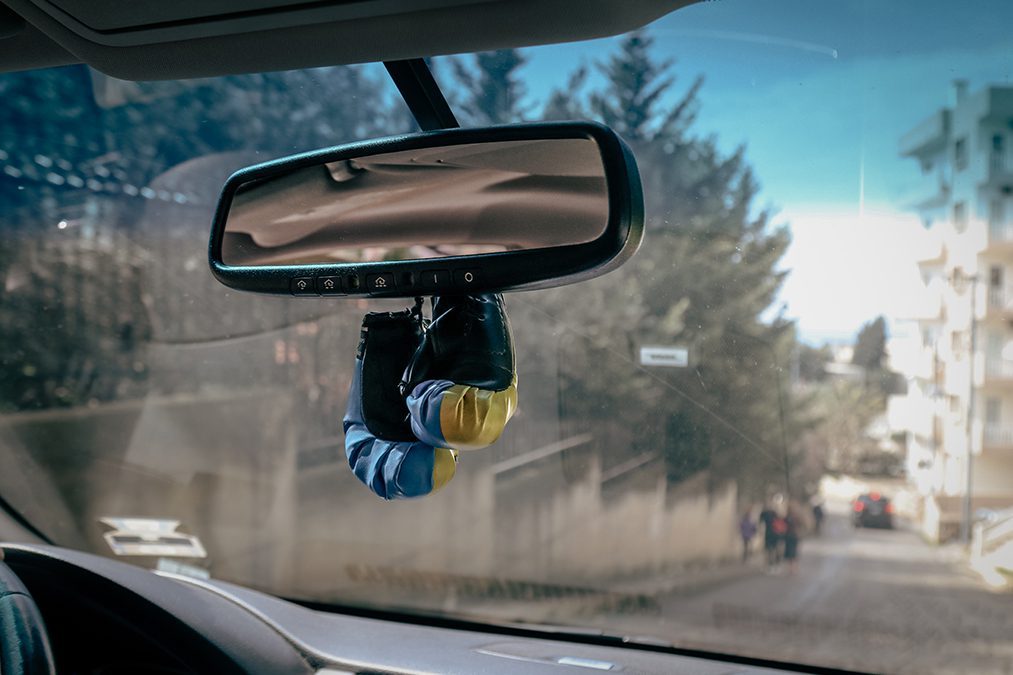 Those who came to the demonstration showed up wearing traditional clothes and flower crowns, and were holding Ukrainian flags. Their protest signs featured slogans such as "Close Ukrainian Sky," "Pray for Ukraine," and "Stop Russian Aggression." They proudly sang the Ukrainian national anthem while walking down the old souks of Byblos.
Eléna, also Ukrainian-Lebanese, told me that her mum's side of the family is in Lviv and that she is scared for their safety. Through demonstrating, she can show that her thoughts are with them.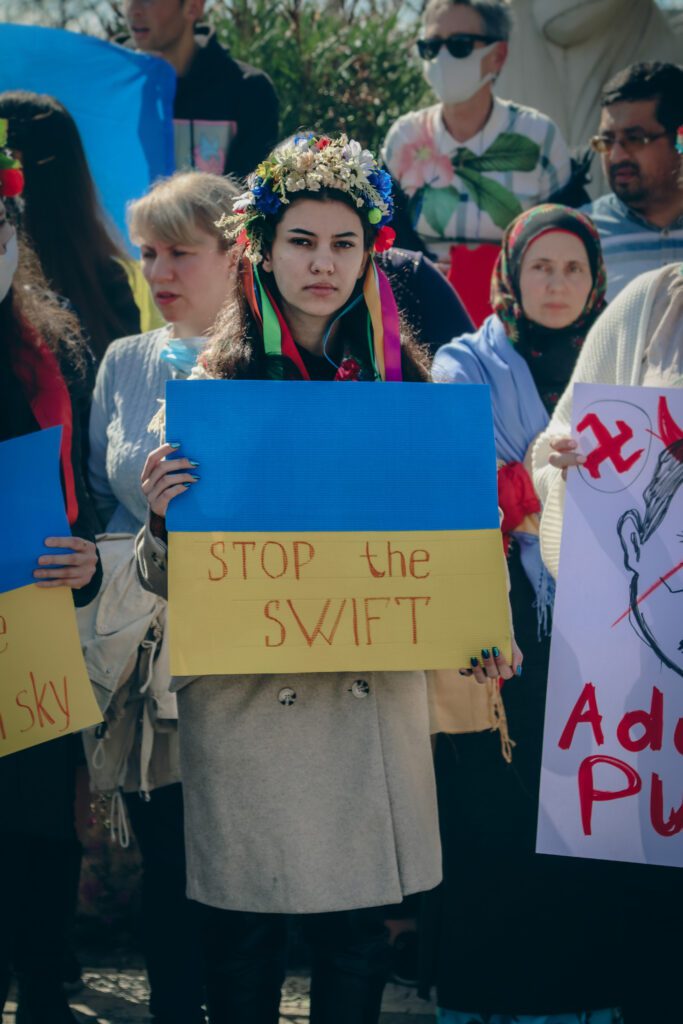 Ukranians in Lebanon, whose families and friends went to sleep in a peaceful Ukraine but woke up to the sound of bombs, gather to make getting through it all just a little bit easier.
There is also a great sense of kindness within the Ukrainian community, with people meeting in churches to pray together and offering each other words of support. Even those who are not Ukrainian themselves are welcomed to join and any sign of solidarity with their plight is greatly appreciated.
The demonstration in Byblos was the second one held in Lebanon since Russia's war on Ukraine broke out on February 24. The first one took place in front of the Russian Embassy in Beirut on the first day of the war.
Being vocal about what is happening in Ukraine keeps the country's suffering and invasion in the spotlight, so Ukrainians in Lebanon will keep going out to the streets to show their support for the brothers and sisters dying so that Ukraine can be sovereign, democratic, and free from Russian influence.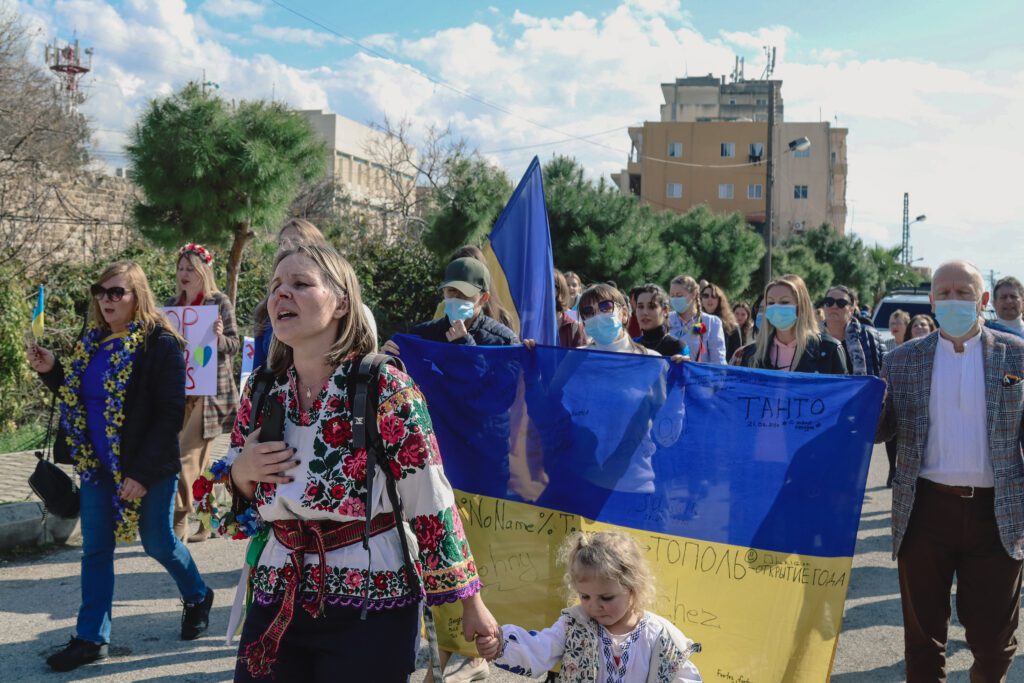 Surrendering is not an option, as Russia's invasion denies Ukraine its right to exist as a nation, and the whole nation has shown a will to fight for as long as needed.
Ukrainians in Lebanon have shown a similar will, despite being far from home in a Middle Eastern country that has been torn by its own share of wars and socio-political catastrophes over the years. No amount of bombs will make them question their identity.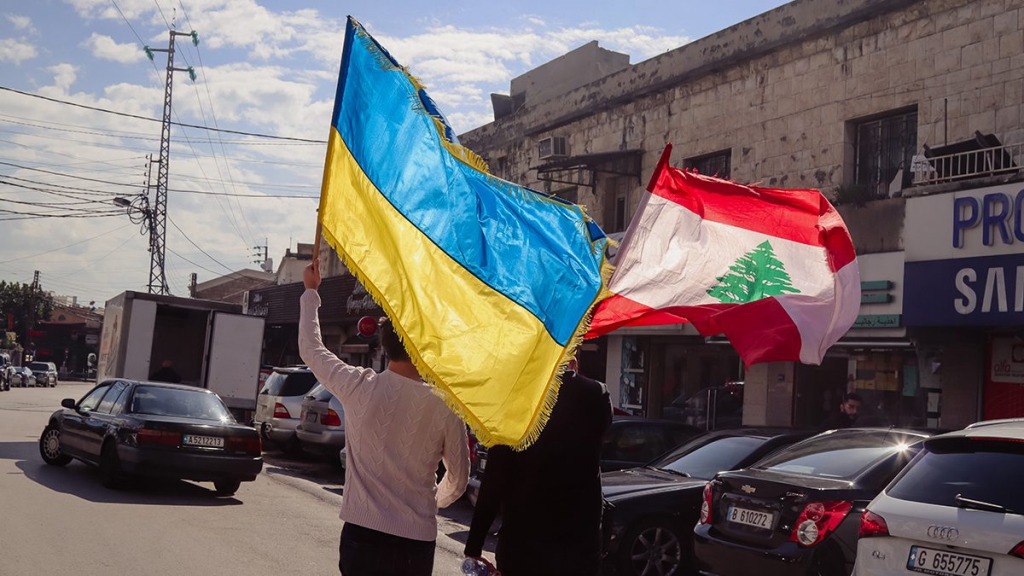 ---
Katarzyna Rybarczyk is a Political Correspondent for Immigration Advice Service. She covers refugee issues and conflicts around the Middle East.