By Lynn Sheikh Moussa & Laudy Issa
---
State-provided electricity in Beirut has reached a record-low of an availability of only two hours per day as the country sinks further into crisis.
In light of Lebanon's financial collapse and dollar shortage, financing fuel used to generate electricity has become difficult. The recent 22-hour blackouts are largely related to a large shipment of faulty fuel received from Algerian state-owned company Sonatrach that had to be returned.
Energy Minister Raymond Ghajar announced Wednesday that the first of three Sonatrach fuel shipments arrived in Beirut. The ship is expected to bring about two additional hours of electricity per day.
When will it get better?
MP Nazih Najm told Al-Joumhouria that excessive power rationing can be expected to last until July 15, around the time the last fuel shipment is expected to arrive.
Earlier this week, the government allocated a new Board of Directors for Electricite du Liban (EDL), the state-owned electricity provider that strains government finances by running at up to $2 billion in losses every year. The accumulated costs of EDL now constitute roughly 44 percent –or $42 billion– of the country's public debt.
"Electricity reform is one of the key steps to re-equilibrate the economy," an anonymous International Monetary Fund (IMF) official told Arab News. Lebanese officials have been in failed talks with the IMF for months, in hopes of receiving aid.
Now it seems "the IMF has left the negotiating table and talks have stopped," an anonymous member of Lebanon's negotiating team told Naharnet.
"Every faction is vying for its own personal interests while the country burns," another source told the platform.
The new EDL board was selected based on sect
Similar to what is happening with the IMF negotiations, the status of Lebanon's electricity sector largely relates to political interests.
The six new members of the EDL board were selected from a list of eighteen candidates who were first and foremost divided according to sect, to meet the "national reconciliation requirements" as was written in a paper signed by Ghajar.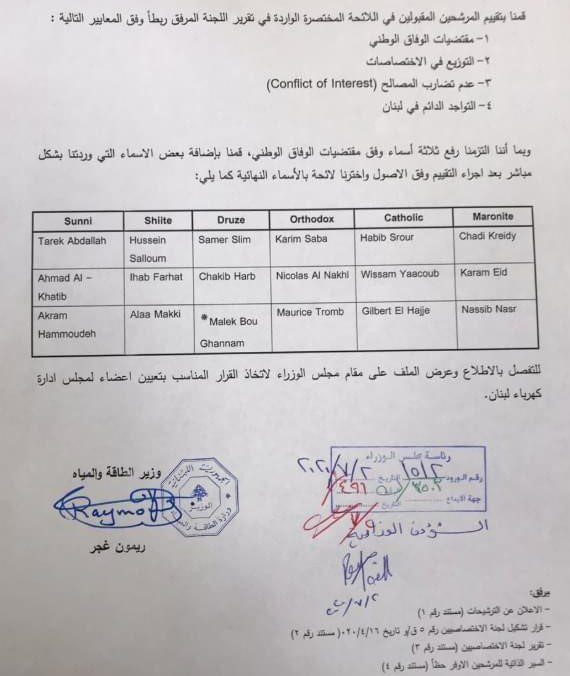 Currently, EDL is only able to supply 1,200 MW of electricity. Power plants were able to produce 2,000 MW prior to the fuel shortage, with supply still falling short of the estimated peak demand of 3,600 MW.
Small groups of people have taken to protesting in front of the EDL building in Beirut, often in a pitch black street at night, since the start of the excessive power rationing.
It's been like this for years, but now it's threatening hospitals
Lebanon has been unable to provide  24-hour government-funded electricity since the 1975–1990 civil war. Many citizens and residents use private generators or expensive neighborhood suppliers to compensate for state-supplied power outages.
However, households, cafés and streetlights around Beirut have increasingly felt the cut over the past two weeks. As private generators work extra hours to fill in the gaps, many buildings around Beirut have resorted to regularly turning their generators off for certain hours of the day in fears of burning them out.
People in Lebanon have taken to social media to voice their anger and frustration. With these unpredictable electricity cuts, many have found it difficult to work or study at home, and others complain that the absence of street and traffic lights has made it dangerous to drive or walk home during the night.
More urgently, the blackouts also threaten Lebanon's strained medical sector. The Rafik Hariri University Hospital, Lebanon's main COVID-19 treatment center, has been forced to close certain operating rooms and delay multiple surgeries due to power cuts.
In one instance, power cuts forced the parents of a 9-month-old sick baby to take him to an electricity company and ask staff to connect his electrical medical device there.
طفل مريض بعمر ال ٩ اشهر وبحاجة لاخذ علاجه عبر جهاز الـ mask ٦ مرات يومياً ، وقد احضره والديه الى مبنى شركة كهرباء قاديشا في البحصاص ، للدخول واعطاءه العلاج عبر الجهاز الذي يحتاج لوصله بالتيار الكهربائي pic.twitter.com/8BTMLWycYK

— ‏﮼مـصـدر ‏﮼مسـؤول (@MMas2ool) July 2, 2020