In times of quarantine, the exploitation of migrant domestic workers at the hands of the Kafala system is as salient as ever.
On March 14, Lebanon announced the ongoing state of health emergency due to the outbreak of COVID-19. For many domestic workers, this means a 24/7 lockdown with their abusive employers who are most likely to be even more demanding while sitting at home all day.
"In one word: It's a nightmare," said Patricia from This is Lebanon (TIL), a small organization based in Canada that aims to protect domestic workers against abusive employers, when asked about the current situation of migrant domestic workers in Lebanon.
"It's one thing to suffer with your family but it's totally another thing to be locked with your abuser," she said.
The confinement for migrant domestic workers is not a new lifestyle but it's synonymous to additional working hours on top of an already dehumanizing schedule that often includes physical, emotional and psychological abuse.
"They're all complaining of overwork," added Patricia. "Now they have 5 or 6 people at home all day saying 'jibe, nadfe, hate, ghasle' (bring, clean, put, wash). There's no rest. Many of them are saying they barely sleep because some of their employers are up till 3–4 am and they don't have their own rooms. They're in the balconies, in the kitchens. They're sleep deprived, not getting adequate food and they're not getting paid… it's a disaster."
During the past week alone, three migrant domestic workers have contacted the organization seeking refuge from their abusive male employers who had attempted to rape them.
Usually, the organization deals with these cases by contacting the employment agency that brought the migrant worker to Lebanon so that they can try to get the girl out. However, a general reluctance to take these women in has intensified during the pandemic.In one case, the agent had told This is Lebanon that the government had banned him from taking any worker in because of the COVID-19 outbreak. This was later on exposed as a lie, unwillingness from the agent to save the domestic worker out of the abusive living standards set for her by her employer.
"Escape to where?" reflected Patricia, a poignant question considering the current movement restrictions placed by the government because of the COVID-19 outbreak. Domestic workers often have no choice but to stay inside.
"They're bruised, they're crying and all we could do is tell them: No you have to stay inside the house. So that's what it's like at the moment, stay inside the house with your abuser."
Domestic workers were already bearing the brunt of Lebanon's financial crisis, going unpaid because of the country's dollar shortage and the devaluation of the Lebanese Lira in local markets. Nevertheless, amidst the pandemic, the numbers are growing exponentially.
"Quarantine is the perfect excuse," said Patricia.
This is Lebanon also relayed their extreme worry regarding two domestic workers at the moment. The details of Marjorie Padamada Esposo's story are unfolding to reveal abusers, business owner Maroun and lawyer Thereze Hayek Ayoub, who deny the atrocities of their actions.
Esposo has survived months of physical abuse, backed by photographic evidence. The Filipina has also not been paid for over eight months, with Thereze demanding a sum of $2,500 from Esposo's family for her release. The domestic worker's employers deny these allegations
"The Ministry of Labour has abandoned her," reads her story on TIL's website.
The increasing cruelty and pre-existing racism during these hard times reveal themselves in many ways, one of which is human trafficking. In a show of modern-day slavery, a woman shared a photograph of the domestic worker she employs to the Facebook page "Buy & Sell In Lebanon" on April 1. She added a price to the post, as through her employee is a product put on display.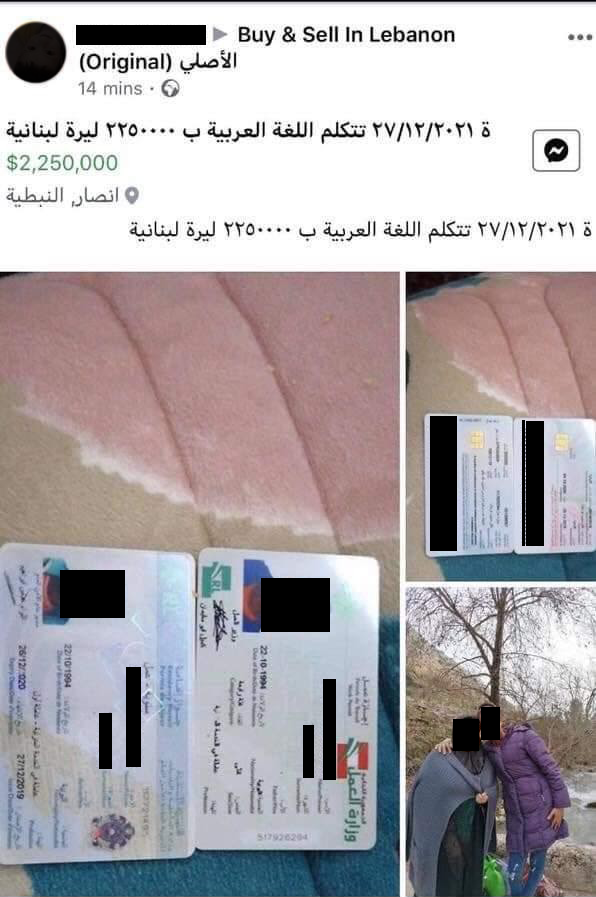 Another widely-circulating photo reflected the malice of the Kafala system and its inherent racism when it was widely circulated on Instagram on March 27. Captured by photographer Patrick Baz, it shows two domestic workers wearing masks, gloves, and their work uniforms while walking their household's dogs.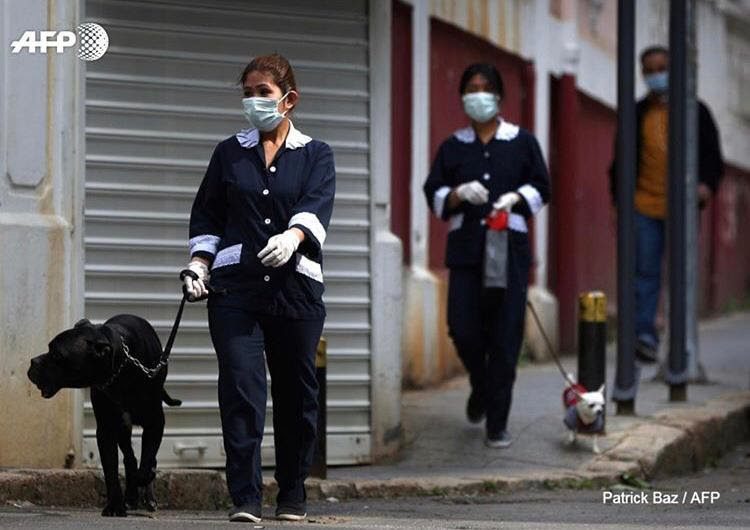 Forced to go out in times of a pandemic, this picture portrays the disdain of some employers who, enjoying the privilege of staying safe during the crisis, send off their workers to run errands.
The undocumented migrant workers: a struggle nonetheless
When it comes to undocumented migrant workers, their exclusion from the Kafala system comes at a price. To be tested for the novel coronavirus, undocumented workers have to pay LL 750,000 according to a report from Al-Jazeera.
This is an especially high price for those who can barely afford the cost of living in a country where minimum wage is LL 650,000.
Otherwise, hospitals are refusing to test them even when they report alarming COVID-19 symptoms and are instead leaving them to "self-medicate with antibiotics, vitamins and Panadol" according to Al-Jazeera. The news organization told the story of 32-year-old domestic worker Tenteb, a former domestic worker residing in a three-room apartment with 14 other migrants.Not only does the example of Tenteb highlight the underlying problem in the treatment of migrant workers, but it also draws attention to the ways in which the pandemic is being handled.
In times of quarantine, the poverty rates of these workers are on the rise. Many are contacting This is Lebanon to report on the lack of work.
"I just got an inbox from a Filipino freelance worker saying that she would normally feel shame in contacting us but right now she can't afford to buy food and she hasn't had work in weeks. She doesn't know what to do," said Patricia.

But the mistreatment of migrant workers is not limited to times of crises, it's part of a bigger problem: The long-standing Kafala system that has been practiced since the 1950s and has been normalized in the minds of Lebanese households. .
A background on the long-standing Kafala System
Over 250,000 migrant domestic workers in Lebanon currently operate under the Kafala System, a downright embodiment of modern slavery.
Coming from different African and East Asian countries, they are excluded from the Lebanese Labor Law. Instead, they are encompassed under an exploitative system where they require sponsorship to reside in the country, risking deportation or arrest otherwise.
Leaving their homes and families behind, many are faced with employers who confiscate their passports and lock them up in an endless house arrest.
Given the system's oppressive nature, it doesn't come as a surprise that abusive sponsors do not face any legal accountability, even when things end in an outcome as bad as the domestic worker's death.
Migrant workers at the hands of the Kafala system: the case of Faustina Tay
Amidst the COVID-19 outbreak, one of the most recent victims of the Kafala system is 23-year-old Faustina Tay.
On March 14, her body was discovered in a car park under her employer's home in Beirut's southern suburbs.
During her last few days, the Ghanian national sent dozens of texts and voice messages in which she was expressing her fear of being killed. On March 13, Tay sent her last cry for help to This is Lebanon before she was found dead 18 hours later.
Seeking support from both her brother and TIL, Tay was constantly updating them on the empty promises she had been receiving from her employers after expressing her desire to return home. This was followed by recurrent physical abuse from both her employer and the owner of her agency.
The police stated that Tay committed suicide. However, This is Lebanon reported that they suspect a case of murder as the domestic worker expressed her "hope" to return home in spite of the physical abuse.
Her case was initially investigated as a suicide even when all the evidence pointed towards the severity of her situation.
Faustina Tay's story is not an unheard of, standout incident in Lebanon. According to the General Security Intelligence Agency, two workers die every week with many committing suicide or "falling from high buildings during botched escape attempts," often framed as suicides.
Even after their deaths, migrant domestic workers don't get a proper process of justice and are deprived of their most basic human rights.
Following the report of Tay's story by Al Jazeera, many took on Twitter to express their anger, including prominent model and actress Naomi Campbell, who discouraged African women from going to work in Lebanon until the government deals with the issue.
"African women: Do not go if someone tries to recruit you. Do not go to #Lebanon until this can be addressed by the Lebanese govt," @NaomiCampbell says after reading our @AJEnglish investigation into the death of 23 y/o domestic worker Faustina Tay. https://t.co/PfTF5YuVsP pic.twitter.com/Ufafge3CSk

— Timour Azhari (@timourazhari) March 27, 2020
Lebanese Labor Minister Lamia Yammine offered her condolences to the Ghanian Embassy on April 1. But what does it mean now that Faustina Tay's life has been taken away?
Will Lebanese officials turn a blind eye in their investigation?
Following the international outcry in response to Tay's story, investigations have been opened by both the Labor Ministry and another by the judiciary system.
However, this is not the first time that the Lebanese government pledges to look more into the matter and then turns a blind eye to never readdress it.
The Labor Minister stated one possibility is that Faustina Tay's employer and employment agency will be blacklisted. This would mean that Tay's abusive employer, Hussein Dia, would not be allowed to have another migrant working in his house.
Such a punishment, however, deeply undermines the severity of the issue at hand.
Rather than force abusive employers to change their behaviors in an already abusive Kafala system, the light penalty provides migrant workers further cause for concern.
Although there are many efforts to protect the rights of migrant domestic workers, for as long as the Kafala System persists, their rights will continue to be violated as they come to work in Lebanon in hopes of providing a better life for their families.