BEIRUT: Rights groups Wednesday condemned an overnight attack by security forces on a convoy of protesters near the home of Parliament Speaker Nabih Berri that left a number injured, including a journalist. 
The attack took place around midnight Tuesday as a large convoy of protesters drove between the homes of former public works ministers, after massive flooding across parts of Lebanon in recent days. 
As they drove near Berri's Ain al-Tineh mansion, tens of men, most wearing official security uniforms, attacked the cars the protesters were in, smashing windows and beating those inside with sticks. 
"We were part of the convoy, just driving toward the next destination," Lara Bitar, an independent media worker told Beirut Today. "Then out of nowhere Nabih Berri's parliamentary guards and security forces surrounded our car and started smashing its windows, kicking it, and hitting people inside."
A video shot by Paula Nawfal, a journalist with local daily newspaper Annahar, captured the moment of her assault. "No, no, no, no. You can't hit me, I'm a journalist, I'm a journalist, journalist journalist," Nawfal says as the sound of repeated blows are heard. 
اترك لكم التعليق pic.twitter.com/evXHw8CTUh

— Paula Naoufal (@paulanawfal) December 11, 2019
Nawfal later shared a video in which a bloody injury to her face is clearly visible. "They hit my mouth," she said.
"It is completely unacceptable that men dressed in official security uniforms behave as they did last night," Aya Majzoub, Lebanon Researcher for Human Rights Watch, told Beirut Today. 
"Those men attacked peaceful protesters violently, smashed the windows of their cars, and terrorized passersby," Majzoub said, adding that the Interior Ministry must conduct an investigation, hold those responsible to account and ensure victims are compensated. 
من بريد الصفحة:
من اعتداءات مبارح#لبنان_ينتفض #أخبار_الساحة pic.twitter.com/MspwkrqsOq

— أخبار الساحة (@Akhbaralsaha) December 11, 2019
Jad Shahrour, a spokesperson for the Samir Kassir Center for Media and Cultural Freedom, told Beirut Today that the attack had been unprovoked and that those involved had caused property damage on purpose.
"They knew what they were doing, breaking the glass of cars and injuring people," he said. "There must be a formal investigation. 
The Committee of Lawyers in Defense of Protesters has filed an official complaint over the attack, based on the testimony of victims. Ayman Raad, a member of the committee, told Beirut Today that most of those suspected of being involved in the attack were members of the Parliamentary Police, while some people were dressed in civilian clothes. 
One of the men who attacked protesters had been identified as Kassem Chaaban, a member of the parliamentary police, Raad added.
Images of Chaaban on Facebook show him pictured with Berri, while another shows him wearing a uniform emblazoned with the flag of the Amal Movement, founded by Berri.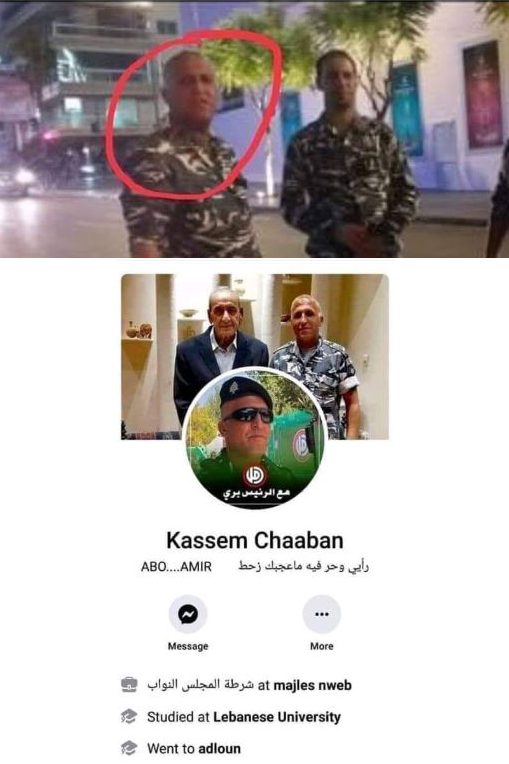 Parliamentary Police have long been seen as being close to speaker Berri. Dozens of members of the force have been filmed welcoming Berri back to his Beirut home following his reelection as speaker last year.
Parliament Secretary-General Adnan Daher told Beirut Today that Parliamentary Police complies with the regulations of the Internal Security Forces, but are independent in their chain of command. 
The force is led by Gen. Adnan Sheikh Ali, whose office is at Parliament. 
Sheikh Ali could not be reached for comment. 
Still, Majzoub said that the Interior Ministry was ultimately responsible. "All security forces are nominally under the interior ministry and they all represent that state," she said. "They also have the responsibility to abide by human rights obligations and treaties Lebanon has signed on to."
Interior Minister Raya al-Hasan met with ISF chief Maj. Gen. Imad Othman and General Security head Abbas Ibrahim Wednesday in a meeting that discussed security measures taken "preserve the security of citizens and demonstrators," according to a tweet from her account. 
There was no mention of the attack the night before. 
Hasan did not respond to a request for comment.
Attacks by security forces on protesters and journalists have taken place throughout the uprising that began on October 17, though Shahrour said the attack on Tuesday night is one of the more brazen instances.
Shahrour said that SKeyes had documented tens of violations against the rights of journalists and protesters since the uprising began, both by security forces and supporters of establishment parties like the Amal Movement. 
Bitar noted that security forces had repeatedly attacked protesters and members of the media throughout the night Tuesday as they went to the homes of former officials, even before the incident near Ain al-Tineh.
"There was an attempt to prevent documentation of police violence throughout the night, regardless of whether you're a journalist or a protester," she said.
"In fact, the press was specifically being targeted, so identifying yourself as a journalist puts you in even more danger."