Canterbury, a vibrant city full of history on the coast of the United Kingdom, seems to strike the right balance between education and fun to attract young tourists looking to catch a break after graduating. Daniel Ezzedine, a 17-year-old student of Lebanese descent from Germany, was on one of those trips when he was assaulted by a mob.
The small city of 50,000 inhabitants, which rests about a 100 kilometers from London, doesn't usually make the headlines. Shocked by an unprecedented attack, the community mobilized to ensure that all feel welcome and safe.
"In London, things like this happen and they don't even make it to the BBC," Paul M. Johnson, a long time resident of Canterbury, told Beirut Today. "Here, people don't want others to feel unsafe. And the fact that it happened to a visitor student is all the more shocking as our economy relies on education and tourism."
The city's tourism economy accounts for 16 percent of the district's total employment. Johnson was hesitant to say whether acts of racism in the region had increased since Brexit. From his point of view, however, the decreased police presence and their delayed response is self-evident bearing budget cuts in mind.
As a result of the attack, which happened in Cantenbury's city center in daylight, healthcare providers placed Ezzedine into an artificial coma after he was transported to London by the Air Ambulance Service. Initially, according to Kent Online, doctors believed he only had a 30 percent chance of survival. His condition is now improving.
When his parents, Lebanese residents in Germany with no European nationality, approached British officials, they were told the emergency visa would need five days to process. Following the intervention of the Canterbury's local labour MP Rosie Duffield and Home Secretary Sajid Javid, Ezzedine's mother was able to land on UK soil three days after the attack. Duffield met her and helped her settle in.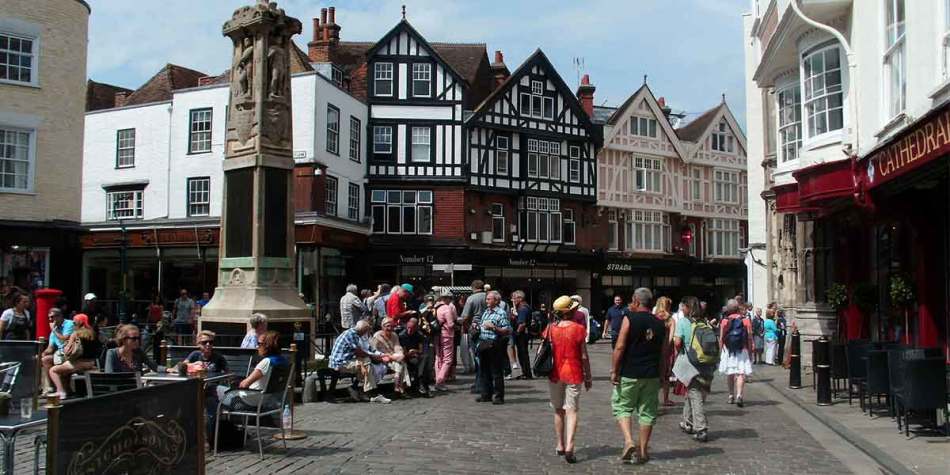 Ben Hickman, a member of the Labour Party in Canterbury, organized a solidarity march in the city's center on June 13 in which Stand Up to Racism, Kent Anti-Racism Network and the Labour Party were scheduled to intervene.
"Canterbury and Kent have an increasing problem with racism and xenophobia. We must make it clear that we have more anti-racists than racists here," said Hickman prior to the march, making it clear that it was meant for the whole community to stand against the events despite being organized by the Labour Party.
With hundreds attending, the march had an unexpected success. While Hickman was happy with the turnout, he remained cautious in terms of its impact.
"[The march] is just an initial public acknowledgment of the problem; we'll work with local organizations to keep up the pressure of fighting against racism," he said.
At the same time, the community began to debate in a local Facebook group what course of action should be taken from their side. With the intention of supporting the family by helping to pay the costs of staying by Ezzedine during his hospital stay, Paul M. Johnson and a couple of others took the lead and set up a crowdfunding campaign.
Through the Labour office, Johnson reached out to the parents and helped them find an Airbnb—which proved to be no less than £4,447 per month. On July 2, almost a month after the attacks, the crowdfunding hit 291 percent of its original £5,000 target for a total of £15,000. Johnson posted in the local Facebook group that Daniel has been recovering slowly and that all through it, his family has been able to stay by his bedside.