Swedish activist Benjamin Ladraa began walking from Sweden to Palestine a little over a year ago, accompanied only by a trolley of basic necessities and a large Palestinian Flag. Setting off for 11 months to raise awareness of human rights violations under the Israeli occupation, his #WalkToPalestine campaign took him through thirteen countries by foot before the activist was detained, questioned, and denied entry to Palestine by an Israeli official at the West Bank.
His campaign was a move to mark the centenary of the Balfour Declaration that legitimised the creation of the Israeli state, in turn leading to Nakba or "catastrophe," which saw the expulsion of almost a million Palestinians from their homeland.
The 4,800km Journey
Over a Skype interview, Ladraa described the lack of awareness on the situation in the occupied territories, as he expected and confirmed when speaking to people he met in different countries.
"Very few people know the details of what's happening for the people of Palestine, what the occupation is about, and all the daily abuses by Israeli soldiers," Ladraa told Beirut Today.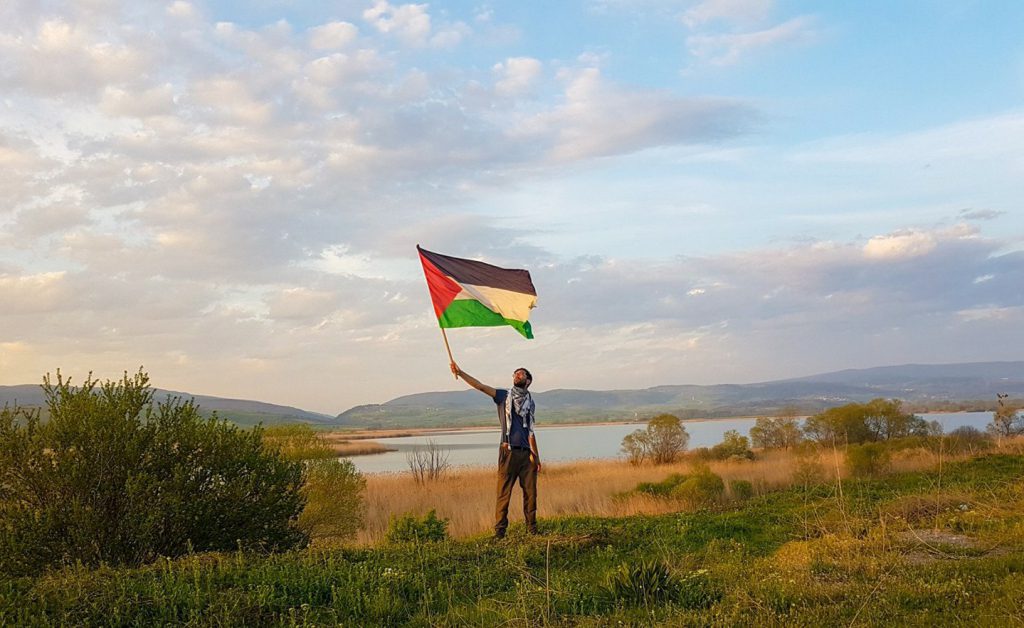 The Palestinian flag he carried became the item of contention along the way, when he was attacked in Slovakia by a man who tried to break his flagpole and later detained by the Israeli embassy in Vienna for trailing his flag.
"When it happens, you only have yourself to depend on, so I guess you grow a bit stronger after a while," said Ladraa. "It didn't really affect my morale so much because I know why I'm doing what I'm doing… I also know that when you speak for human rights,  you get pretty much the entire world against you."
"If you don't take any risks and If you don't sacrifice anything, can we really expect progress or any achievements and results? Can we really expect to make something happen if we are afraid?"
Ladraa's campaign quickly gained following and international recognition. He was bestowed a prize at the International Mount of Olives Peace Awards in Istanbul, which he then passed on to the family of Mohammed Abu Khdeir, who was burnt to death by Israeli settlers in 2014. He was also granted Palestinian Citizenship by Palestinian President Mahmoud Abbas in honour of his activism, yet responded with scepticism to the gesture announced on social media. "First, I would ask why so many Palestinian have not yet been granted the Palestinian citizenship from their own so-called authority or government. Second, I would ask why they went to the media before they went to me."
On his final stretch of the 4,800 km trek, Ladraa's journey was abruptly terminated on July 6. He was detained and questioned by an Israeli official at the Jordanian border to the West Bank. After being held under interrogation for six hours, he was finally denied entry under accusations of lying and intending to orchestrate protests in the village of Nabi Saleh. Beyond the circumstances, Ladraa remained adamant about his campaign, speaking positively of the rejection statement. To Ladraa, his rejection was  a qualification of his activism.
"It's the highest diploma I can get as an activist, to have an oppressive state react to you and give you some sort of denial of entry, because that means they fear what you would do inside Palestine if you'd be allowed entry," said the activist. "The highest statement that they can make is that they acknowledge that you are doing work."
Israel's Plight Against Grassroots Activism
Ladraa's case is not isolated, but is in fact part of a wider institutional move by the Knesset to block entry visas to activists who support the Boycott, Divestment, Sanctions (BDS) movement and oppose Israeli settlements. Earlier in May, the Knesset ordered the deportation of the Israeli-Palestinian director of the Human Rights Watch, Omar Shakir. In the same week of Ladraa's refused entry, the Jewish-American activist Ariel Gold was also denied entry upon her arrival in Israel. The "BDS Blacklist" published by the Israeli government this year lists human rights activists alongside 20 organisations, including the "Jewish Voice for Peace."
"It's amazing that they would react to someone like me, just someone speaking about human rights violations. I am completely able to stand by every claim and public statement that I make… I'm just stating what's happening, which gives people a moral imperative because once you have that knowledge its very difficult to stay silent. You feel the urge that this injustice needs to come to an end," Ladraa mentioned.
For a country that often calls itself the most "democratic" state in the Middle East, its human rights records in Gaza and the West Bank speak more of coercion and intimidation.
"They are making achievements of total domination and oppression: coercion, assassinations, murder, dispossession, land grab and the breaking of international laws. They are making progress; they are building settlements and not being stopped by the International community. Overwhelming amounts of force does work, but the question is if it works on the long-term," said the Swedish activist.
Ladraa's campaign taps in to a central weakness of the Knesset: its inability to deal with non-hierarchical social movements. Its hardlining against the BDS movement and grassroots activism in recent years reveals what Ladraa notes is a way to keep the story hidden, and more broadly a fear of systemic exposure.
"They are discussing this new law to forbid any photography or videography of soldiers in general, basically outlawing journalism… Their solution isn't to stop committing these crimes but rather to try and silence them, but you cannot silence truth."
The Israeli state has exploited its right of security and defence in its efforts to shut down peace activism, producing policies of mass-incarceration and eviction. Child detention has become a prevalent tactic; 1467 minors were arrested in 2017, with a conviction rate of 99 percent, according to figures released by the Israeli Court.
Recently, the Palestinian poet Dareen Tatour was sentenced to five months in prison over accusations of "inciting terrorism" in a poem that called for resistance, after having already served three years under house arrest. Ladraa spoke of the notion of democracy and freedom of speech as threats rather than ideals to the zionist vision of an ethnocratic state. The barriers to communication among Israeli and Palestinian communities are, quite literally, being drawn on the map through what it calls the "Separation Wall."
"Israel is building a very physical, big wall to separate communities… So that's an intentional physical structure to prevent communication, because communication breeds understanding and sympathy, and that's not what they want."
Ladraa also commented on Palestinian exclusion in Lebanon following his passage through the country, during which he visited a number of Palestinian camps including Burj Al Barajneh, Shatila, Dbayeh, Rashidieh and Ain el Helwe. Under the circumstances of geographical and economic isolation, the camps have become what Ladraa describes as "ghettos of dispossessed people."
He notes that although Israeli occupation is the root to the situation, 70 years on, the Lebanese Government still applies exclusionary policies preventing Palestinians from working—what is, by comparison, not the case in Jordan.
"I think a lot of people have lost hope, and I think hope is very important to inspire because at the end of the day that's all we have… But, having been in this situation for 70 years I can understand why," said Ladraa.
Solidarity is the Mobiliser
In view of the latency of the international community in its endless debates on the one-state versus two-state solution, the BDS movement rather seeks to target the humanitarian suffering at stake and pressurize institutions into action.
"I believe that politicians are unprincipled people that change their course with the wind. It's much more efficient to be the wind that changes the course of politicians than to become one of them," the activist told Beirut Today.
However as Ladraa notes, the BDS movement requires mobilisation on a collective level, particularly concerning the "passivity" he observes across the region.  
"I think that there is too much sympathy and not enough solidarity," began Ladraa. "At the end of the day, it's the pressure that is needed, and pressure requires action. Action means consequences and it means taking a stance and doing things. Too few people are actually doing something, and [too many are] just sitting in endless discussions, shedding some tears, and then complaining, which is not going to help anyone."
For an issue that has become so confounded among international law and relations, will grassroots activism finally unlock the Palestinian liberation process?
"The world moves with pressure… I think that every major achievement in human history has pretty much been preceded by mass movements of thousands of people demanding something and being very active to pursue that demand—whether its women's rights or democracy or environmental issues," said Ladraa., "A mass movement will not organise itself, it needs conscious people that know the story and know the details. So I just want to do as much as I can to contribute to that, and to inform as many people as I can."