All his friends left Lebanon so he wrote an album about it. Well, most of them anyway. Karl Bourj sits with me in the backstage of Metro Al Madina half an hour before the soundcheck for his album release concert.
Posters of past events line the green wall behind the musician and filmmaker, bags of equipment are scattered across the table to his right, and he calmly sits on a violent red theater seat wearing a loose-fitting beige henley shirt and dark jeans. It's a messy ocean of cardboard boxes and an eclectic range of props, but we're surrounded by a relative quiet.
The same stillness has washed over Karl Bourj. Tonight, he celebrates his debut album Distorted Notions—an experimental and collaborative album that he and his friends poured their hearts into—but the moment is bittersweet.
These friends have mostly left the country, and what started as a compilation of random songs turned into music lamenting their loss. "I'm very excited," he said. "But, at the same time it feels like I'm celebrating my sadness."
It's fair to say that Karl Bourj is an introvert, but his friends clearly love him. Throughout Distorted Notions, the musician masterfully samples their voices, uses their films and filmmaking talents to produce music videos, and features their instrumental solos.
The artist, who produced his own album, has had a vision to collaborate with them for the longest time. "And I got to do that with the album. Even though they were all leaving, I still got to do that."
You connect with the erratic distress of losing them from the very first song on the album, Wavs (feat. bach). On If We Swim in the Same Sea (feat. Jawad El Mawla), a quiet rage washes over you. In its music video, the musician ends up tossing a guitar into the sea—albeit, a broken one. On Adam geht in ein Bar, Karl Bourj has fun with soulful drones.
The Linkin Park inspired My Guitar Is Underwater (feat. greatestnorthern) sees his friend rapping against a simple beat of drums and guitar riffs. The greatestnorthern is the rapper name Adam Jammal used as a kid, an ode to childhood dreams. …And a Jawad Solo to save the world is the only co-written song on the album, its title an ode to a shared musical history that can be explored in Songs from a Room, Vol​.​1. The album wraps up with Swimming Together, a peacefully nostalgic instrumental that's backed by lulling waves.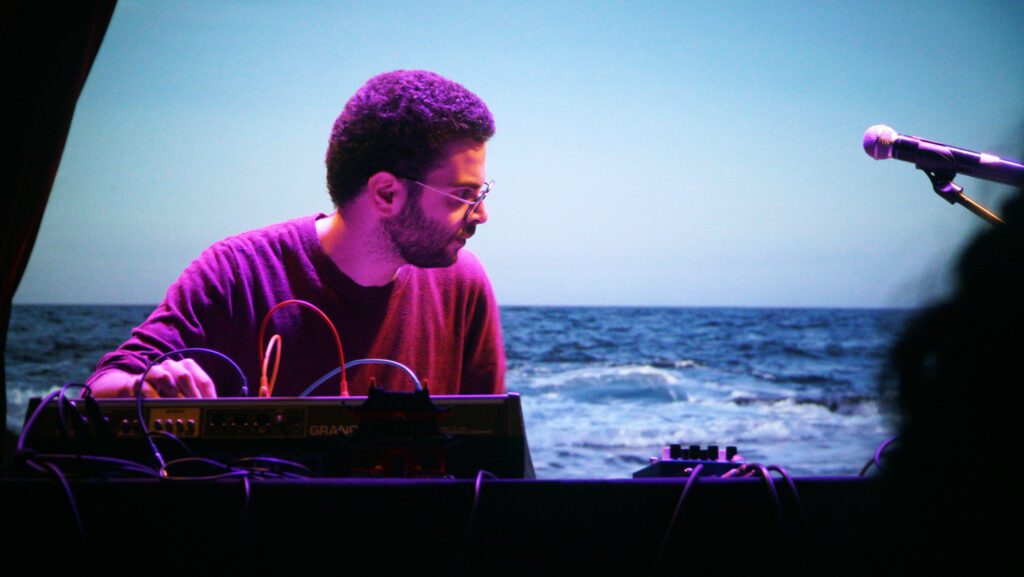 The musician put out relatable parts of himself with every song, each its own distinct piece that snugly fits into the Distorted Notions puzzle. Everybody in Lebanon has lost someone pursuing a better life abroad, and hearing the wistful voices of loved ones abroad strikes a particular cord.
The concert itself is a success. Scattered across the chaotic stage are bits and pieces of the musician, easter eggs in the form of paintings by his friends, lego bricks, a large green Serjbel road sign, a PlayStation 2 controller, and more. Karl Bourj alternates between playing a guitar and synths, the crowd cheering him on and welcoming his friends to the stage to rap, play the bass (Bach) and guitar (Grg), and handle the background visuals.
Distorted Notions is a labor of love, an album that made it across the finish line despite the ugly circumstances that Lebanon continues to impose.
Beirut Today: How are you feeling before your concert?
Karl Bourj: I'm feeling neutral, but not because I'm neutral. The thing is, I'm very excited but at the same time it feels like I'm celebrating my sadness, which is my friends leaving. I'm feeling them at the same time so they balance each other out and I end up feeling neutral.
Can you describe your album to a stranger in two sentences?
I don't know if everyone is going to see it like this but from my point of view, I feel like the album is kind of like listening to a movie in a sense. It's flowy, wavy, and a story.
How long has this story been building up in your mind?
Around a year ago, I had a plan to do Songs From A Room, Vol. 2, which is just a compilation of random songs. I was having a lot of fun using the voices of my friends and their films in my music. At some point in December, when everybody started leaving the country, I felt like the album stopped being Songs From A Room, Vol. 2. It started being music about how my friends are all leaving and what my feelings are towards that.
And what are those feelings?
Just listen to the album. [Laughs]. Every song at some point felt like a lump in my throat. Every song is probably one of the stages of grief I went through in my own way.
Was it all sadness or were there some good parts to making this album?
I've always wanted to collaborate with everyone, and I got to do that with the album. Even though they were all leaving, I still got to do that.
And was that collaboration a smooth process?
The collaboration wasn't easy for a lot of reasons. For example, it was difficult for me and Jawad [El Mawla] to work together because he's in France and I'm in Lebanon. There was a lot of excitement to make music together but the distance made it difficult. I'd call him and he wouldn't pick up, or send him a voice note and he'd answer in a week. There were times when we were moving forward very slowly.
At one point, there was the issue of doing too many things in a short period of time. We're making the music, and the music videos, and everything has to be related to each other and we're doing it all at the same time. That was fun but it was a huge challenge.
People like Majed [Zein] did several things. He helped me with music videos, and he directed another one that he also acted in, and he drew the album artwork. So it got messy. I think it was really tiring for him. A lot of people had fun with me for a day and helped out in some way, but there was a heavy process for a number of people and I'm very grateful for them. Every person who directed a music video left except for Tarek and me. Everyone else left.
Speaking of the artwork and videos, the album is very centered around the sea. What does the sea mean to you and why is it such an integral part of the album? Was it a conscious decision?
There are a lot of things on this album that were intended and that I knew ahead of time would be on the album. But there's also the same number of things that either happened by accident or that I knew should be there but didn't know why.
There were a lot of decisions like having a song that is just drums, guitar, and Adam [Jammal] rapping because we used to love Linkin Park. And it has to be the fourth song on the album just because. Why? I don't know but it felt right. And when I was putting it together and building up the blocks around it, my feelings and instincts told me to continue. Sometimes I fixed things, and at other times I knew to just follow my feelings.
Okay and—
Oh, I didn't answer the part about the sea. Sorry! The sea came from my friend Line [Itani]. We used to always make fun of her in our group for always saying "If we swim in the same sea, are we swimming together?"
I used to make fun of her up until I felt it and lived through it. So I used the phrase. I knew how strong and expressive it was and I built everything around it.
So sampling your friends wasn't something that happened spontaneously?
I studied film in university, so I do both film and music. At some point during quarantine, I got the urge to sample films, add scenes and build music around them. Then I realized that it would be a copyright catastrophe, and that my friends are pretty cool. And that I could use them and their films.
I started with Cheesecake, a song on my old EP, which is sampled from my friend's film. So I started getting more excited to use my friends in my music because I find them very interesting. I began sampling them and as time went on, they started leaving the country. It became me sampling conversations between us here and them there. It's ugly. The circumstances are ugly.
Interesting in what way?
I'm going to give you a very specific answer and I don't know how helpful it will be. I used to see that this vibe you find in things like The Office and SNL, where the cast and writers are all involved in writing and developing something that they're good at, is present in my friends. So I've always wanted to bring them together to work on something because I knew it could be powerful.
They weren't convinced by it and they were turning me down, so sampling them was my way of working around it after being cornered. I started using their voice notes. At one point I gave them all a fair warning that anybody who sends me a voice note may end up in a song. And things moved forward from there.
Do you consider yourself first to be a cinematographer or as a musician? And how does one affect the other?
This is a debate I've had with my father since I was little. First of all, I don't consider myself to be a cinematographer, I'm a filmmaker and cinematography is what I enjoy and am focused on in filmmaking. But I don't think it's a question that's useful. I think it's a waste of time for me to decide between music and film. I'm going to do what I feel like doing, whatever that is.
I started off making an album and suddenly there were music videos for all the songs and a story tying them together. I didn't intend for it to happen, and didn't think that I should do everything at the same time just because I'm both a musician and a filmmaker.
I'm expressing myself and there's no reason why I made this album. I just felt like doing it and putting my feelings out there. It's not a question for me, I'm just living and expressing myself.
And living through the crisis and pandemic in Lebanon, did that affect your process?
Everything is so heavy around us. And I don't need to explain why everything is heavy, and we all know why it's all heavy. What hurt me the most personally and morally is everyone leaving, and that we don't have a country and home anymore.
I feel like everytime I move towards something, like trying to work and create, there's a lot of things pushing me in the opposite direction. There's always been things that are pushing against us in everything we do in life, no matter what, but now it feels like we've rented a space in this country and our landlords despise us and are doing everything bad for us to pick ourselves up and leave. So I don't know if I will be able to continue doing these things here but I know that I was in need of doing them here.
What do you hope people will take away from this album?
Honestly, I don't think much of the audience when creating. It's not that I don't care about them but I think of what I want to express before. The only place where I wonder what the audience thinks is when I feel like I'm creating something that won't be understood.
But if there's something I wanted to do for the audience itself in this work, it's creating music and music videos and films that I didn't used to see when I was younger. The ones I wanted to see but weren't there.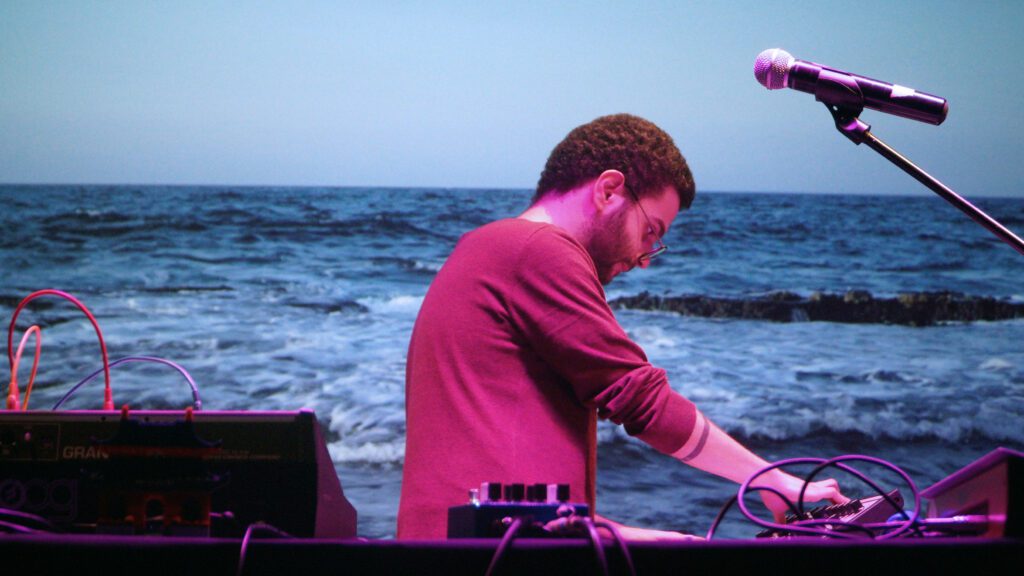 What weren't you seeing on screen that you felt you had to reflect in your own work?
I used to see a lot of beautiful work, and come across many artists who really inspired me—especially at the end of my teen years. But I could never imagine that as being Lebanon or me and my friends doing this. I didn't see my friends and myself in these works. Also, it's not the artists' fault. In Lebanon, we're very divided and everybody is living a different reality. So I wanted to bring in the perspective that I hadn't seen in art before.
Where does Karl Bourj go from here?
Hopefully, I'll be able to release music at least once per year and create visual works to accompany it. Not just me alone. I love working with filmmakers and asking them to have fun with my music. I'm also thinking of several projects that I would like to start working on from now until next year.
At the same time, I'd like to go back to collaborating and helping out with the work of others. I took so much in the past year. It's been a year where I've only been taking from my friends and the people who worked on this album with me. Now I'd like to recharge and give back to them.
---
You can check out Karl Bourj's work here and see him live at Onomatopoeia on Friday, November 19.
Laudy Issa is a multimedia journalist and the Managing Editor of Beirut Today. Before COVID-19, you might have caught her tripping over wires in local theatres or gigs.